CadmiumCD Now Integrates with SaaS Registration Software Eventbrite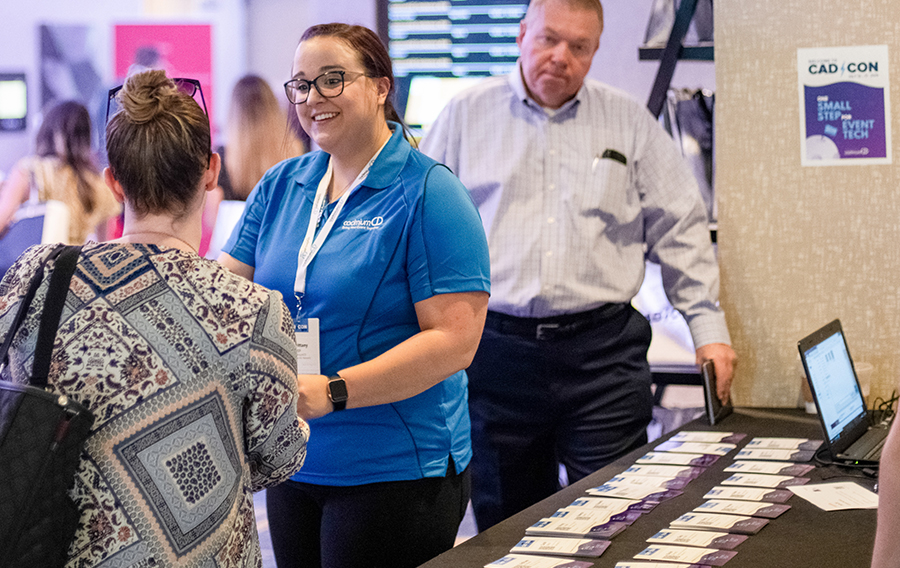 Event Management Software Company Provides Easy Registration Option for Over 3,500 Client Users
CadmiumCD's eventScribe Website product now integrates with Eventbrite registration software. CadmiumCD has many preexisting integrations with custom registration providers, but wanted to expand its offerings to customers looking for a lightweight, SaaS-based solution.
"We've used Eventbrite for our workshop series in the past," says CadmiumCD CEO Michelle Wyatt. "We know how it works and we like the product. We thought it would be a perfect system to integrate with."
To provide proof of concept, lead integrations developer Ariyo Shahry built an integration between Eventbrite and eventScribe for CadmiumCD's 5th Annual CadCon Users Group Conference.
"We decided to use Eventbrite this year because it provides our planning team the flexibility they need to manage the registration process," says Shahry. "They can set everything up on their own and quickly make changes to the registration page and customer orders. Reports are also easy to pull so the team can migrate data to their marketing tools."
He explains that a crucial part of the integration was not only registering CadCon attendees for the event, but also for individual sessions, which CadmiumCD calls Learning Labs.
"The planning team needed a way for attendees to choose a session they wanted to attend during the conference and send that choice to eventScribe. We accomplished this by creating a custom form field on the registration page and passing that data to eventScribe through the Eventbrite API, which was very detailed and well-documented."
On the eventScribe side, attendees can favorite sessions they want to attend (marked with a yellow star), but cannot add Learning Labs to their agenda. The Learning Labs they chose during registration, however, show up as blue stars on their schedule. To change their selection, they simply return to Eventbrite and update their registration form. The system does however honor capacity limits on the sessions within both Eventbrite and eventScribe, which prevents attendees from choosing sessions at full capacity.
The Eventbrite-eventScribe Integration Visualized
Here is a breakdown of how the registration process works for attendees:
Attendees visit the CadCon Eventbrite registration page to purchase a ticket to the conference.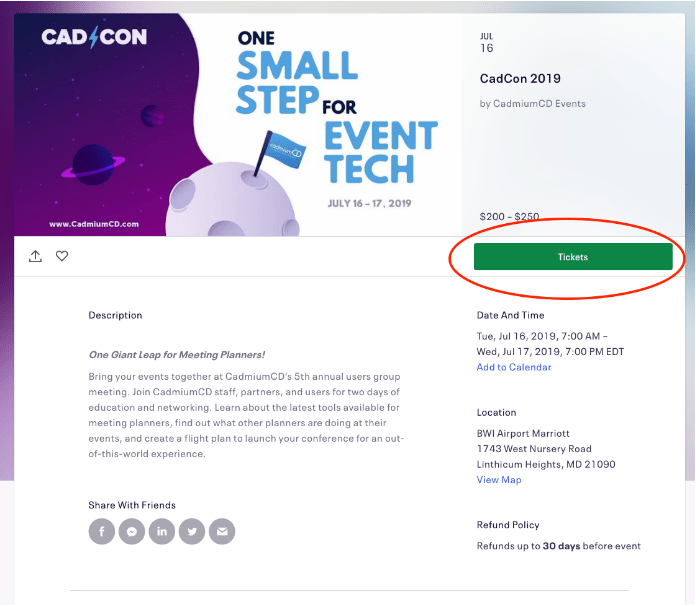 They enter any promotional codes they may have, and choose the ticket type they want to receive.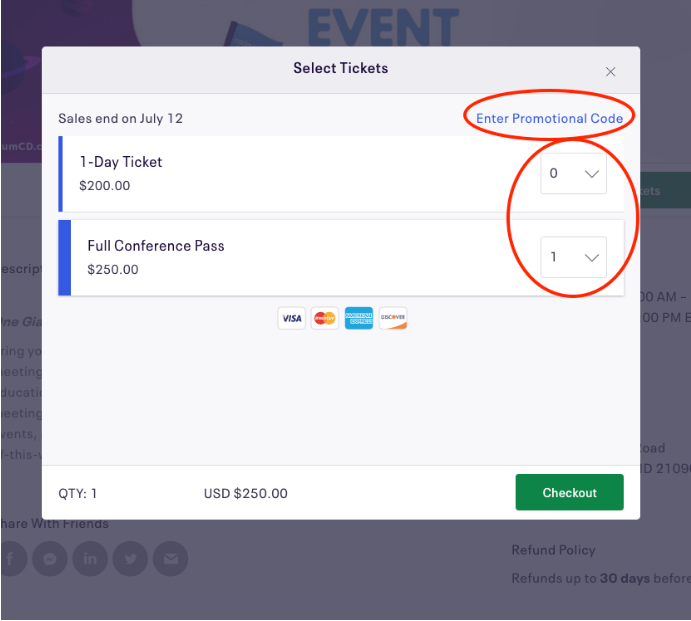 Attendees then fill out the registration form with their personal and company details, and choose which Learning Labs they'd like to attend on the custom dropdown menu.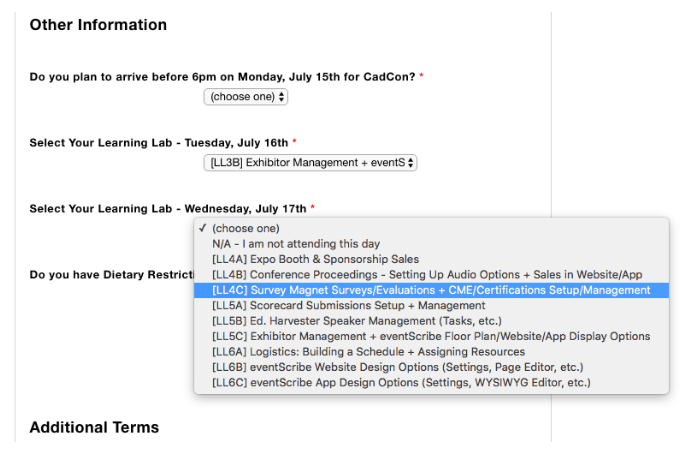 After they register, they'll receive an email invite with a link to log in to the CadCon eventScribe Website. Alternatively, they can visit the conference website directly and log in with their credentials.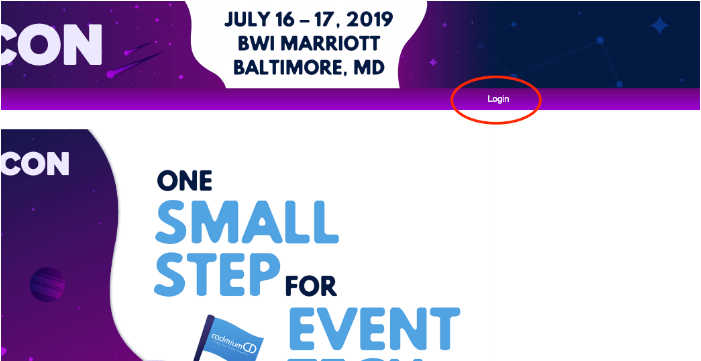 Once logged in, attendees simply click their name in the upper right-hand corner of the eventScribe Website and choose "My Schedule" from the dropdown.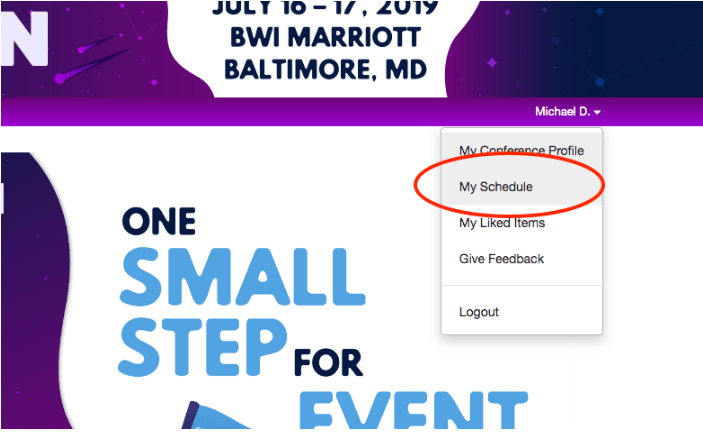 Any Learning Lab sessions the attendee registered for will show up on their personal schedule marked with a Blue Star.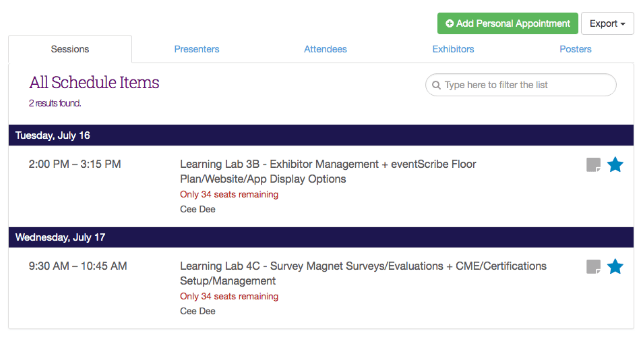 To change their Learning Lab selections, attendees simply return to their Eventbrite profile.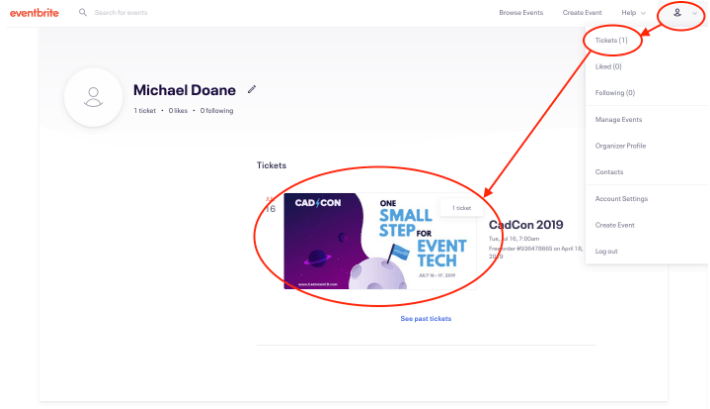 They choose "Edit" on their CadCon ticket order.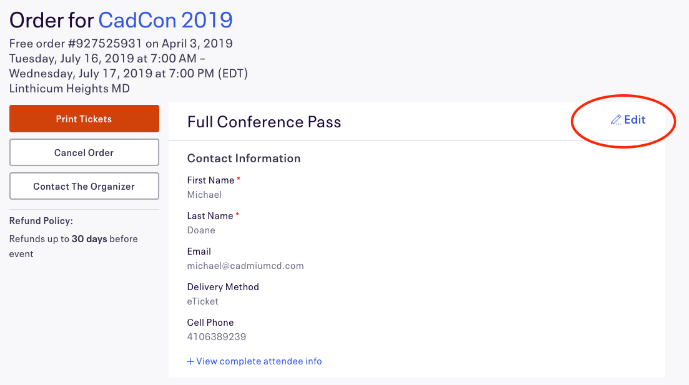 Then they scroll down to the "Select Your Learning Lab" sections and simply change the options to reflect their newly desired session.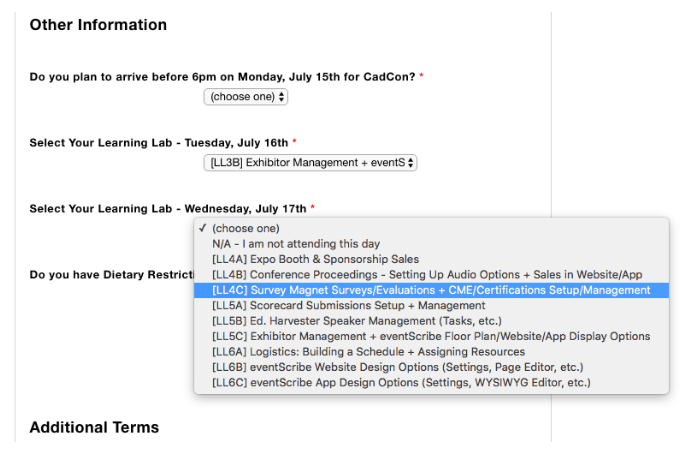 It's a simple integration with a lot of power for users who want the flexibility a SaaS solution offers.
There are some limitations with a solution like Eventbrite though. Shahry warns that users who need deep integrations with a lot of custom data flows will need to seek a heftier software solution, as Eventbrite does not support custom development requests.
To understand if the Eventbrite-eventScribe solution is right for you, schedule a discovery call with a CadmiumCD representative today.
About CadmiumCD
CadmiumCD is an event management software company with more than 15 years of experience providing solutions for Meeting Planners, Exhibition Organizers, Education Directors, and Attendees. The company's award-winning platform is trusted by more than 3,500 meeting professionals worldwide to collect, manage and share content to all event stakeholders.
For more information, visit www.cadmiumcd.com or call 1-877-426-6323.
Sign up for our newsletter