How to Create an Exceptional Digital Events Experience with Video Chats
Mar 31, 2021 Read Time: 4 min
by Cadmium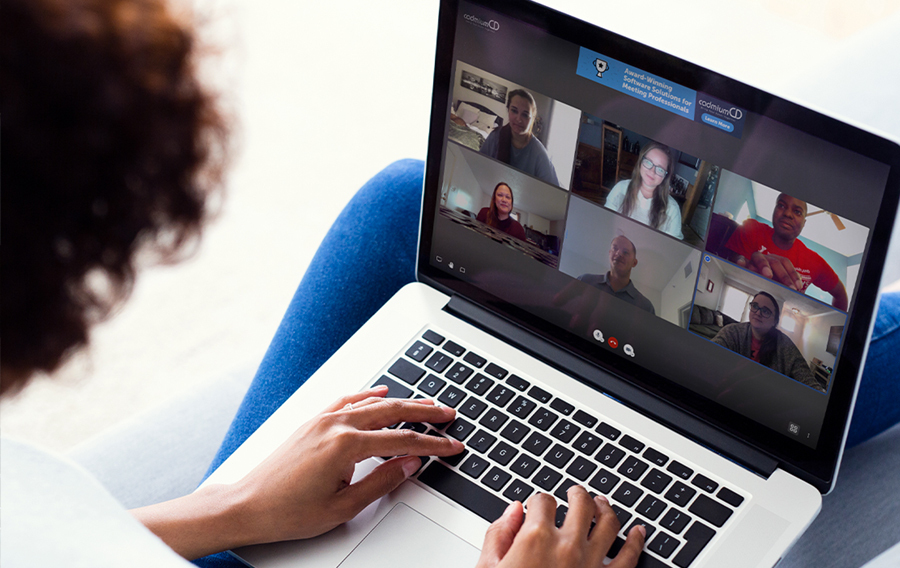 Written by CadmiumCD Contributor Pamela Shigeoka
So, what's in a venue? As event organizers, we know what we're looking for when we pick an exhibit hall or convention center for our events. And we know what our event stakeholders—attendees, exhibitors, presenters, and sponsors—want to get out of the spaces within our venue.
CadmiumCD's eventScribe Live has features that effortlessly bring the in-person event experience into the virtual space, but one event space can feel a bit more daunting than the others. It's easy enough to create livestreams or recorded education sessions. A virtual exhibit hall is built into eventScribe so attendees and exhibitors can easily interact. But what about those coffee breaks or happy hours scattered throughout your event?
eventScribe's video chats are the perfect solution when it comes to giving your attendees opportunities to interact with each other outside of sessions. Scheduling and managing group chats is easy to do within the eventScribe dashboard, and CadmiumCD's video chat system, built from scratch, includes features that make it superior to using outside video meeting options.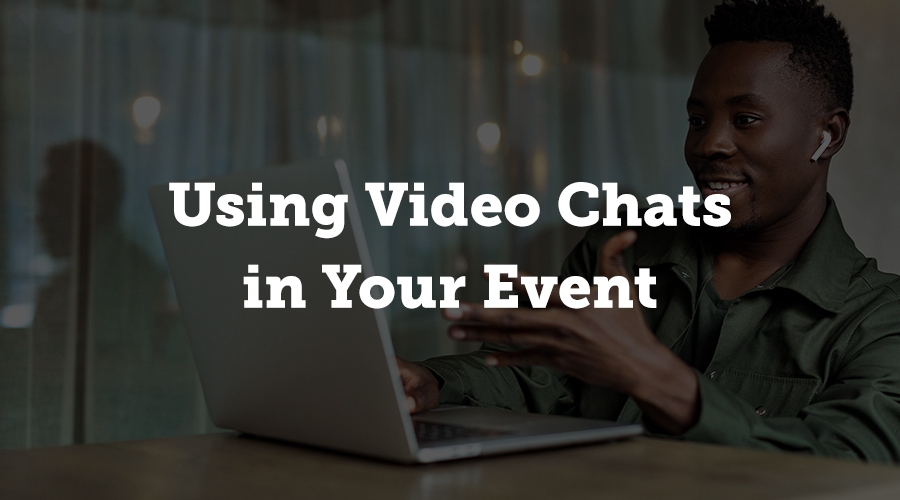 Using Video Chats in Your Event
By now, we're all familiar with the ubiquitous video chat session, whether it's from work meetings or casual chats with friends. Video chats have become an everyday part of our lives during the pandemic, and our growing comfort with the format makes them perfect for virtual events.
In terms of an event, a video chat would be the equivalent of a happy hour or a mixer, a scheduled session where attendees can break into smaller groups in which everyone will be participating. In an in-person event, these kind of sessions allow attendees to relax a little and interact with each other outside of the structure of sessions.
Video Chat is an add on within the eventScrive Live platform and can be chosen as an a la carte add-on or as part of our virtual package. It uses the "Brady Bunch" view, as we like to call it, for up to twenty users per session. This happens in real time, and nothing is recorded and no data is stored, so like Vegas, what happens in the chat stays in the chat.
Our video chat has a lot of the features you expect from a video meeting: the ability to mute yourself, an icon that indicates who the current speaker is, and a red icon that can indicate a slow network connection. Video chat is integrated into your eventScribe website and Conference Harvester, with all chat attendees already being registered in your system. Since we already have all their information, there's no need for your attendees to log in and enter their name and so forth like they would on a separate system like Zoom. If an attendee has uploaded a photo of themselves, that would appear if they've turned off their video; otherwise, their initials will show up in their pane.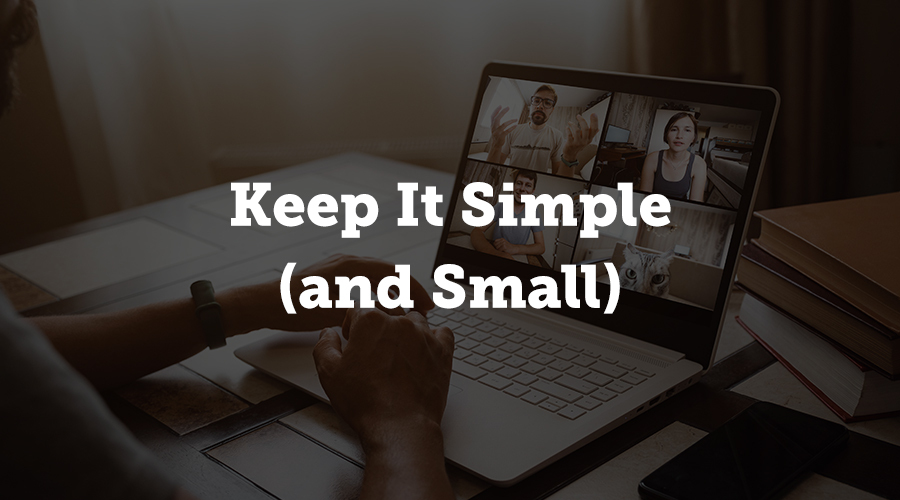 Keep It Simple (and Small)
The ideal video chat is made up of a small group, like a conversation that you'd have at a networking event. These conversations naturally seem to break into smaller groups of two to twelve people, and you take turns talking. This is exactly how a video chat works, and we typically recommend limiting each chat room to a maximum of 12 participants.
Since the intention is for everyone to have a voice on one screen, groups of twelve or more can make for a rather rowdy session. Our suggestion to make a larger video chat session run smoothly is to have a moderator with an agenda to provide guidance and keep things on track. Attendees can click a button to raise their hand if they want to speak, as well as enter chat messages that everyone can see or send private chat messages to anyone in the group.
You can create video chat rooms with a maximum capacity of up to twenty participants. If you absolutely need to have more than twenty people in a chat, you can talk to your project manager, but the limit is set to maintain the best experience. We've found that having too many users in a single meeting can be chaotic and doesn't provide a good experience for everyone. If you do need to have chat sessions for very large groups, we've found that creating multiple breakout rooms for smaller groups within your group makes for a much smoother chat session.
It's very helpful to gather information early on to see about how many people are interested in a video chat session. If the number of potential attendees is higher than the capacity you want for your room, you can then schedule multiple simultaneous sessions and assign attendees to specific rooms. If you're having a virtual break, lunch hour, or happy hour, you can control the number of people in each room so that everyone has a chance to chat and have a great experience.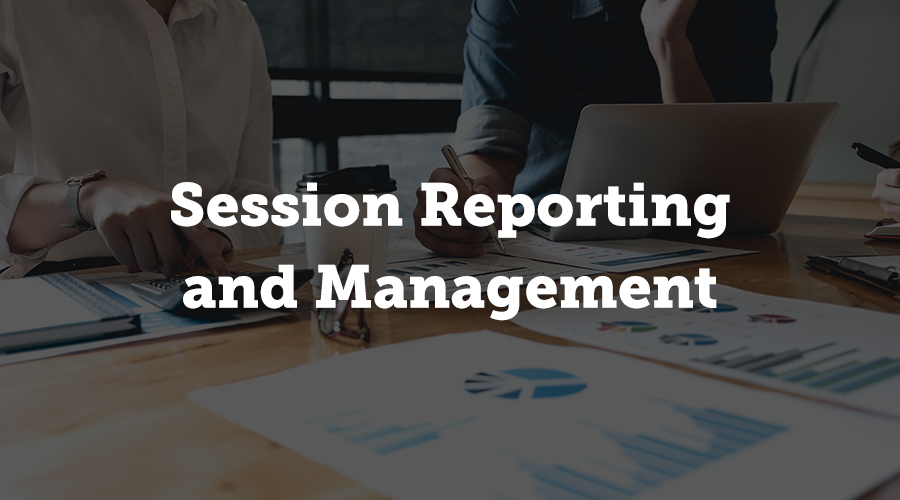 Session Reporting and Management
Like any session, you want to be able to look at that session's data and use it for future sessions and events. eventScribe Video Chat gives you multiple reports about your video chat rooms that you can access at any time during your event to see attendance over time during sessions. This can be especially helpful if you aren't sure which chat session topics will be popular.
The video chat session report allows you to see how many unique participants go into a chat room, the maximum number of participants that were in the chat, and how long all attendees spent in the chat room total. This can be useful to help you adjust your chat sessions for later days in your event as well as when planning sessions for future events. This can also be useful to sponsors, who can see how many attendees viewed their ad banner at the top of the chat room.
Managing video chat rooms is very simple, so that you and your team can manage all of the chat room session settings yourself. You can create and edit sessions, organize your session schedule, and impose limits on the number of participants in each chat room as well as create descriptions for each session. The video chat management screen also shows at a glance the number of current users and the cumulative time used in each chat room during your event.
While it may be tempting to limit your event to just the basics: educational spaces and a virtual exhibit hall, CadmiumCD has found that giving attendees a chance to interact casually helps improve their overall experience and satisfaction with your event. Video Chat is the perfect option when it comes to facilitating interaction and engagement that will keep your attendees happy.
About Pamela
I am a freelance writer who enjoys dipping my toes into a wide variety of writing subjects. I have an M.A. in English but found that teaching wasn't for me, so I'm applying my training to writing instead. I've been blogging for ten years and have written everything from book reviews to pop culture essays to business topics. In my spare time, I enjoy writing fiction, playing games, and learning new crafts. I live in Corvallis, Oregon, with my husband, daughter, and dog.
Sign up for our newsletter