Show Me the Money: Planning and Budgeting for Today's Hybrid Meetings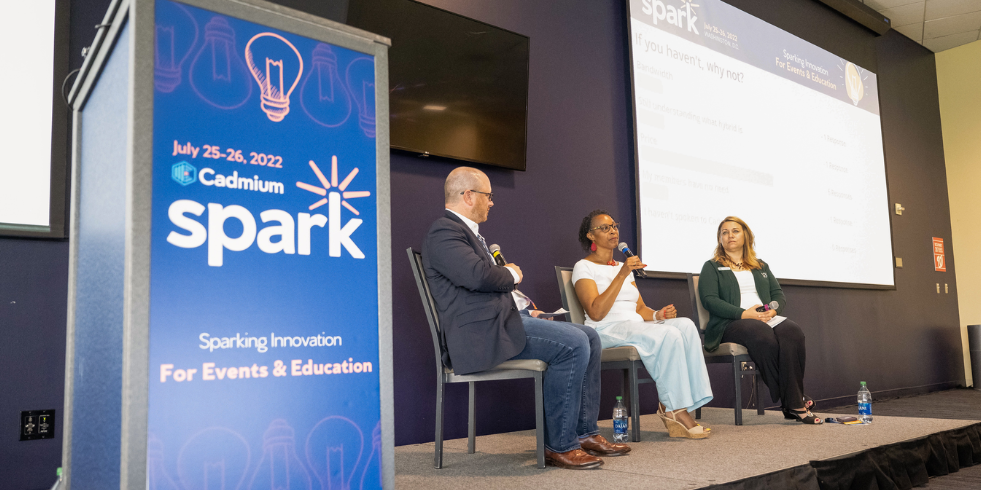 As more meetings and events move to hybrid status, meeting planners and association executives are honing their expertise on how to plan, budget and execute them.
Cadmium's VP of Partnerships, Paul Zickert, recently led a panel discussion featuring Jennifer Kerhin, CEO of SB Expos & Events, and Andrea Rouse, Director of Conferences and Events for the Merchant Advisory Group. We teased out some of the more nuanced issues that come with planning a hybrid meeting. This format has changed how we plan these meetings, but it still comes down to following the money—how you spend it and how you earn it.
Hybrid meetings are defined as meetings that occur in person and all or parts of the sessions are offered via live streaming or on-demand after the meeting.
Budget and Planning—Start Early and Monitor Budgets Closely
Will your meeting content be live-streamed, or will it be captured for content? In many cases, planners think about this as two separate events and budget accordingly.
One tip suggested is to create a budget for the in-person meeting and a separate budget for the virtual component and assign codes for expenses and revenues to track both. Meeting planners agree budgeting and planning for any event with a virtual component can be tricky; so start early and stay focused on key expense areas.
Separating the two components allows you to compare fixed and variable costs and will enable you to better understand what your costs are for virtual and in-person meetings.
The key is to keep your eye on the budget because a meeting has a lot of flux up until the event, as last-minute registrations are common. With no pressure to book plane tickets or hotel rooms, your potential audience is more inclined to procrastinate.
AV & Internet—The Two Technology Money Pits
Once you decide on the meeting format, it's essential to identify the meeting's main expenses through the planning and budget process.
In most cases, audiovisual and internet comprise a large portion of any meeting budget.
Live streaming during a hybrid event requires robust internet support and meeting planners need as much bandwidth as they can afford. Keep in mind that the extra bandwidth may come with additional equipment needs and the technical personnel to run and support it. Be sure to factor in any staff costs for video capture, editing and uploading as well.
Experienced meeting planners have learned one lesson the hard way: don't be too cheap on internet costs. Sometimes, a convention center or hotel may slow or completely stop your internet feed after you've reached your contractual limit. So, while it's important to note that internet costs can eat up your budget, imagine your plenary speaker freezing in the middle of a talk because you didn't contract for enough internet bandwidth.
Whether you choose a hybrid or all-virtual event, today's meetings require more technical knowledge and a stronger commitment to marketing to help coordinate your efforts and messaging. Hiring an external consultant for a virtual or hybrid meeting can really pay off for meeting planners because it's important to help you align attendee, board of directors, and sponsor goals to ensure a fine-tuned strategy across all these groups.
Hybrid Meetings Offer New Revenue Streams
The revenue side of a hybrid meeting is also complex. Streaming platforms along with in-person registration provide more opportunities for sharp meeting planners to create additional revenue streams from new sources.
On the exhibitor side, there are many new ways to sell virtual online resource centers. Ads can be placed in various parts of the virtual platform or you can sell thought leadership opportunities that align with exhibitor marketing goals. Virtual content provides new sponsorship opportunities as well. For instance, an exhibitor may want to sponsor a speaker's session with a content sponsorship that attendees can see during the stream.
Meeting planners can now offer complete registration for in-person, virtual, and on-demand, or offer partial registrations for a single day—or a combination of both. For instance, a meeting could offer registration for one day, multiple days, or just on-demand or virtual for those who cannot attend but want to consume the meeting content at their own pace. Meetings can offer attendees access to virtual content for an extended period of time, and charge accordingly.
Hybrid Meetings Here to Stay, But in What Format?
Meeting planners agree that hybrid meetings are here to stay, though their format may change. As more virtual attendees become more accustomed to the format, they may insist on a binging model like Netflix, where the meeting content is available for an extended period of time.
It's also important to recognize that virtual meeting attendees may have a shorter attention span as they may be dealing with in-office distractions an in-person attendee is not conflicted by. This may influence the way you approach programming.
You can access the full live-streamed workshop here.
Sign up for our newsletter