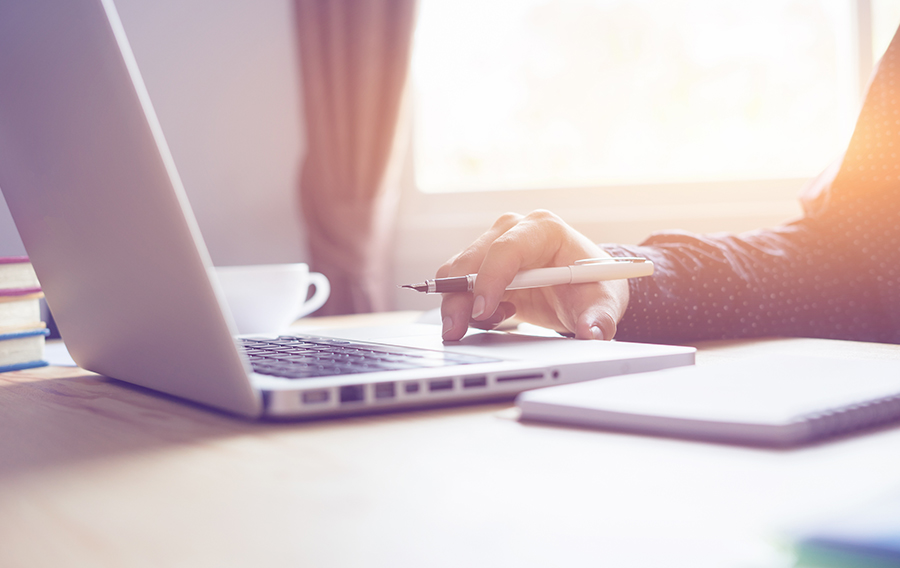 How to Transform Your Live Conference or Trade Show into a Virtual Event During the COVID-19 Coronavirus Outbreak
With fears of the new coronavirus (COVID-19) spreading across the world, many trade shows and conferences are deciding to downsize or cancel their events. Many attendees and sponsors are also opting out of travel or simply unable to make it to shows due to travel restrictions.
Before you cancel your event, consider an alternative. We believe in the power of meetings. They're where people bring together ideas and insights to inspire others, and that's exactly what we need right now.
Here's a quick list on how you can use your CadmiumCD products to turn a live event into an online meeting of minds.
CadmiumCD's Guide to Virtual Events
1. Take Your Sessions Online
Use a tool like GoToWebinar to set up virtual sessions in place of your meeting rooms. Have attendees log into the same session they would've attended onsite and watch the session in real time.
Include links in your app and website to register and watch the webinar.
You could even have attendees download the conference app and send them real-time push notifications when sessions are starting. Make it fun so it feels like they're actually part of a community even if they're sitting back at home or in the office.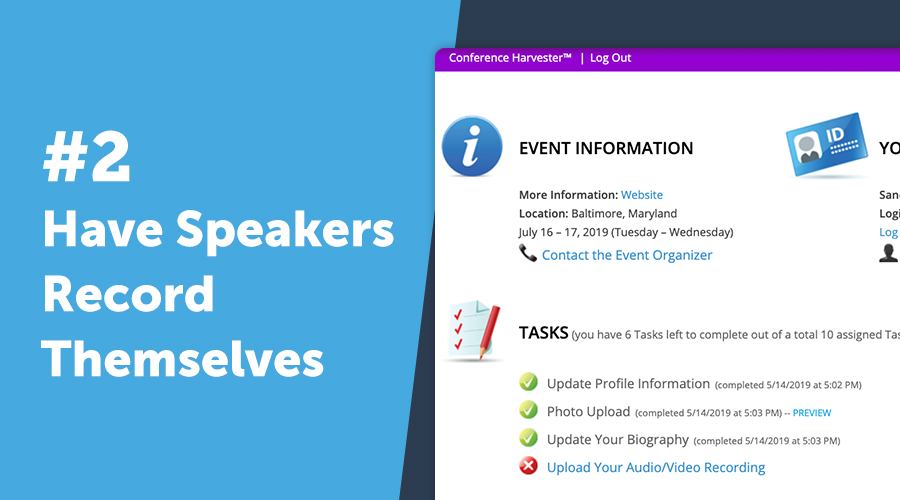 2. Have Speakers Record Themselves
Have speakers record their live webinars, or simply use the audio/video recording tools on their phones or computers to capture their presentations.
CadmiumCD Product Specialist Marty Holbrook says, "Speakers can record their presentations and use the Conference Harvester to submit a video of the presentation to be included in our online products."
If your event is still happening in a physical location, but attendees can't make it, you can record these sessions and make them available to attendees post-conference.
Here are a few ways we can take your audio, video, and presentation slides and use them to create engaging Conference Proceedings: 4 Ways Savvy Event Planners Share Conference Content

3. Link Recordings from Your Event Website
Once your Conference Proceedings are ready, we'll add them to your eventScribe Website or App.
Send attendees who couldn't make it to the show complimentary access to these recordings. Your members and attendees can browse sessions they missed and engage with content that's important to them.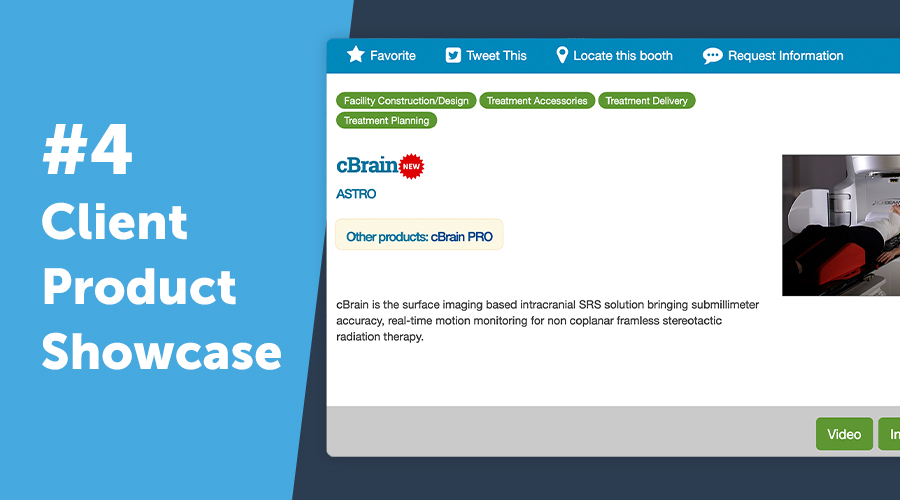 4. Highlight Sponsors with a Product Showcase & Floor Plan
Use CadmiumCD's Product Showcase and Expo Floor Plan tools to host a virtual trade show.
Send attendees app notifications and emails highlighting specific sponsors and exhibitors throughout the show. You could also send an email with the best product innovations from your trade show and link to the Product Showcase on your eventScribe Website.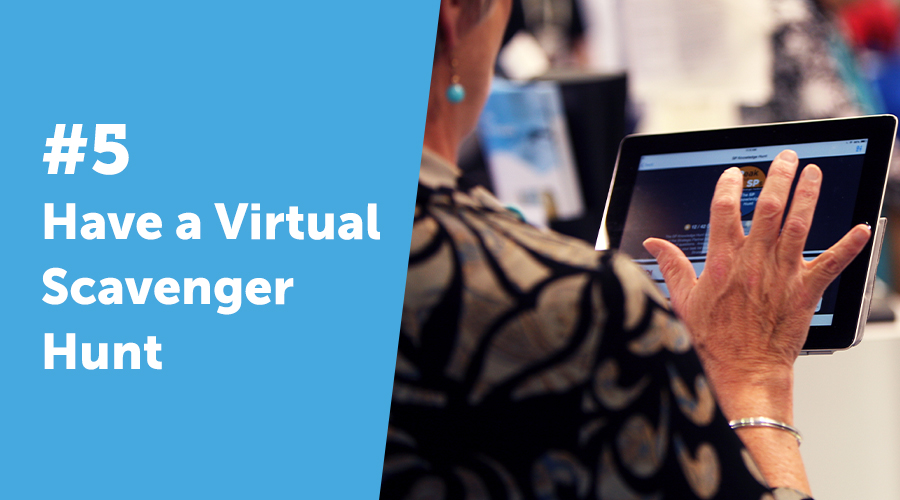 5. Have a Virtual Scavenger Hunt
To up the game (quite literally) at your virtual trade show, offer a scavenger hunt. The onsite Scavenger Hunt works like this: attendees walk around the show and scan QR codes strategically located at sponsor booths.
Instead, you could include these QR codes as PDF files on exhibitor profiles and sponsored sessions on the eventScribe Website. Attendees could open them up, then scan them with the eventScribe App to answer questions and gain points.
CadmiumCD CTO Peter Wyatt says, "The QR codes are easy to generate on the fly. Meetings could have a page that lists all the scavenger hunt task titles and clicking on one would launch a pop up with the QR code."
To make things more competitive, attendees can access the live leaderboard in their eventScribe App to see how they're doing (and who their top competitors are).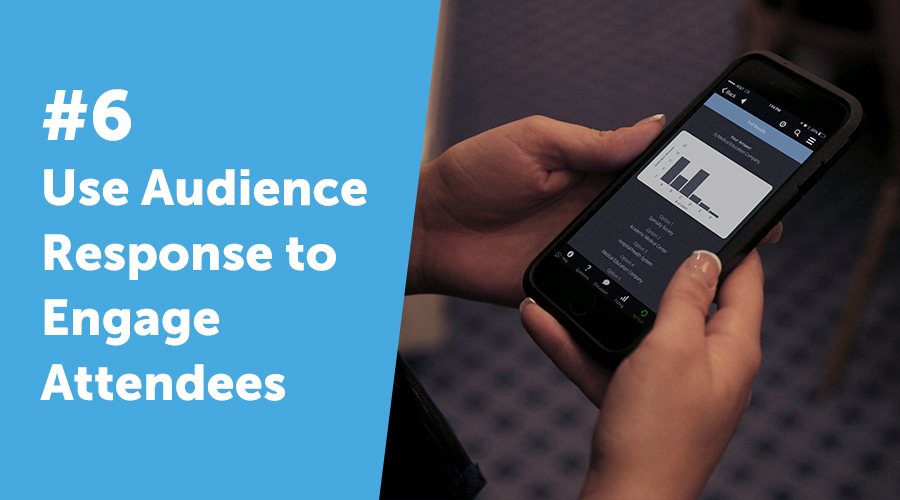 6. Use Audience Response to Engage Attendees
Conferences are all about live interaction and learning. In addition to note-taking, highlighting, and drawing on presentation slides, eventScribe offers another important educational tool: Audience Response.
The Audience Response System (ARS) acts as a real-time tool for question moderation and in-session commentary. Use ARS to allow speakers to poll the audience and display real-time results. Attendees can also ask questions and upvote others' questions for the speaker to answer.
CadmiumCD Training Manager Bob Nowaskey says, "ARS is very reliable, even when used in a virtual setting. We have tested ARS polling questions across the country and without fail, they pop up within a second or two. There may be some lag depending on users' WiFi strength, but at most this should be something like 8-10 seconds."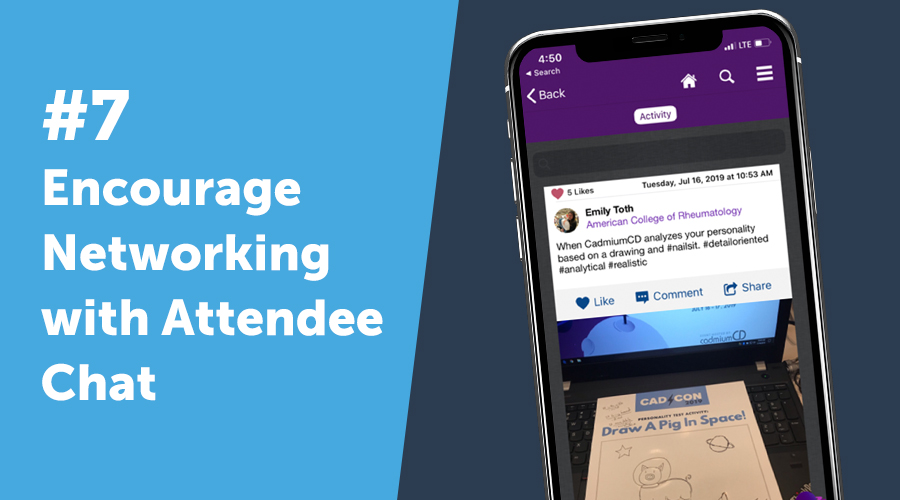 7. Encourage Networking with Attendee Chat
Use Attendee Chat in the eventScribe App to foster one of the most important things at a conference: networking!
Send push notifications with icebreaker questions, topics of discussion, and fun photo competitions to get people engaged. For example:
At the beginning of the conference you could use the "Draw a Pig" personality test that we did at CadCon last year and have everyone share their picture on the attendee chat.
When your regularly scheduled evening entertainment was planned, have attendees share drink and food recipes and share pictures of themselves enjoying the meal at their dinner table.
Have a best-dressed photo competition. If people are stuck at home, you could get creative and do something like a "wackiest pajamas" competition.
You could also use the attendee chat to announce things like award winners, people who have earned certifications, or scholarship winners.
Encourage attendees to also use the attendee list in the app to connect with 3-5 new people by sending them a direct message with a discussion topic or question. They could then brew themselves a cup and schedule appointments to chat over coffee via a phone or video call.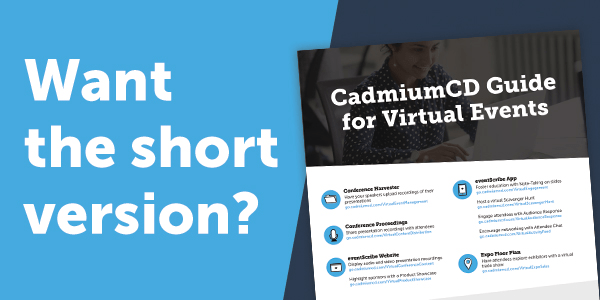 Want the short version?
Download the PDF List to see how the CadmiumCD products mentioned in this post work for your virtual events.
Where to Find More Info About the COVID-19 Coronavirus
Whether you're continuing on with your physical show or decide to move it online, here are some valuable resources to keep you, your staff, and your attendees safe:
Have additional tips or resources? Share them in the comments below.
Want to learn how to use CadmiumCD products in your COVID-19 contingency plan? Reach out to us here.
Sign up for our newsletter