5 Ways to Get Creative with Your CME Event Content
Mar 1, 2022 Read Time: 3 min
by Cadmium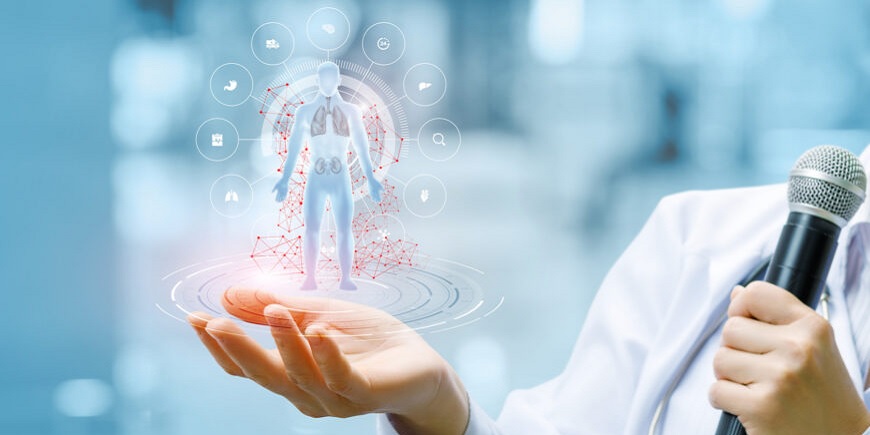 When facing the ramifications of the COVID-19 pandemic, you have to get creative about where to go next. Besides moving to the virtual arena (where you can gain even more attendees), you have to offer them your best CME content. The question becomes how to do that. It's time to work smarter, not harder.
In this post, we give you five ways to get creative with your CME event content.
1. Reach More Attendees with Your CME Event Content
First, if you haven't already done so, go virtual. Your CME event content will be available to many more attendees, more than how many you may have anticipated from your on-site event.
For example, the American College of Cardiology (ACC) went virtual for its annual conference due to the pandemic, forcing the event team to get creative with the event content. They chose twenty-four sessions to live stream and decided to pre-record the rest of the content for on-demand access.
In the first thirty minutes of the session's opening, 13,000 people logged in from around the world. By the end of the three-day event, over 34,000 unique visitors had logged in for the live or pre-recorded sessions. Ninety days after the event, the ACC had 63,000 unique users who had logged in to access the conference's content.
In another example, the American Society of Clinical Oncology (ASCO) planned on holding its conference with 44,000 registered attendees. When the event team measured the total content views of the virtual offerings, the results were more than surprising: they had over 2.5 million content views during the meeting. In social media, more than 8,800 Twitter users had posted more than 45,000 tweets using the #ASCO20 hashtag, generating 750 million likes, shares, and comments.
These two organizations showed the success that they experienced when they went virtual and introduced their specific types of CME event content in the form of live streaming, pre-recorded content, and participants' social media use. These are certainly ways to get creative with your CME event content.
2. Go to the Stream—and Don't Forget Your Audio
You can get creative with your CME event content by using live streaming. Take your content, and adapt it for events such as conferences, seminars, and annual meetings. Using live streaming video conferencing extends your reach to more attendees than how many you would have had with onsite meetings only. You can integrate with platforms like Zoom Meetings, GoToWebinar, Webex, and YouTube to help deliver high-quality video conferencing, so you keep your event participants coming back for more of your content.
Don't forget about audio technology. Be sure to offer audio recordings of your CME event. This is a powerful way to get creative with your CME event content. Podcasts have become the new talk radio for mobile devices, and they're ideal for individuals to gain new information. Listeners can subscribe to a podcast series—such as yours!—and listen regularly. Keep your podcast running regularly with fresh content, and you'll attract even more listeners.
3. Have Flexible Flexibility
Physicians and other medical professionals sometimes can't attend events due to various circumstances, such as time constraints, family situations, or other issues. Another way to get creative with your CME event content is to provide attendees with the flexibility to access, view, or listen to your content from anywhere and at any time using any device. Offer this flexibility, and your event will be held in great regard.
4. Make Your CME Event Content Enduring with Your LMS
Once your live webinar has finished and your learners have obtained their credits, you can use your LMS's course-cloning feature, like the one found in EthosCE, to convert the webinar and any other activities into enduring content. Your Zoom Meetings or GoToWeb (or others) meeting recordings are already available in your LMS, so you don't need to download, convert, or upload large files. The course-cloning feature enables you to easily create an enduring version of the meeting. You add pre- and post-tests, evaluations, and credit types, and soon, it'll be up and ready to go. You can transform your CME event content into enduring materials for access later.
5. Offer Multiple Credit Types
Getting creative with your CME event content means you can offer more than fifty different types of credits for AMA, ANCC, ACPE, and MOC certifications and recertifications and for non-credit events. No matter what your event attendees need, you can be prepared for every aspect of their learning.
Get Creative with Your CME Event Content with EthosCE
Even with the pandemic changing how you work, you can still get creative with your CME event content. Begin your move to the virtual format, and provide your CME content through video, audio, and enduring materials, along with support for multiple credit types, all while using EthosCE to guide you along the way.
At EthosCE, we understand the challenges of staying up to date and compliant with ACCME changes. We know how critical it is to get things done right the first time when it comes to team-based education and success.

To learn how EthosCE can enhance the continuing education of your healthcare teams, schedule a free 1-on-1 demo with one of our specialists today!
Sign up for our newsletter