Level Up Your Event App with These Educational and Engaging Tools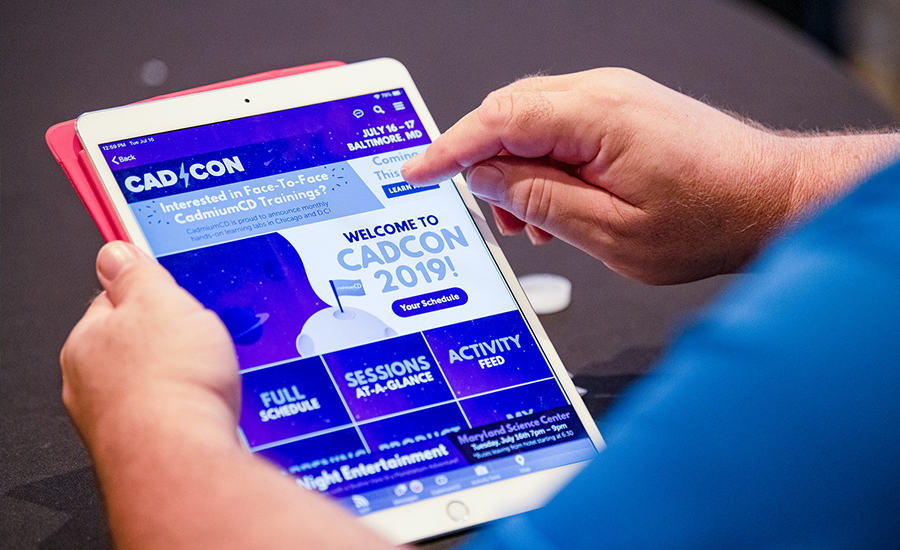 Mark Whitaker recently shared some great tools that will take your event app to the next level (watch the recording).
If you don't have the time to watch the replay, we've created a quick overview of all the tools he discussed below.

1. Missions
Missions are a new way to build event apps. They act as a checklist of items to complete so that you never forget an important detail, setting, or content for every event app your build.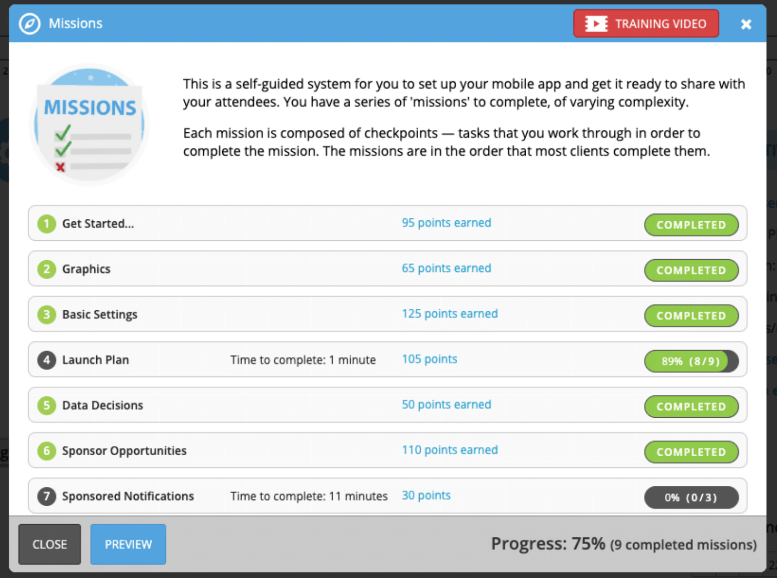 Why use missions?
Missions make the decision making process easy when it comes to designing the functionality and look of your app

Missions establish which communication channels you want to use with your app project manager

Missions help you create a unique and custom app for your conference or trade show

Missions allow users to create an event app with very little assistance, or to elect to have a helping hand during the process
For more on Missions and to learn how ACG uses them to build better experiences, read "Introducing Missions: A New Tool for Getting Projects Started."

2. Main Screen Editor
A Main Screen Editor makes designing your event app's homescreen simple and fun. Simply drag and drop blocks, upload images, and define the functionality you want for each button.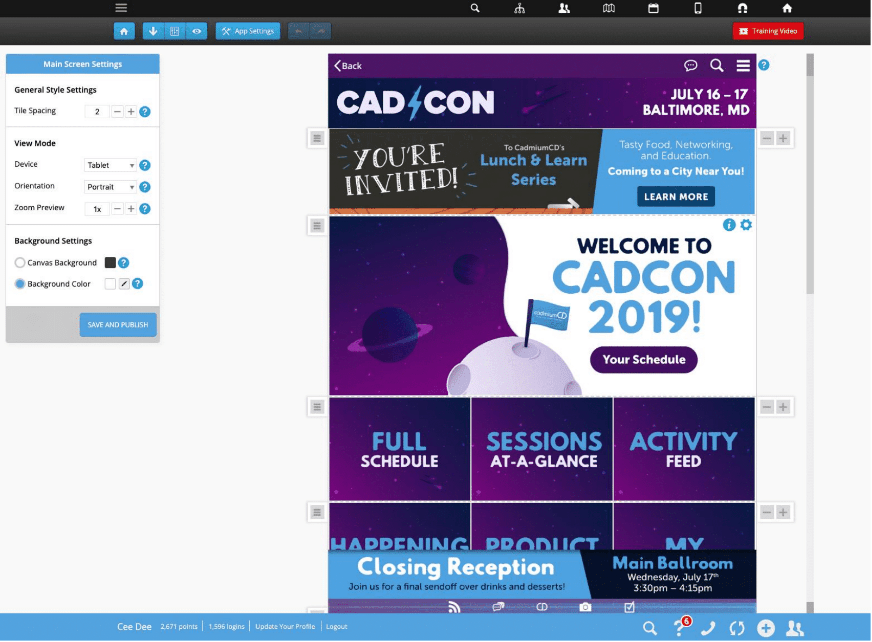 Why use a main screen editor?
Main screen editors give you the maximum control over the look and functionality of your event apps

You can upload images for tile buttons, change branding colors, rearrange the layout of your app homescreen, and link URLs and app functions right from the editor

These are also known as "What You See Is What You Get," or WYSIWYG ("wizzy-wig") editors, because they are a visual way to design an app

3. Room Check-In
Room Check-In allows your attendees to scan a QR code to check-in so that they can ensure hey receive credit for every session they attend. It also makes the accreditation process easier on you with a well-documented system.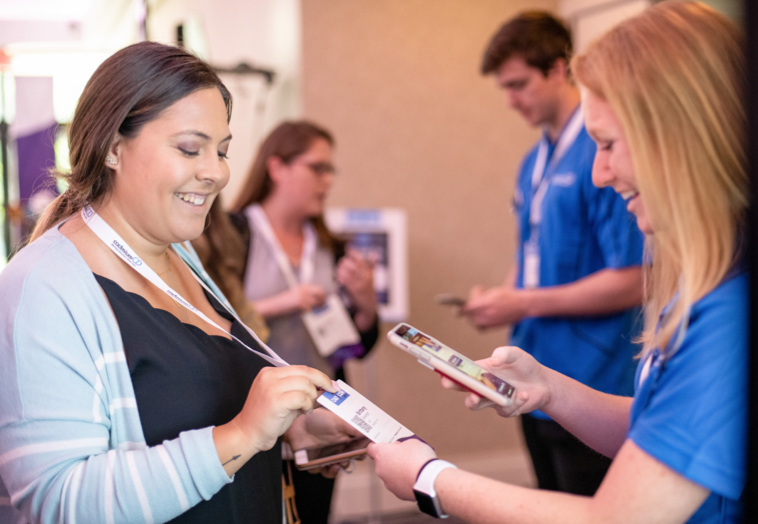 Best Practices
Always provide multiple check-in locations (at the door, on the screen, etc.)

Encourage self check-in to reduce attendee traffic

Remind attendees to use the event app to scan the QR codes
Who's it for?
Attendees claiming credits

Meeting planners tracking session popularity

Managers in charge of their organization's accreditation standards process
To learn more about how the Room Check-In process works for accreditation, read "NAEA Uses Room Check-In to Increase Number of Completed Session Evaluations."

4. Boost
Boost is the answer to the question, "Why aren't event apps for meeting planners too?" Meeting planners can manage events like never before with staff and vendor contact lists, real-time messaging, and the ability to send push notifications through a mobile device. It layers extra buttons and functionality for meeting planners, staff, vendors, and other stakeholders on the same app attendees use.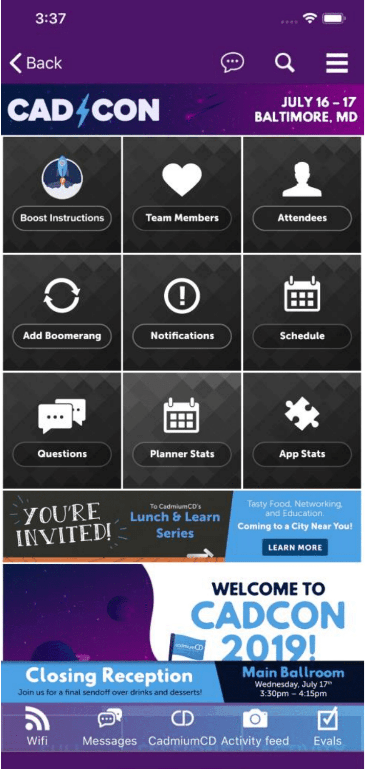 Best Practices
Create multiple teams so that you have your onsite contacts sorted properly (staff, volunteers, vendor #1, vendor #2, etc.)

Use

Logistics Harvester

to define AV and F&B setups for your rooms, which will show up in Boost as tear sheets

Utilize

myCadmium

tools such as

Boomerangs

(for support) and Push Notifications (to send messages to attendees) from your main screen

Ditch walkie-talkies by using contact lists and messaging features in Boost

Access real-time app stats to see how attendees are engaging with sessions, exhibitors, and content at your event
Who's it for?
Meeting planners organizing a team

Staff members needing to communicate
To learn more about Boost, read "How WVC Annual Ditched Walkie-Talkies & Binders and Brought Onsite Conference Management Into the 21st Century."
5. Scavenger Hunt
Scavenger Hunts deliver great experiences to attendees while generating more revenue for planners. They also help exhibitors get all the leads. Oh yeah!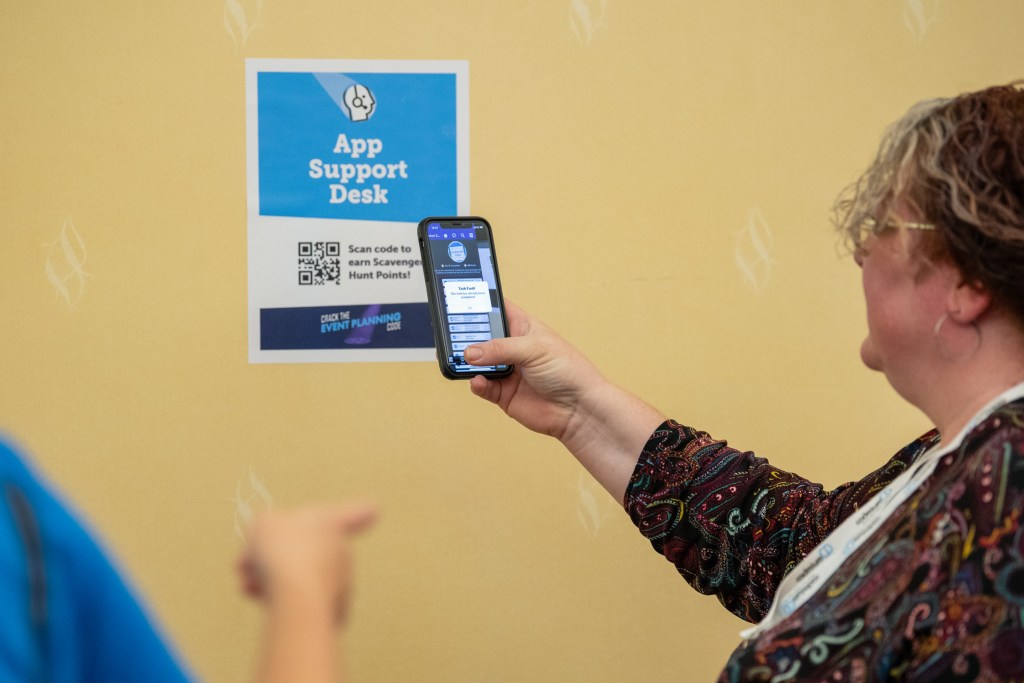 Best Practices
Use the in-app leaderboard to encourage attendees to play and compete

Strategically place QR codes near points of interest, information kiosks, and of course, exhibitors to ensure traffic flow to certain locations

Sell exhibitor participation in the game as a sponsorship item

Tie questions to exhibitor information (so they have to engage with booth staff and brochures) and educational content (so they have to attend sessions) for maximize attendee engagement
Who's it for?
Meeting planners who want to influence attendees to flow to certain points of interest at their conference or trade show

Exhibitors who want increased exposure at the event

Attendees who want to have fun and participate in healthy competition

Speakers who want to share their content in new and unique ways
To learn more about Scavenger Hunts, read "How AVA Improved Their Brand with a Scavenger Hunt."

6. Audience Response System (ARS)
ARS is the pinnacle of speaker-attendee engagement. Speakers can poll the audience (gaining valuable insights along the way), and attendees can ask the speaker questions and chat with each other to get the answers they need. It's a win-win all around.
Best Practices
Notify speakers and set a cutoff date to submit polling questions

Show attendees how it works early in the conference

Make preparations onsite so that the system is loaded into each room and speakers know how to use it
To learn more about ARS, read "How AUA Tracks Learner Retention with Live-Polling."
Want to learn more?
Schedule a demo of eventScribe to learn how you can level up your event app with these great tools and more.
Sign up for our newsletter