Maximize Attendee Engagement with eventScribe
Jan 13, 2021 Read Time: 5 min
by Cadmium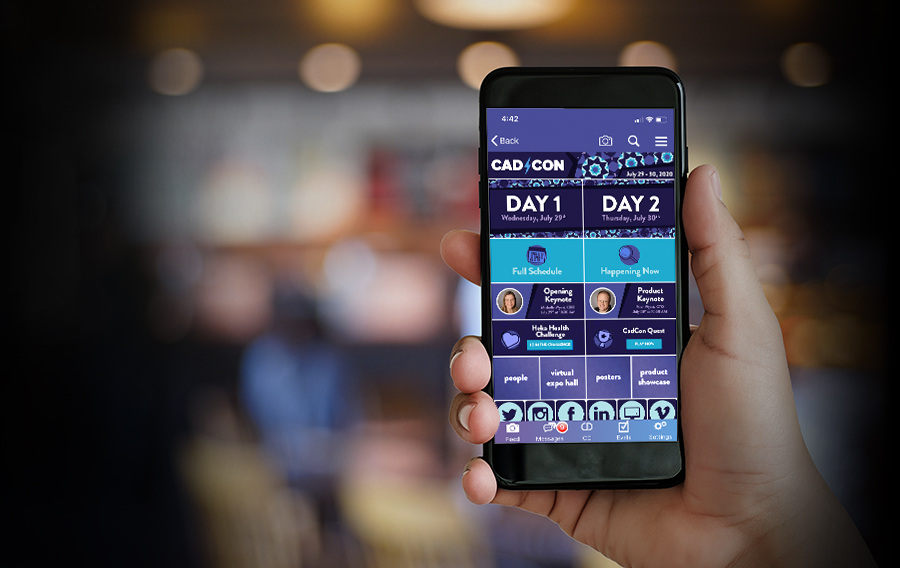 Written by CadmiumCD Contributor Pamela Shigeoka
Perhaps the most jarring difference between live and virtual events is the potential lack of personal interaction.
Instead of being at a convention center filled with people, virtual event attendees are at their own homes or offices, and it can be difficult to get them engaged. If you're concerned about weak attendee engagement at your virtual event, you'll find that CadmiumCD's eventScribe Live includes many options for increasing attendee engagement using both the website and the mobile app.
Let's take a look at these tools and some ideas for using them to help your attendees get the most out of your virtual event.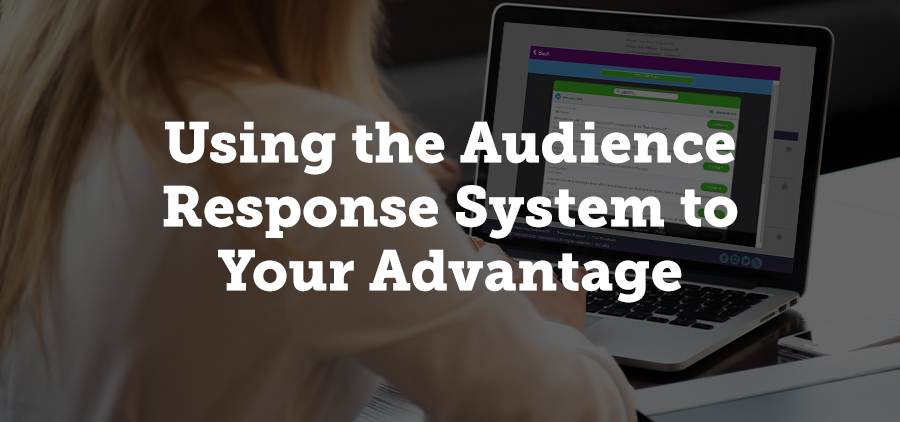 Use the Audience Response System to Your Advantage
eventScribe includes a robust Audience Response System that works across the website, mobile app, and livestream feed. The ARS includes features that are perfect for encouraging attendees to engage with your presenters as well as other attendees.
Attendee Q&A
The Q&A system, for example, is probably the most heavily used feature for virtual events. It is a great tool for keeping attendees engaged while watching presentations live-streamed or on demand.
Attendees can submit questions during a live-streamed session, or you can designate a Q&A time slot for on-demand presentations if you want to give attendees the opportunity to engage with content outside of a live format. They can submit questions through app or website, which can then be accessed by the presenter or moderator.
Moderator Options
The moderator screen allows your designated moderator to view questions and feed them to the presenter if it's a live session. If you are using the Q&A for an on-demand session, you can use tools to key in text responses that will display underneath the video for the duration the presentation is available. Future attendees will be able to see the questions and answers as they watch the on-demand video in the future.
The moderator screen in eventScribe products allows whoever is designated to view all of the questions and choose which ones will be visible to the entire attendee base. This feature gives you control over the questions that will be answered and displayed publicly. There are also buckets that mods can move the questions to and from: one for answered questions and one for questions with a text response. This helps you keep the questions organized in the back end.
Chat & Discussions
The discussions module is a great tool for virtual events. It functions like a chat room within the presentation. In a virtual setting, this is very helpful, as it allows attendees to communicate with each other either before the presentation begins or during, if you choose to allow chat while a presentation is running.
This is a separate platform from Q&A, so you can keep questions in a separate tab for emphasis.
Live Polling
Live polling is something that works very well with on-site events, but it is also very useful for livestream presentations. Speakers can load polls into slides they're using on their live stream.
Attendees can then access the questions just like how they would do on-site and participate in the presentation. The results screen will show up on the session's page so attendees can see what others have said in their responses.
This adds a nice touch of human interaction to a setting that might be a little detached. Instead of just sitting behind a screen watching a video, attendees can feel engaged with the presentation and other attendees.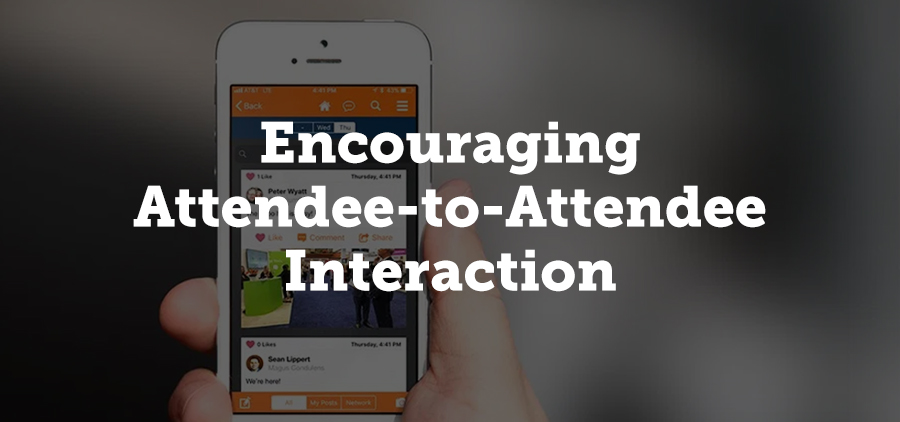 Encourage Attendee-to-Attendee Interaction
Getting attendees to interact with each other can seem daunting in a virtual setting, but eventScribe has features that can be used to encourage networking and socialization.
Attendee Profiles
The attendee list provided within the website and app is a flexible tool that's ripe for interaction. The list can be anything from a simple full roster to a multi-featured profile list with networking tools.
Using attendee profiles provides ample opportunities for engagement. Attendees can browse the list, view attendee information, and network by sending direct messages through the website or app.
Profiles can include as much or as little information as an attendee is comfortable sharing. They can choose to share personal details, position, and location information along with social media links, their photograph, or even a short biography. You can also encourage attendees to use only the DM feature within eventScribe or allow other methods of contact outside of the website and app.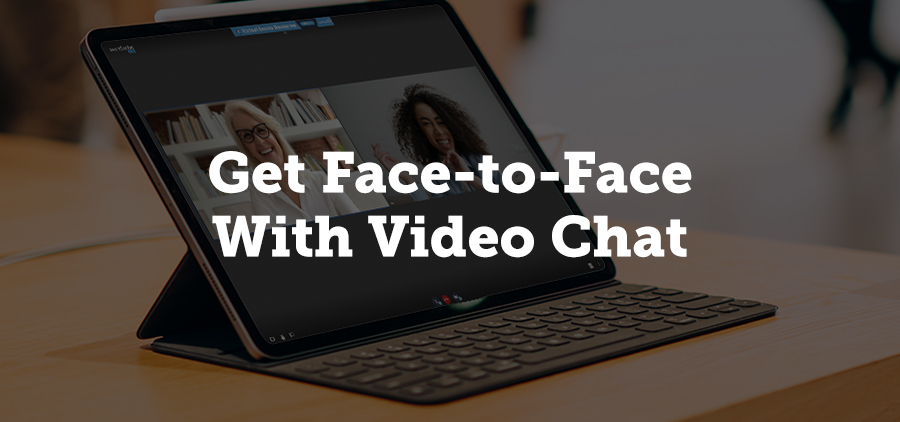 Get Face-to-Face With Video Chat
Finding a way to allow face-to-face interaction is probably the most important aspect of the virtual conference environment, especially when getting attendees engaged with the content.
CadmiumCD launched a new video chat feature in eventScribe in early 2020, and it's the perfect way to facilitate attendee engagement. Video chat provides an interactive environment for remote attendees and speakers that recreates the feel of being at a live event.
The video chat functions much like other online meeting platforms, so attendees who have been doing virtual meetings will find the interface familiar. CadmiumCD has made sure to give attendees complete control over their video chat experience, allowing them to share as much or as little as they choose.
Presentation & Poster Sessions
Video chat is available for both presentation sessions and posters. Once an attendee logs in to a video chat, they can choose to share their camera feed, their screen, or they can go audio only to listen to the conversation.
The attendee's view is a full screen design with easy log in—one click from their online schedule and they're in—and they can control their personal display. The default view is photo tiles of other attendees who are logged in to the same chat.
Screen Sharing
Within the chat room, an attendee can share their screen, raise their hand, and communicate with others. Screen sharing can be used for powerpoint presentations or a poster to share with attendees.
When an attendee clicks the raise your hand button, their photo tile will have a blue icon in the corner that lights up and shows the rest of the room that they would like to speak. Having attendees use this keeps the chat room organized and allows all attendees the opportunity to speak.
Video Chat Settings
Attendees have full control over their settings. They can control audio and video presence easily, with options to mute, share or not share their camera, as well as the ability to leave the room at any time.
They can also choose to change layout from a full grid to one that features the active speaker as the main window. They can adjust video quality and blur their background, so if they are attending from home, they can disguise the fact that they're sitting at their kitchen table, for example. They can also share a YouTube video, which could be useful as a video introduction to the session or a welcome message to break the ice.
Social Interaction
Video chat helps bring the social element of live events back to virtual events. eventScribe's video chat can support up to 75 attendees per session, but we recommend keeping the number of people between two and twelve to maximize engagement.
You can use video chat to socialize outside of presentations. It's perfect for a virtual cocktail or happy hour, coffee breaks, birds of a feather sessions, trivia contents, and so much more. It is also an excellent tool for holding group meetings, like committee or board meetings or group study sessions.
You can easily add security features such as unlock codes, access levels, and event codes as well as limit the number of attendees allowed into a room at a time and set times for video chat meetings.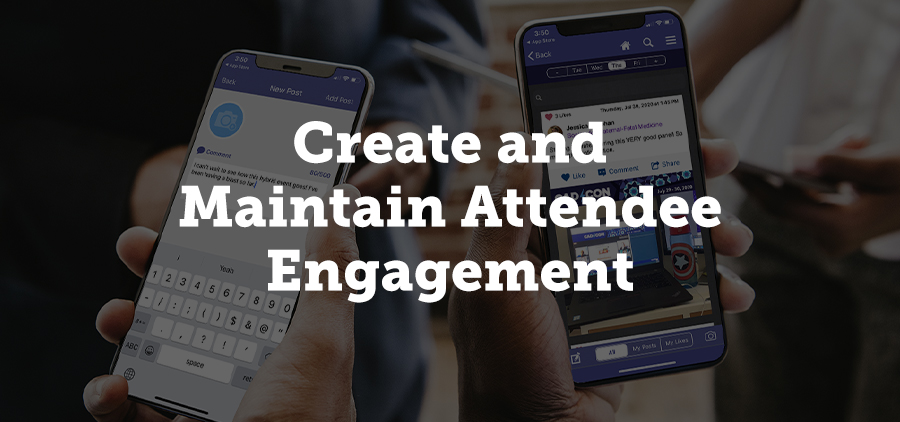 Create and Maintain Attendee Engagement
Along with the features discussed in this article, eventScribe Live has options to allow you to create gamification with a virtual scavenger hunt or distribute information with a virtual registration bag. Event communications are also essential to creating and maintaining attendee engagement.
We encourage you to send out communications via email or push notification as often as possible to keep attention on your event. Push notifications are particularly effective; we've found up to 90% engagement with push notifications in past events. You can push announcements about livestreams, invitations to virtual happy hours or networking events, highlight features like the scavenger hunt, and direct users to exhibitor profiles and booth rep video feeds, potentially as sponsor opportunity.
Keeping your attendees engaged doesn't have to be a daunting task. Making the best use of eventScribe's ARS system and other tools will help you catch your attendees' attention and keep them talking to your presenters and their fellow attendees.
About Pamela
I am a freelance writer who enjoys dipping my toes into a wide variety of writing subjects. I have an M.A. in English but found that teaching wasn't for me, so I'm applying my training to writing instead. I've been blogging for ten years and have written everything from book reviews to pop culture essays to business topics. In my spare time, I enjoy writing fiction, playing games, and learning new crafts. I live in Corvallis, Oregon, with my husband, daughter, and dog.
Related Insights
Sign up for our newsletter