Take Control of Your Conference Content (Essential Tips for Savvy Event Managers)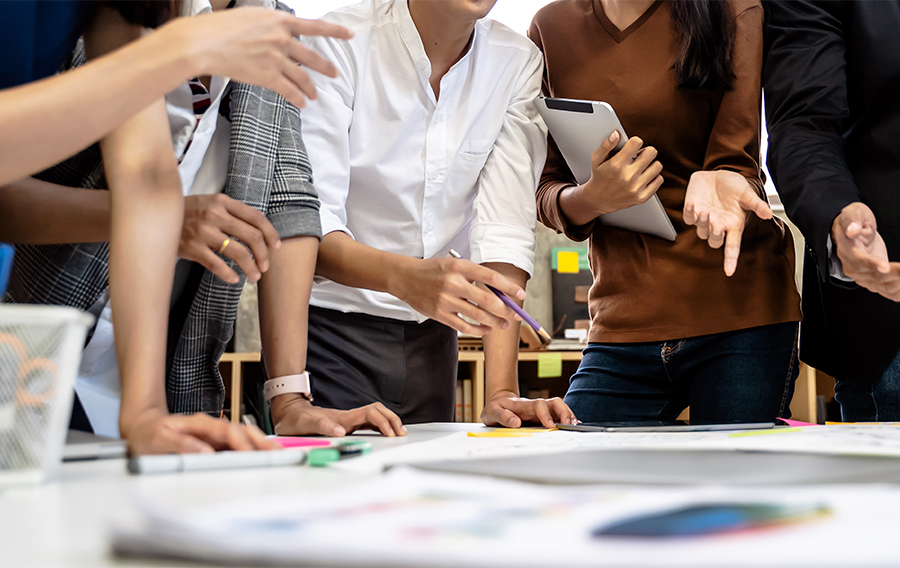 CadmiumCD Project Manager Christine Revitte isn't someone who takes event management lightly. Experience has taught her it's a serious business.
Her work on CadmiumCD's CadCon users group, and previous experience as a meeting planner at top companies like Smith Bucklin and Experient gave her a deeper understanding of how to manage speaker-submitted content and deliver that content to attendees in a meaningful way.
On a recent webinar, Christine shared some of the greatest challenges event managers face today. She says collecting info from speakers, keeping track of submitted content, and delivering that content to attendees can be frustrating. Luckily, she shared some worthy tips and examples that she uses to guide her clients — users of CadmiumCD's event management platform — to success.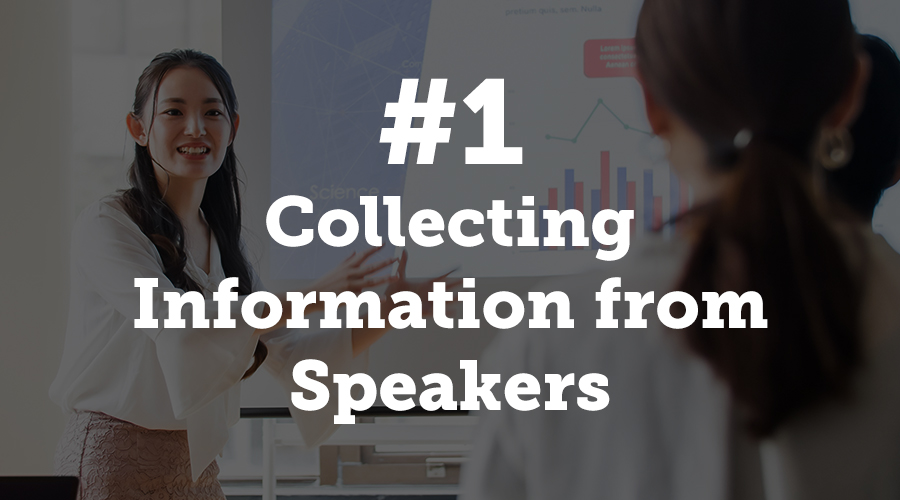 1. Collecting Information from Speakers
Use a task-based methodology to manage speakers
In Conference Harvester, admins can collect information from their speakers via a task-based system. This method of data collection creates accountability and transparancy.
Meeting planners can assign speakers small tasks to complete. These typically take less than five minutes and require the speakers to upload content or submit information. Basic tasks include submitting a photo or biography, while more complex tasks can involve disclosures, travel arrangements, payment information, or AV requirements.
On the flipside, speakers have a checklist with completed (marked with a green check) and incomplete items (marked with a red "x"). They can clearly see what's needed of them and get these items to the meeting planner in a timely fashion.
Let speakers follow the path of least resistance
Speakers are busy people. Meeting planners often find it challenging to get the information they need from their speakers. However, many speakers have staff members who may help them prepare for their presentations. Allowing speakers' staff members to log in on their behalf without privacy concerns is an easy way for meeting planners to get all the information they need.
In Conference Harvester, speakers can assign helpers to access their dashboard, complete tasks, and upload information without seeing any personal or private information.
Get your head out of emails
Anyone who has gone back and forth over email to get what they needed from a speaker knows two things. That information can easily get lost, and that the email thread can quickly balloon.
Conference Harvester solves both of these problems. Planners can send speakers emails that ask them to log in and see what information they need to submit. Once speakers submit information in Harvester, planners can easily access that information.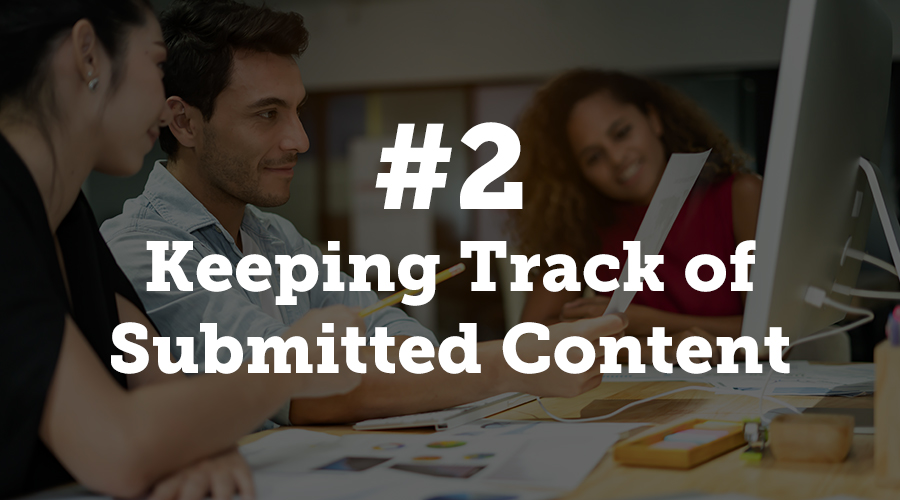 2. Keeping Track of Submitted Content
Keep all your content and data housed in one place
Your speakers are tied to your conference schedule, your schedule is tied to your presentations, and your presentations rely on the content your speakers send to you. Having everything related to all these complex pieces of your conference makes life much easier.
Use a flexible system for accessing information
The ability to change individual speaker or session data, or to mass-edit multiple speakers and sessions via an Excel-like spreadsheet is essential for managing educational conferences. Software like Conference Harvester gives you access to these tools so that you always have control over your data.
Use software to clean up your conference data
How do your speakers indicate their doctorates? "PhD" or "PhD."? What about presentation titles? Is every first letter capitalized, or only the first word? Data is messy and it's good to have tools that help you clean this up before the information goes live to attendees.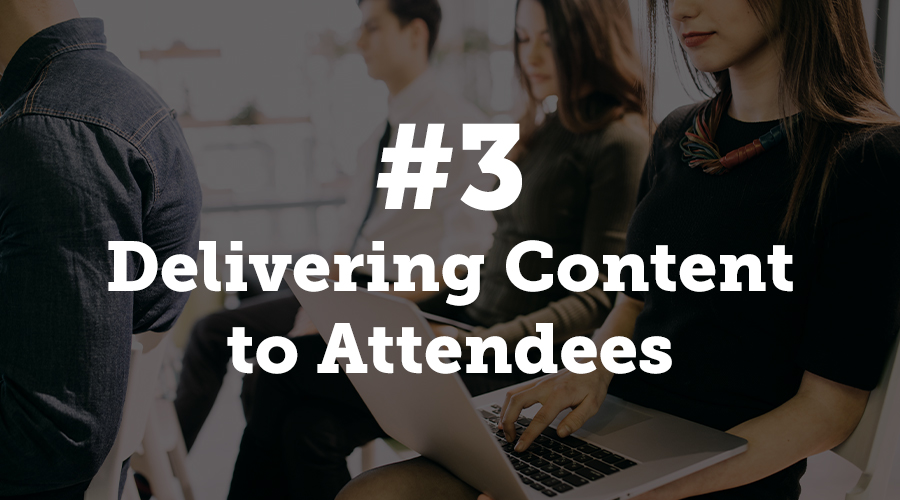 3. Delivering Content to Attendees
Use software that updates attendee-facing tools like apps and websites
Back to the "path of least resistance" concept. One of the best ways for planners to save time is to able to quickly push data and content changes to attendees. An integration between your speaker management software and attendee engagement platform (conference app and website) is the way to do this.
With Harvester, an integration isn't even necessary, because your data automatically connects with eventScribe. A simple sync will get attendees all the latest speaker information, presentation files, and schedule items at the touch of a button.
Consider all your content types
Presentations aren't the only content that attendees interact with. It's also important to consider poster presentations. Being able to collect posters digitally to display them in your conference app, website, and on digital displays at the conference is a big plus for both planners and attendees. It also adds an additional "wow" factor to your events.
Help attendees track educational credits earned from content
Many educational conferences also provide attendees with continuing educational credits for the sessions they attend. At the end of her webinar, Christine reminds planners that they can use the Survey Magnet in tandem with the Conference Harvester to deliver quizzes, surveys, and evaluations to attendees.
Attendees can complete quizzes to earn certificates with their CE credits listed. They can also complete session and speaker evaluations in the same environment, which speakers can then access the results of right inside the Conference Harvester. It's a win-win for everyone.
Is Your Conference Content Under Control?
If you'd like to learn more about the Conference Harvester and how it can be used to solve some of the challenges listed above, watch the replay of Christine's webinar, request a live personalized demo, or get pricing specific to your needs. If you're already a user or have additional tips, please leave them in the comments below.
Sign up for our newsletter