Training Volunteers for Hybrid Events: 7 Best Practices
Feb 3, 2021 Read Time: 5 min
by Cadmium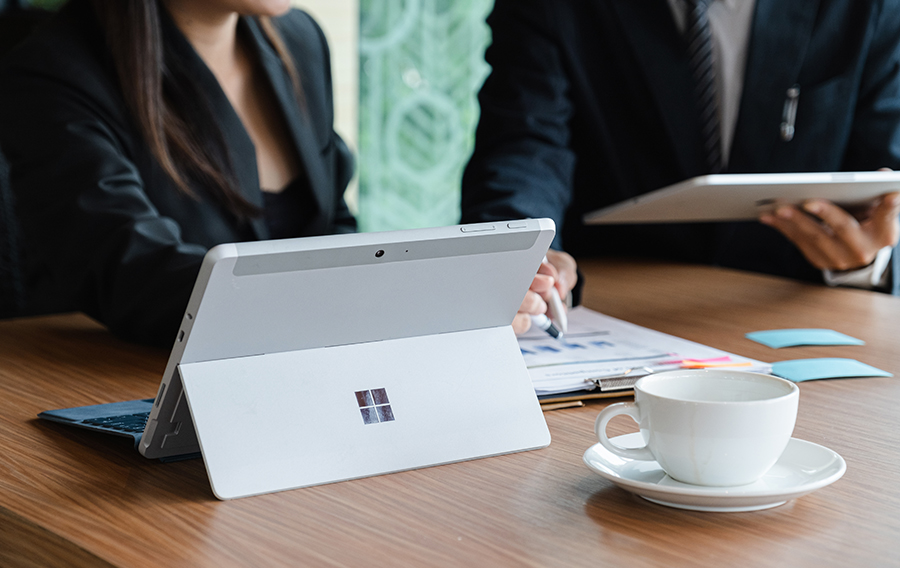 Volunteers can help make your hybrid event a success. Make the most of your volunteers' time by training them to take on virtual and in-person tasks.
Hybrid events are growing in popularity, thanks to their convenience and ability to accommodate more people. With plenty of formats to choose from, these events offer flexibility for both planners and their attendees. But to provide flexibility, you'll need to put some thought into planning—including training your event volunteers.
Streamlining your volunteer management process is especially important when it comes to taking on hybrid event volunteers; you're charged with organizing on-site, remote, and virtual volunteers who fill a variety of roles. But a well-planned volunteer training program gets you one step closer to a glitch-free event.
In this guide we'll be answering some of the frequently asked questions when it comes to training volunteers for your next hybrid event, as well as providing our top seven best practices.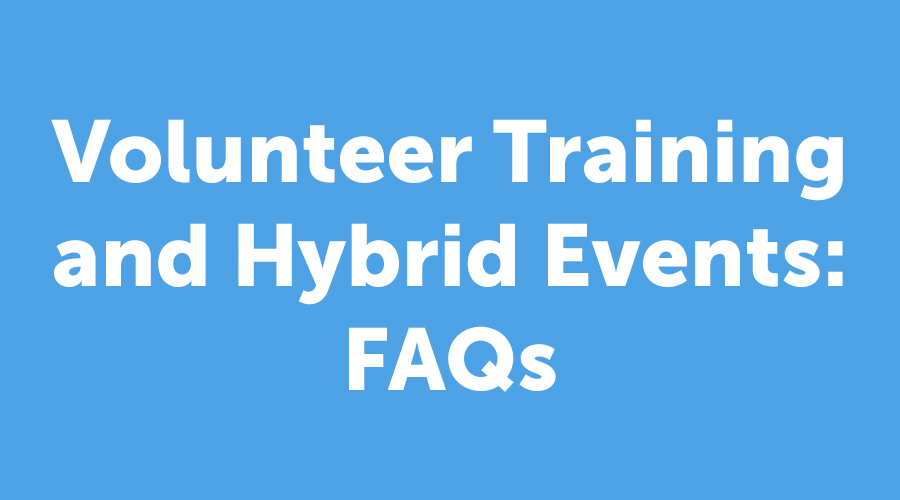 Volunteer Training and Hybrid Events: FAQs
Are you planning a hybrid event? Will you recruit volunteers to take on important event tasks? Here's what people are asking about hybrid events and the volunteers who will support them.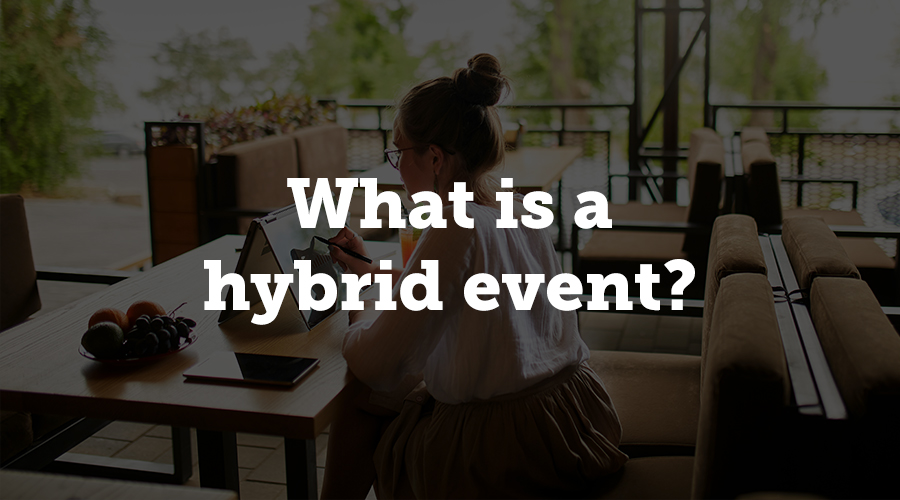 What is a hybrid event?
A hybrid event is a cross-channel gathering (i.e., conference, expo, charity gala, or seminar), delivered using a combination of live and/or virtual elements. Participants may attend virtually or in-person. You may choose to deliver some content at a physical venue and stream to a virtual audience, as well as virtually deliver other elements. Many event managers also add pre-recorded videos.
Event managers can choose from a combination of cross-channel experiences, but these are the most popular hybrid event formats:
Live Stream / Real-Time Virtual

Live Event / Virtual

Small Meetups with Content Streamed
Learn more about these cross-channel experiences.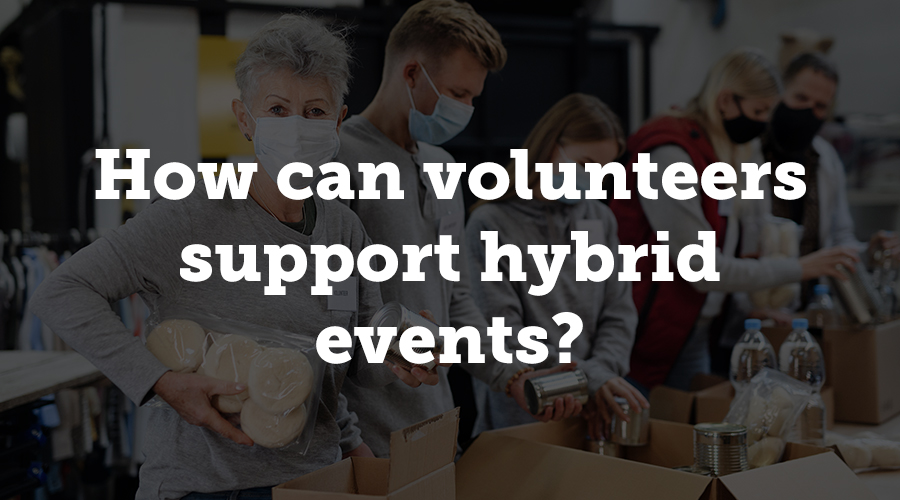 How can volunteers support hybrid events?
Before you engage volunteers in training, you'll need to decide how you will utilize their time. Whether you choose to recruit skilled volunteers or you need an extra pair of helping hands, there are plenty of volunteer opportunities for hybrid events.
Hybrid Event Volunteer Roles:
Breakout Session Leader

Technology Operator

Administration

Event Marketing

Pre- and Post-event Correspondence

Check-in Station Attendant

Usher

Organization Representative

Clean-up Crew Member
You may ask your event volunteers to take part virtually, or you may tap others to show up in-person. Therefore, it's essential to compile a training program that prepares volunteers for a variety of roles.
What is the purpose of volunteer training?
The purpose of volunteer training is to help volunteers fulfill their roles successfully, confidently, and independently.
Generally, volunteer training should:
Outline role expectations, responsibilities, and tasks

Establish volunteer objectives

Acquaint volunteers with tools and procedures they'll encounter on the job

Assess any knowledge and skills gaps, then work to fill these gaps

Create a framework for further evaluation
Most importantly, training volunteers for events shouldn't be rocket science. You're simply preparing volunteers to accomplish their assigned tasks.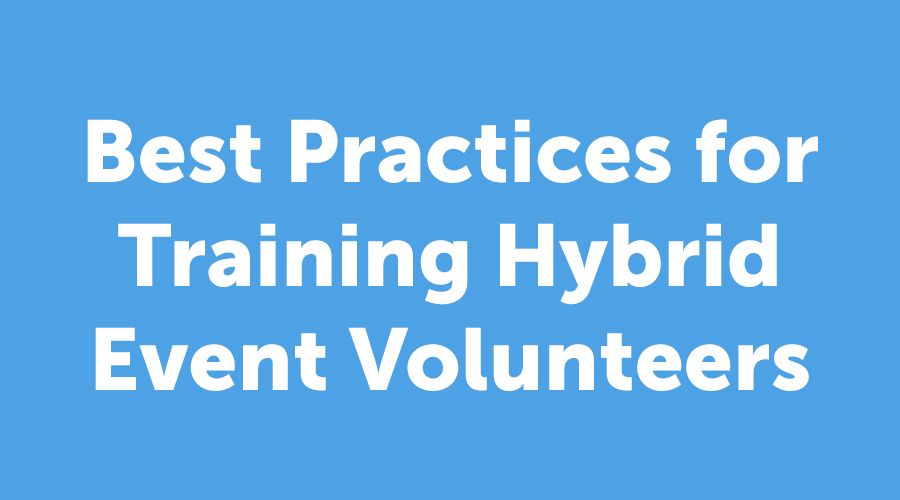 Best Practices for Training Hybrid Event Volunteers
Hybrid event volunteers can work behind the scenes, like corresponding with attendees or ensuring your organization has the right technology in place. They may also assist with day-of activities, like leading virtual breakout sessions or checking-in attendees.
Whichever way your organization chooses to engage hybrid event volunteers, you'll need to develop a training program that ensures volunteers can perform the tasks you're asking of them. Here's what creating a dedicated and successful volunteer program looks like:

1. Establish a Budget
Establishing a budget for your volunteer training program will help you allocate resources, like funding and personnel. Typical volunteer training expenses may include:
staff time

rented equipment and space

refreshments

printing
To reduce costs, consider repurposing materials, going paperless where possible, and creating materials in-house (like videos and training manuals).

2. Pre-Qualify Volunteers
Ensure your volunteers meet the basic qualifications before they sign-up. Ask volunteers about their skills, interests, and availability during your volunteer registration process. At the same time, collect the participant's email address and event-day mobile phone number.
The right volunteer management software can streamline the volunteer recruitment process so that volunteers can easily find opportunities they're qualified for, self-schedule, and sign documents electronically.

3. Decide How You'll Deliver Training
You're well-versed in distributing your event content, but have you put the same thought into delivering your training? Depending on the nature of the work, you may decide that most of your volunteer training can be distributed virtually.
Introducing technology into your training program will not only help volunteers get acquainted with the systems you'll use during hybrid events (like video streaming and conferencing), it will also keep them engaged in the material.
Here are some ways to embrace technology in your training:
Webinars

– Host live virtual volunteer training sessions for at-home training.

Videos

– Create engaging pre-recorded videos to help aid training.

Interactive e-Learning

– Create online training materials that include slides and other clickable elements.

Online quizzes

– Test your volunteers' knowledge with fun, low-stakes quizzes.
Don't forget to record any in-person training to make available for virtual volunteers. And when technology is at play, give your volunteers some time for a test-run. Test your video conferencing tool to make sure links are active and working. Provide time for a virtual Q&A to answer volunteers' questions.

4. Create a Communication Plan
You'll need to coordinate volunteers in a variety of locations. Create a plan for welcoming new volunteers and let them know how to attend training. Typically, the simplest way to reach your new volunteers is by email (but it's always useful to have a back-up plan for volunteers without email).
You'll also want to establish a plan for synchronizing your communications to get messages out efficiently. Many event and volunteer coordinators are choosing to take advantage of text messaging (SMS). Texting is a great option to communicate last-minute instructions on event-day.
Create your volunteer contacts list at least a week before the event. During training, provide volunteers with a point person and a reliable mobile number to contact with any questions or issues.

5. Acquaint Volunteers with Your Organization
Regardless of their role, each volunteer should receive an introductory training session.
Introductory training generally covers the following information:
Brief background of your organization

How to communicate the event's purpose or mission

Any safety measures

Rules of volunteering with your organization

Overview of equipment and how to use it

How to submit volunteer time
Consider delivering this information virtually, using written materials and pre-recorded video. Volunteers will have a solid foundation of knowledge well before they begin preparing for the event.
You may need to provide additional training for more skilled volunteer roles (like your volunteer leaders or tech experts). Break volunteers into groups, and have a trusted volunteer lead smaller, role-specific sessions using a video conferencing tool.

6. Run Through the Event Schedule
Hybrid events have many moving parts, which usually leads to a more complicated schedule. Once you've informed attendees about event proceedings, you'll need to acquaint volunteers with the program.
Ensure every volunteer has a digital copy of the event schedule at least a week before the event. Then, assign volunteer leaders to manage smaller volunteer groups.
Provide volunteer leaders with more detailed, behind-the-scenes schedules for their group members. For example, your virtual volunteers should know when to log-in, when they can take a break, and when their specific breakout session will begin.

7. Be Responsive
Hybrid events require a lot of planning. But your volunteers can help it run smoothly. To get the most from their time, set aside some of your time to answer volunteer questions. Maintain communication throughout the process. Be on call several days leading up to the event should last-minute issues arise.
Supported volunteers perform better and are more likely to participate again. As always, thank volunteers following the training and after the event.
You have the tools you need to plan your hybrid event and the volunteers to help you carry it out. Make the most of volunteers' time by providing them with thoughtful training no matter how they get involved.
About the Author
Addison Waters is a Content Writer at Galaxy Digital, the best volunteer management software for managing, tracking, and engaging volunteerism. Addison holds a Master of Creative Writing from Durham University.
Sign up for our newsletter