12 Resolutions for Event Planners This Year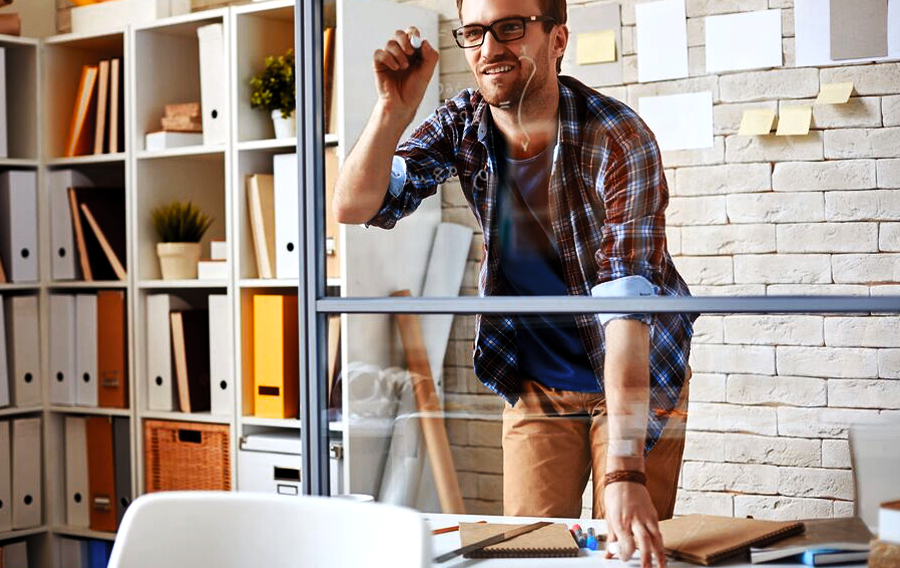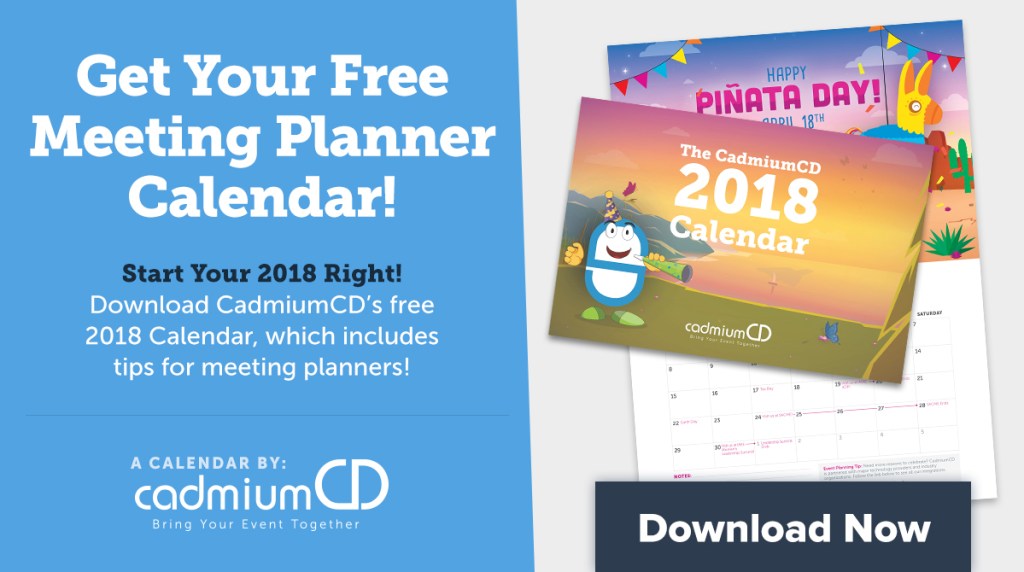 Every year we hit the reset button on January 1st. It's a time to reflect on how we've grown and what we've learned. This year, we've put together 12 resolutions for event planners to coincide with the tips we included in the 2018 CadmiumCD Calendar. Take a look…

1. Invest in your event tech education.
Reexamine the way you collect, manage, & share conference content. Mark off the industry events you want to attend this year on your calendar so you can learn the latest trends and implement the best technology at your events. It's so important to continue building your skills every year, especially with something that changes as often as tech.
A great place to start is CadmiumCD's very own Lunch & Learn series. Sign up for a CadmiumCD Lunch & Learn to start the new year off with a recap of what's new in event technology. Lunch & Learns will be held this year in the following locations: Washington D.C., New York City, Anaheim, and Chicago. They're a great educational experience, as well as an opportunity to meet new colleagues in the industry.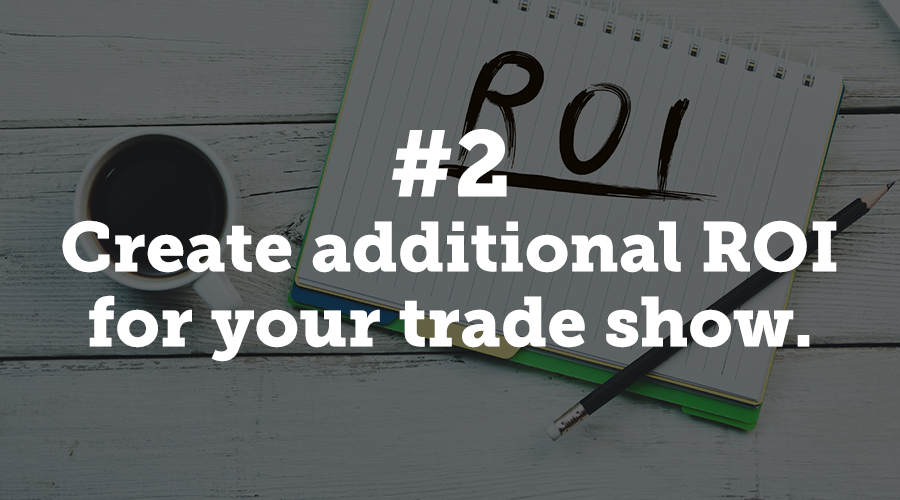 2. Create additional ROI this year for your trade show.
Last year, we interviewed Jackie Stasch, UCAOA's Senior Manager of Corporate Relations, to find out how she is so successful at selling sponsorships. She gave us 7 simple tips to achieve maximum ROI. Here they are:
Create opportunities that sell themselves.
Launch booth and sponsorship opportunities simultaneously.
Make offers as attractive as possible.
Don't sell from a menu.
Coach your exhibitors.
Treat your sponors like partners.
Reach out at the right time.
To read these in more details, check out Jackie Stasch's 7 Tips for Selling Sponsorships.

3. Build stronger relationships with your speakers and content providers.
Speakers and event planners. A rivalry as old as time. But it doesn't have to be that way. Commit to finding common ground with your content providers this year.
Email communication, organization of materials, scheduling, last minute uploads, and lack of submitted content are all huge pain points in this relationship. We've put together a guide on how to solve some of the challenges associated with working with speakers, so meeting planners like you can take the first step to creating a truly mutual-benefitting relationship with your speakers. Get the guide here.
4. Bridge the gap between technology solutions.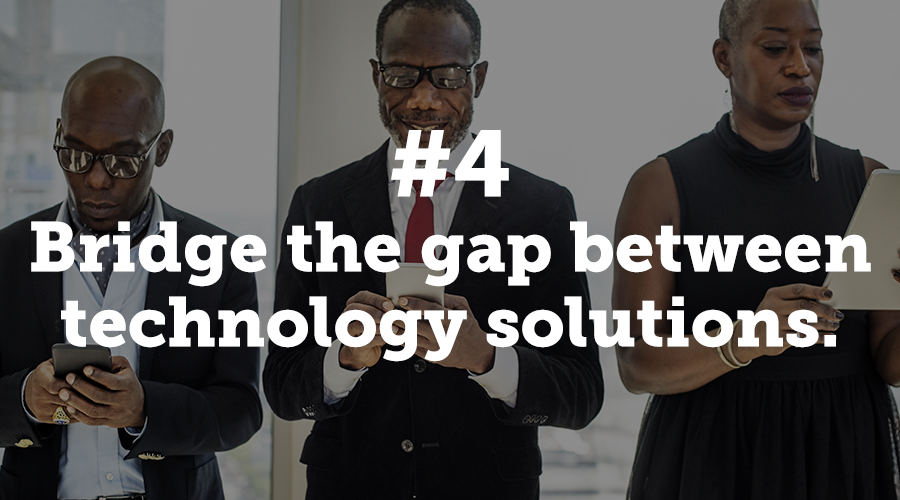 Integrations were a huge part of the 2017 technology lexicon. That's not going away anytime soon. With more options than ever, technology companies banded together to create comprehensive solutions for event planners. Make it a point this year to learn the language of integrations so that you can work with vendors flawlessly to implement the solutions you need. Here are a few resource to get you started.

5. Acknowledge the leaders in your life.
Take a moment to think of the people who have shaped your career. Thank them. CadmiumCD CEO and Co-Founder, Michelle Wyatt, is one of the leaders who has supported me and my colleagues in our successes. I also respect her for speaking up for women in the industry.
For more on Michelle, check out her article, "3 Challenges Women Face In Advancing their Event Tech Careers" or the TSNN Webinar she participated in last year, "Female Forward: How to Build Organiations and Careers that Advance Women in the Event Industry."

6. Redefine your event marketing in a strategic way.
Lots of meeting planners are already using event technology to manage their events. Good event tech comes equipped with a plethora of marketing tools. Reexamine your software to find opportunities to use it in unique ways this year.
We've put together a guide on how to do this, plus three worksheets that will help you plan and implement your event marketing programs this year. Click here to read "Event Marketing 101: 7 Steps to Event Marketing Magic" for more on this.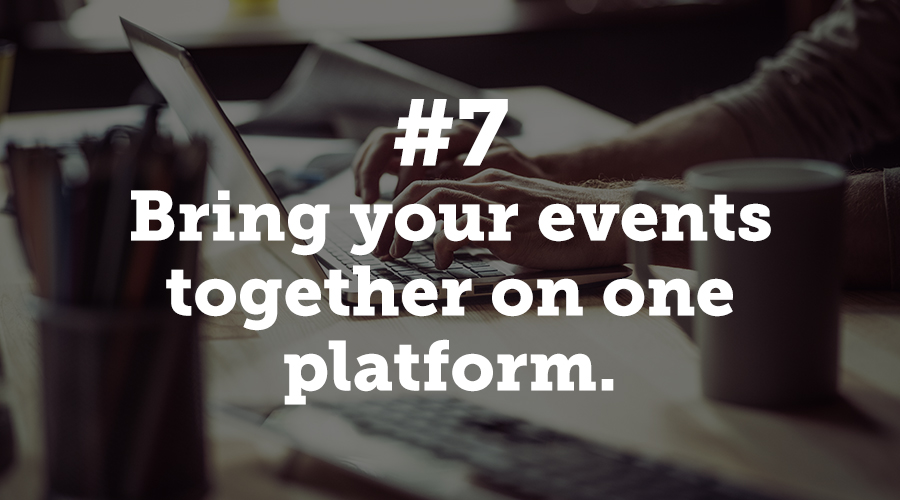 7. Bring your events together onto one platform.
While integrations are great for bridging the gap between technology solutions, there's also much to be said about minimizing the number of vendors you work with. If you do need to integrate, it's best to find recommendations from your current vendors. That being said, here are some resources about bringing as much tech as possible onto one system:
The True Value of a Fully Integrated Event Management System (Click to Read)
9 Ways to Streamline Your B2B Events with Event Tech (Click to Read)
Simplify Your Conference Planning in 10 Easy Steps (Click to Read)

8. Share your content with attendees.
Take your conference audio and video archives and get them into attendees' hands. Whether you're generating revenue by selling access to your conference proceedings, or offering content to attendees and members for free, take some time to learn about your options this year.
CadmiumCD production specialists Nate Knauer and Josh Miller share how to engage your members with MP3, MP4 Video, Streaming Web Player, and PIP content options in "4 Ways Savvy Event Planners Share Conference Content."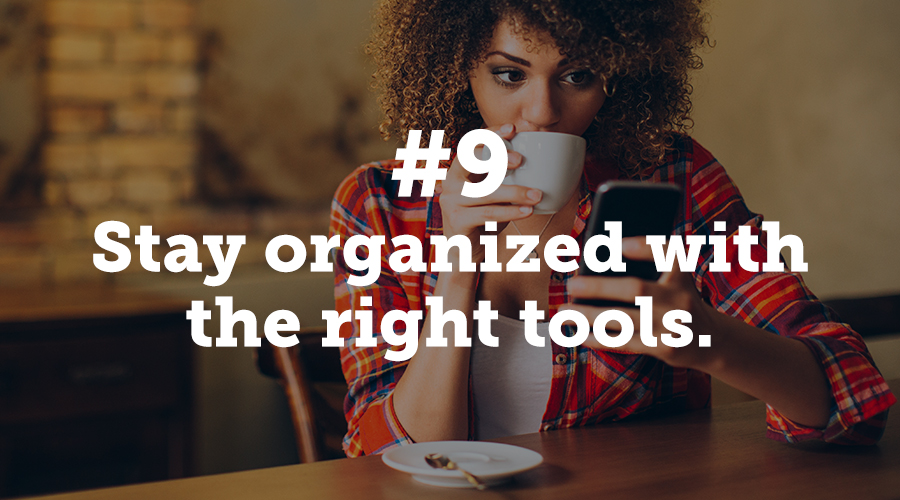 9. Stay organized with the right tools.
There are tons of resources, apps, and methods to stay organized. Personally, I'm meticulous about putting everything on my Google calendar and managing simple projects in Excel. There are also software platforms I regularly use to manage lots of data on bigger projects (the Conference Harvester for CadmiumCD's annual CadCon meeting, for example).
If you're not quite ready to jump into big software platforms yet, no worries. We put together a simple Excel sheet for you to organize your conference schedule. You can download it here.

10. Set up better communication channels with your colleagues.
Communication is the number one reason a conference is successful. Make a committment with your colleagues and vendors this year. Keep communication channels open for maximum success.
Last year we launched eventScribe Boost, an add-on to the eventScribe App. It allows meeting planners to do what we've described above. Communicate with all their stakeholders, onsite, in real-time, without the bulk of walkie-talkies and binders.

11. Remove barriers to entry for attendees, exhibitors, and speakers.
In terms of technology, adoption is key to providing maximum value to your stakeholders. Remove barriers to entry this year so that attendees, exhibitors, and speakers can get the most out of the tech you invest in.
For exhibitors, make rebooking booth space quick and paperless. For attendees, make the app easy to download and deliver an educational experience that feels a little more social. For speakers, make the check-in and content upload processes as simple as can be.

12. Enjoy the year!
You're a meeting planner. Though it's among the most stressful jobs, it's also among the most rewarding. Keep planning amazing events and keep improving your skills this year. We'll be here to help in any way we can.
Share additional resolutions in the comments below…
Leave us a comment below and tell us your professional resolutions this year. Also, download the 2018 CadmiumCD Calendar to keep track of all your resolutions and events this year.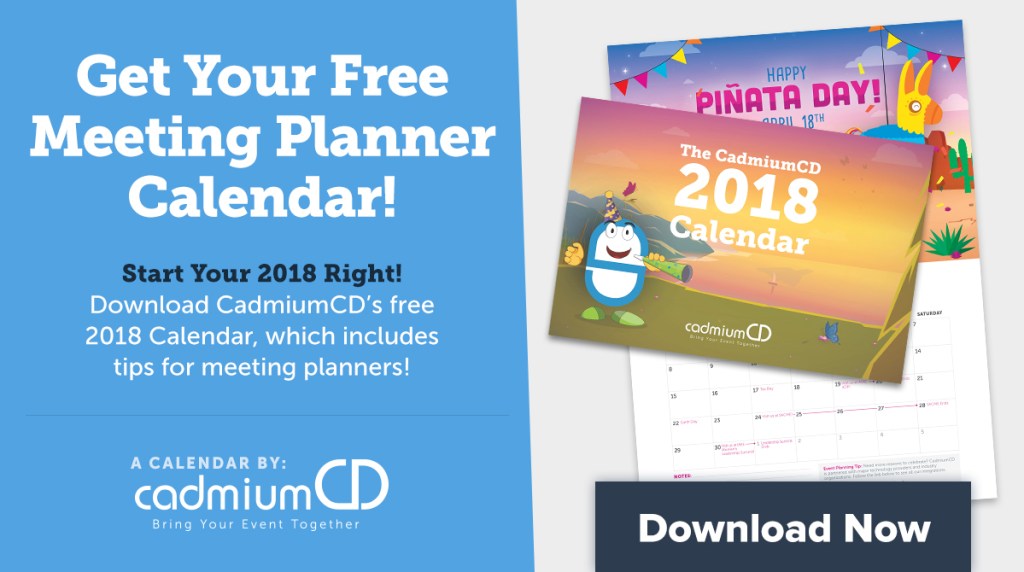 Sign up for our newsletter