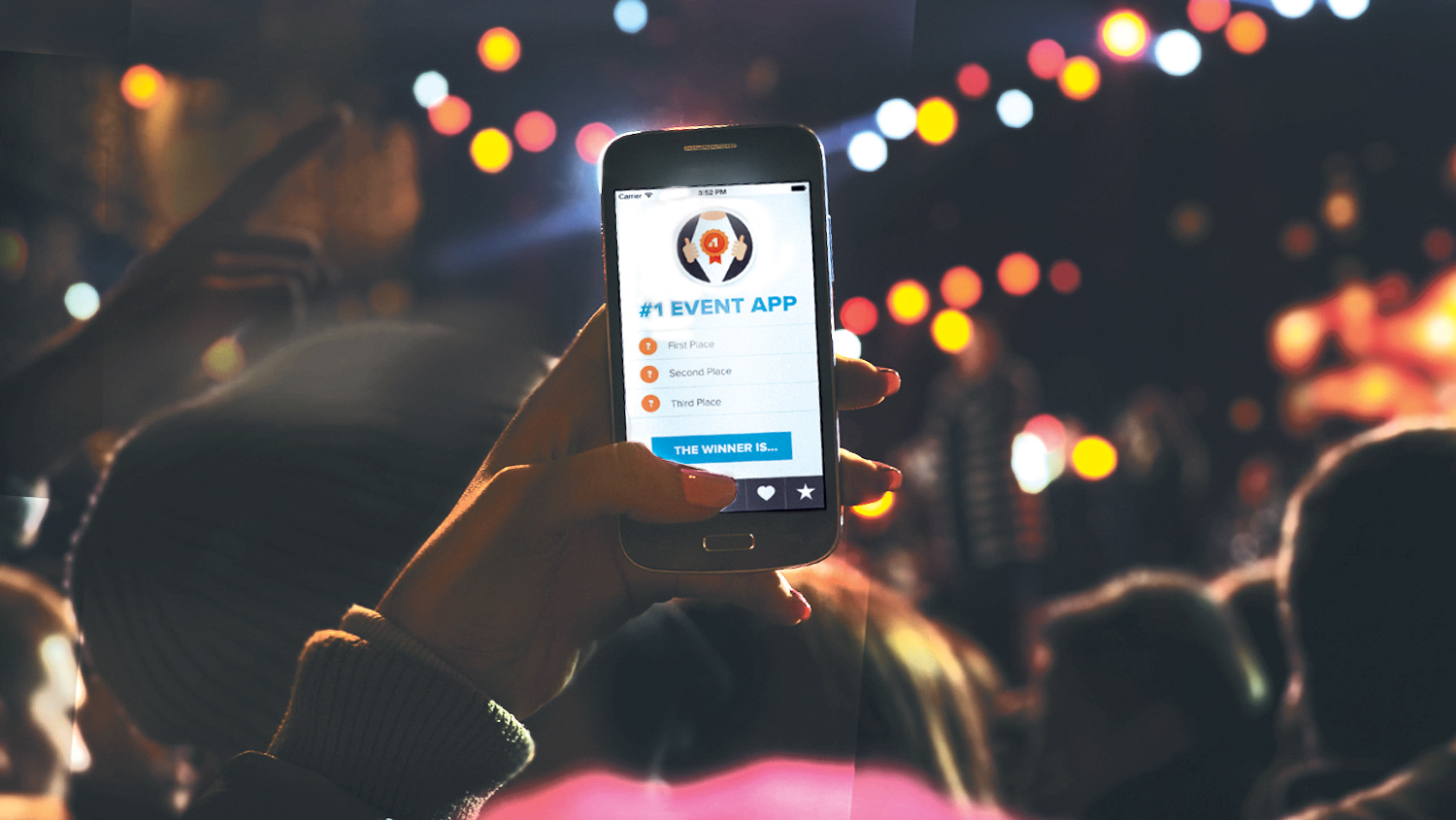 Every year Event Manager Blog publishes a comprehensive breakdown of all the event apps available to meeting planners and conference organizers. This year's edition is bigger and better than ever.
With 2,000 qualified responses from event planners and 104 event app providers surveyed, this is one of the most comprehensive lists available to organizations looking to move into the mobile space for their events.
The analysis and insight Julius Solaris provides to event organizers is thoughtful, well-informed, and helpful for event planners that want to go mobile but aren't sure where to start. The mobile app features glossary, put together by Becky Cross and Cathy Key, is a fantastic reference for those who want to learn more about the terminology used in the mobile event app world. And the post-selection tactics offered by Liz King and Michelle Bruno are essential for event planners who want to learn how to engage attendees, solve crucial technological errors, gain sponsorships, and collect valuable data once they've implemented an event app.
I highly recommend you head over to Event Manager Blog and check out the full report. In addition to providing valuable insight into the importance of going mobile, the guide is completely free and it's the perfect way to learn about what the major contenders in the event app world are offering (check out our feature list, for example, on page 63, under "eventScribe").
An Unofficial Event App Bible Companion
In preparation for the release of this year's Event App Bible, we did a little research of our own. Here at CadmiumCD, we wanted to find out how our apps ranked against some of the most popular event apps in the industry. So we chose 9 of our favorite competitors and plundered their App store pages for five star gold.
What we found astonished us…
Event apps are notoriously difficult to get reviews for. The problem is that an event only lasts for a couple days and this is the time when apps have the highest frequency of use. That means users generally leave reviews under two big circumstances: when things are going terribly wrong, and when things are going great.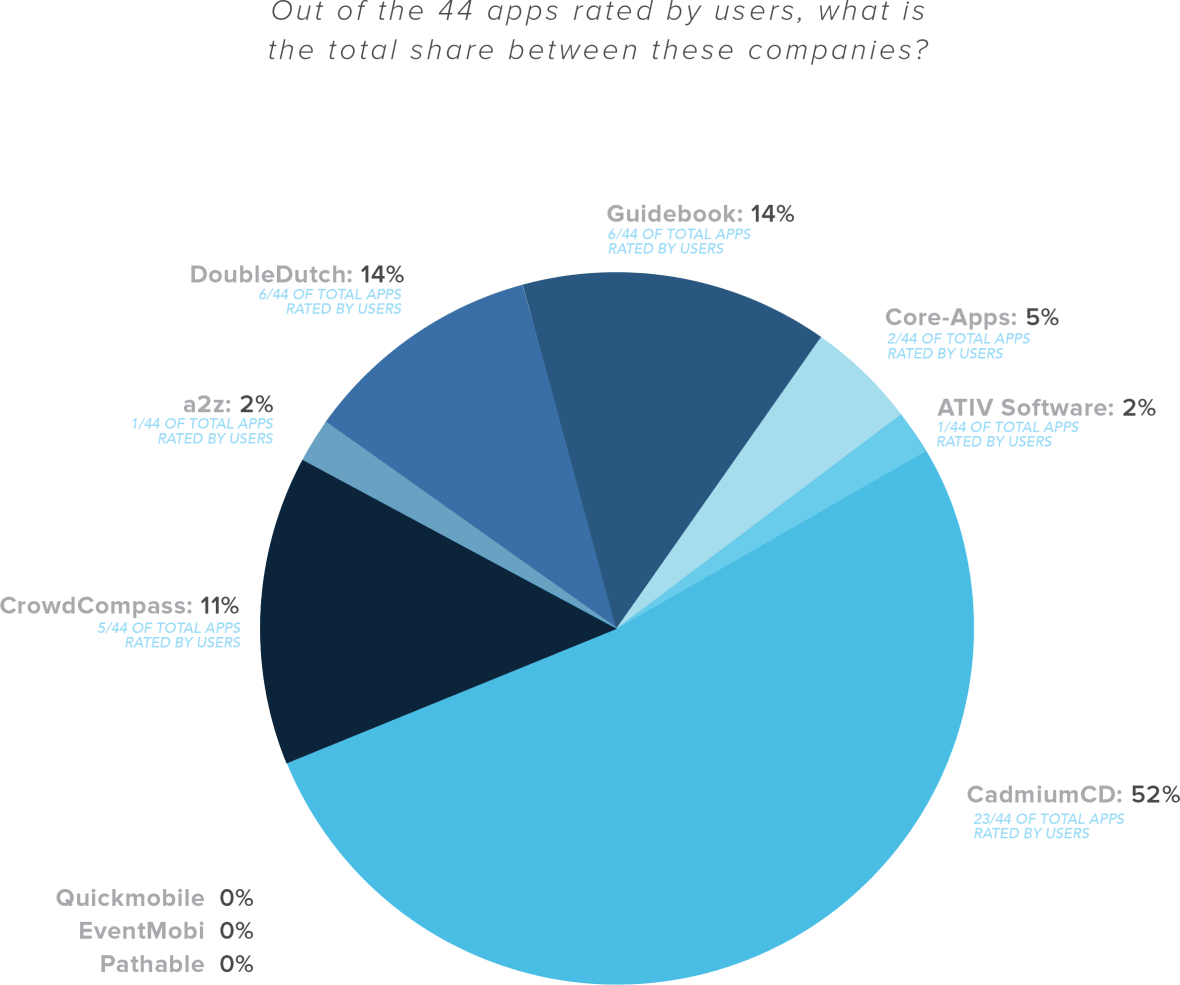 Out of all the App Store pages we surveyed, there were only 44 apps that had ratings on them at the time of our research. Take a look at the chart below. 52% of those apps rated were ours.
"Okay, good," we told ourselves. "We're off to a good start."
So we dug a little deeper, and learned that a resounding 260 people left reviews on our apps (compared to 66 on CrowdCompass and 57 on Guidebook), and that most of these ratings were positive (4-5 stars). You can imagine how our hearts just sung at this news!
If you'd like to take a look at our comprehensive findings, download the eBook we've put together:
Why So Many Positive Ratings?
We were very excited to find such positive results! It validated what we've been doing and helped us understand our product in relation to the other offerings on the market. What we think has contributed most to these positive results is the simple diversity of our event app and the support we provide to customers and users.
Everything our app does was built for our customers. It's primary goal is to help attendees navigate the conference and gain the most positive educational experience possible – before, during, and after the event. We don't rely on secondary features like social and gamification (even though we do offer these). Instead we provide a practical, full featured event app that can be customized based on every event planners' needs.
The best part about this research was reading all the wonderful reviews users left us. Here are some of our favorites:
Awesome App

I loved using this app. Everything was right at my fingertips including canceled sessions. I really loved being able to take notes right on the app!
ACEHP leads

This is a true breakthrough app, making it possible for the attendee to see and absorb the whole program over the weeks and months ahead. For once you don't have to fret over your notes and chasing the slides and concepts you hope to retain and apply in your work…
Top notch

The daily view and my schedule was most helpful. The updates arrived on my G calendar which was cool and without a glitch…
Better every year

I always download this app for the ACG meeting. They keep adding features for note taking and annotation that are helpful when you get back home. I agree with another reviewer that searchable access to the posters in addition to a pdf listing would be great.
Aw, shucks, you're making us blush. And to you, Dr Peppers77, thanks for the feedback. We've now added universal search functionality so you can search away on posters, presentations, and just about anything else you want any time, any place.
Conclusion
I want to thank Julius Solaris for putting together Event Manager Blog's Event App Bible every year. It really is a valuable resource to the community and it has motivated us event app providers to continuously improve our products and live up to event planners' standards and needs.
That's really what this research was about. Making sure that users are happy with eventScribe so that the planners we work with can rest assured that they're getting an outstanding product for every event.
---
If you'd like to learn more about CadmiumCD and our eventScribe app, get in touch. The full data from this research and information on the methodology we used to gather this data can be found in our latest eBook, Battle of the Event Apps.
Related Insights
Sign up for our newsletter