4 Ways to Energize Your Conference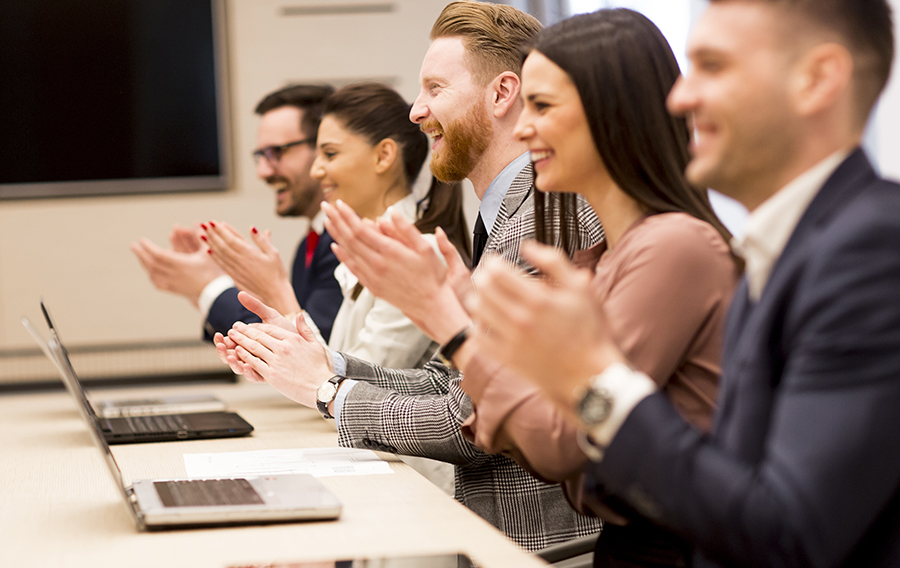 This article was written by CadmiumCD Contributor, Pamela Shigeoka.
How NAFSA Energized Their 2017 Conference
NAFSA: Association of International Educators held their Annual Conference in Los Angeles at the end of May 2017. As the world's largest nonprofit association for international education and exchange, it makes sense that they would also hold the international education event of the year.
With education professionals from more than 100 countries worldwide attending and exhibiting, NAFSA needed technology solutions that could manage all of its data and create a straightforward, user-friendly experience for attendees, speakers, and staff. Since NAFSA's Annual Conferences are heavy on the networking for attendees, it was also important that the systems they used facilitate easy communication.
Let's take a look at how NAFSA worked with CadmiumCD to create a great experience.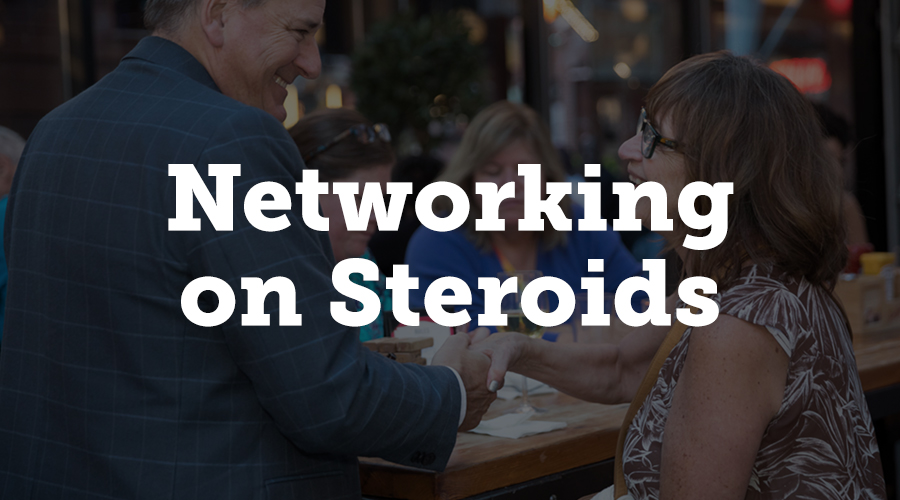 1. Networking on Steroids
By its nature, NAFSA is a networking event, so attendees need to be able to communicate with each other easily on site. Most attendees will create a very complete user profile and often will upload a photograph of themselves to help facilitate networking. NAFSA took advantage of enhancements made to CadmiumCD's user profile system.
When an attendee first engages with the mobile app, they are prompted to answer a few questions about their organization, job, and so on. The questions can be set up to have a drop down box or multi-select answers, depending on the type of question. The answers are then incorporated into the attendee's profile, which helps make sure that their fellow attendees can easily find the information that they need.
Being able to make contact is an incredibly important part of networking, and the NAFSA mobile app makes that easier than ever. When they create their profile, attendees can include contact information such as a phone number or email address. Other attendees can then contact them directly from the app, either by calling them, emailing, or sending an in-app message.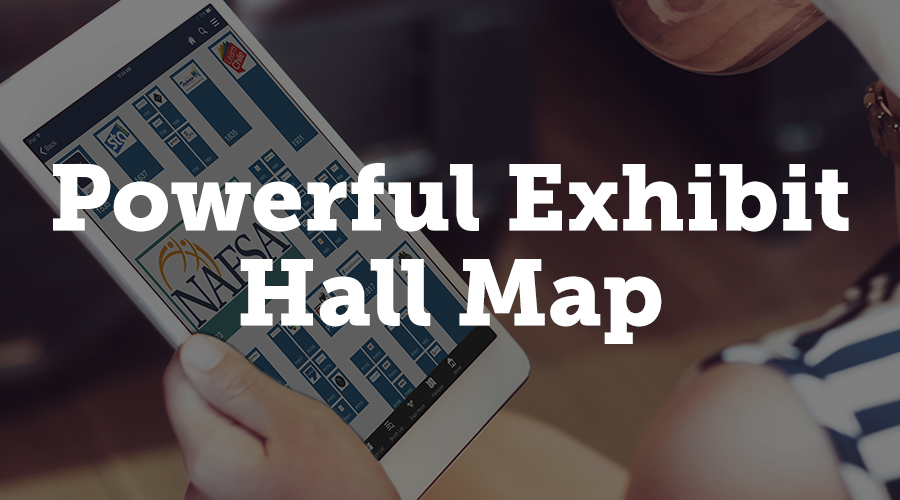 2. Making the Exhibit Hall Map a Workhorse
Each booth at the NAFSA event is an affiliation of universities from a particular country. For example, the Study in Spain booth includes representatives from several Spanish universities all sharing the booth to promote study abroad in their country. For an event with complex exhibitors, it's important that the exhibit hall map be easy to use and give attendees access to important information about each exhibitor and the universities represented.
The entire screen of the NAFSA mobile app is devoted to browsing a high resolution, interactive exhibit hall map. Attendees can zoom in to the map, see logos on booths, and browse the floor easily. When a user clicks on a specific booth, they can go to that exhibitor's profile for more information.
At the bottom of the profile page, there's a Partners button, and that will take the user to a page listing all of the universities exhibiting in that booth. The Make Contact button connects the attendee to the main representative responsible for the booth's communications.
Both of these features are available in the app because NAFSA uses the Pro Expo Harvester® to compile its exhibitor list. Thanks to the Pro Expo Harvester®, NAFSA can include hotlinks to university websites from the Partners page as well as logos. And on the Contact page, users can ask questions, request more information, or forward the exhibitor's contact information to a colleague.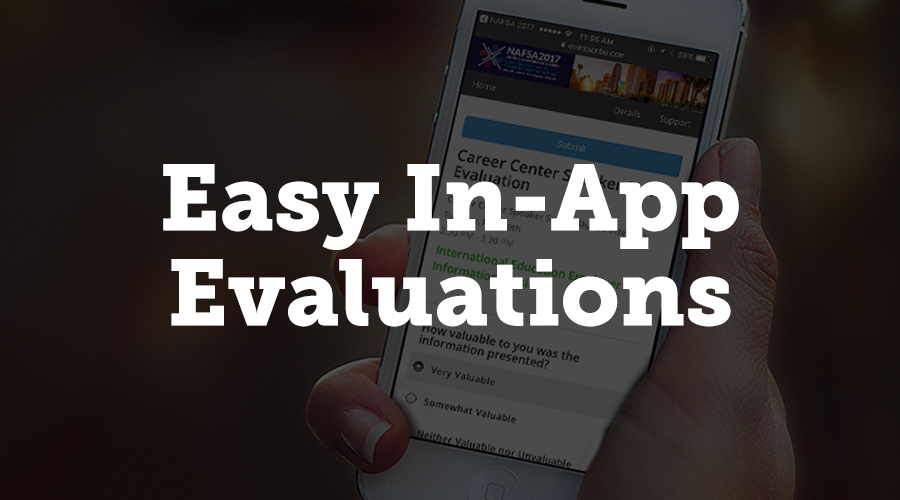 3. Easy In-App Evaluations
The NAFSA mobile app makes evaluations easier than ever for attendees and speakers. If an attendee is looking at a particular presentation in the app, there's an evaluation button at the bottom of the screen. When they click that button, the user is automatically signed into Survey Magnet®, CadmiumCD's product for on-site evaluations.
All of the evaluation data is part of the eventScribe® platform, and all schedule data in the evaluations comes directly from Harvester®. On the responsive evaluation page, the user can see information about the session and speaker, including a picture of the speaker so they can better connect with the person and session that they're evaluating. As users do evaluations, it builds up a transcript, and at the end of the conference, they can get a certificate that lists all of the sessions that they completed evaluations for.
At the end of the conference, speakers can log in and see evaluation data from their sessions in Harvester®. The mobile app, Survey Magnet®, EventScribe®, and Harvester® all work together seamlessly to create a great evaluation experience. There's no need to find multiple companies to create an app, manage evaluations, and manage speaker data; CadmiumCD can manage it all through Harvester®.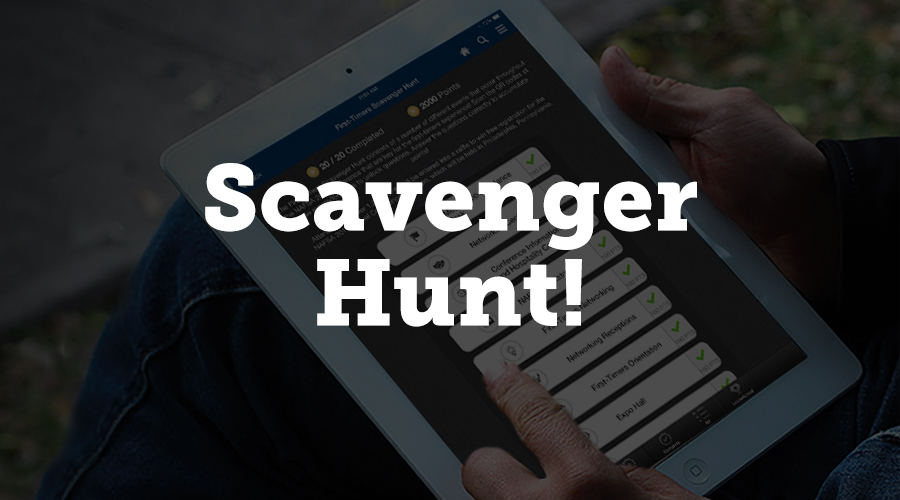 4. Scavenger Hunt!
NAFSA has a great way to get first time attendees engaged in the conference: a scavenger hunt! Attendees can find a list of items on the mobile app, and when they click a particular item, such as the keynote address or a session name, the app brings up a question. If the user answers the question correctly, they're awarded points and go onto a leaderboard, competing against their fellow first-timers.
At the end of the conference, the people at the top of the leaderboard are awarded prizes. Aside from being a clever and fun way to encourage new attendees to really explore the conference, the scavenger hunt also creates a great sponsorship opportunity. Sponsors can provide those prizes and advertise their organization.
Conclusion
Keeping attendees engaged is at the top of the to do list for all event planners, and by using a combination of CadmiumCD products, NAFSA was able to check that box on their list. With easy networking, a responsive exhibit hall map, accessible evaluations, and fun user engagement activities, NAFSA was able to take advantage of CadmiumCD's technology to organize and energize their annual conference.
About Pamela
I am a freelance writer who enjoys dipping my toes into a wide variety of writing subjects. I have an M.A. in English but found that teaching wasn't for me, so I'm applying my training to writing instead. I've been blogging for ten years and have written everything from book reviews to pop culture essays to business topics. In my spare time, I enjoy writing fiction, playing games, and learning new crafts. I live in Corvallis, Oregon, with my husband, daughter, and dog.
Sign up for our newsletter