5 Reasons Digital Session Displays Will Revolutionize Your Conference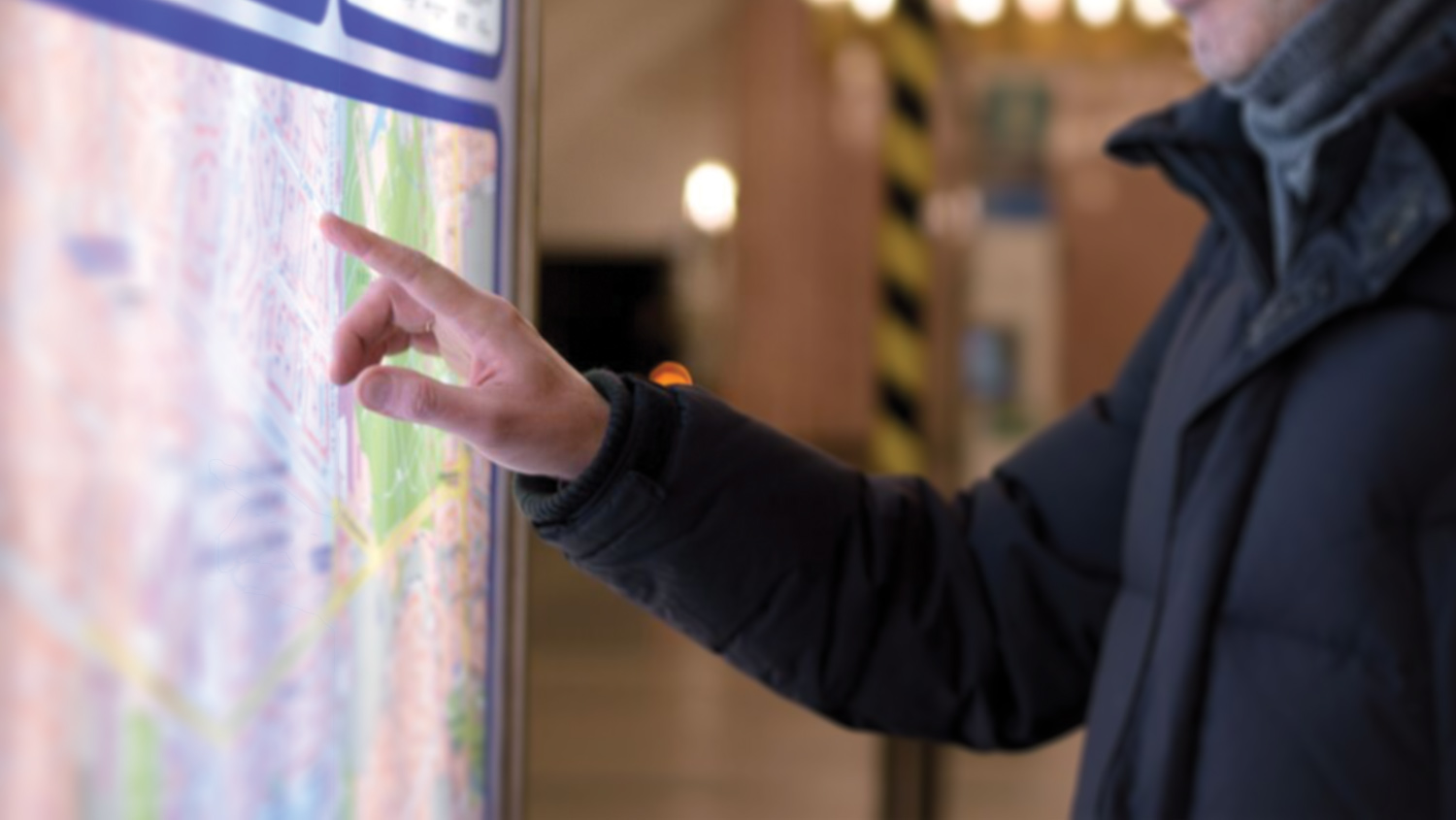 How Solar Power International Leads the Way In Conference Education With CadmiumCD's Digital Signage
When CadmiumCD says they're your one source for conference technology, they're not kidding. Not only does this event tech company provide an array of attendee apps that are fully integrated with a robust conference management system, they now provide a way for conference organizers to display information to attendees in an easy and convenient way.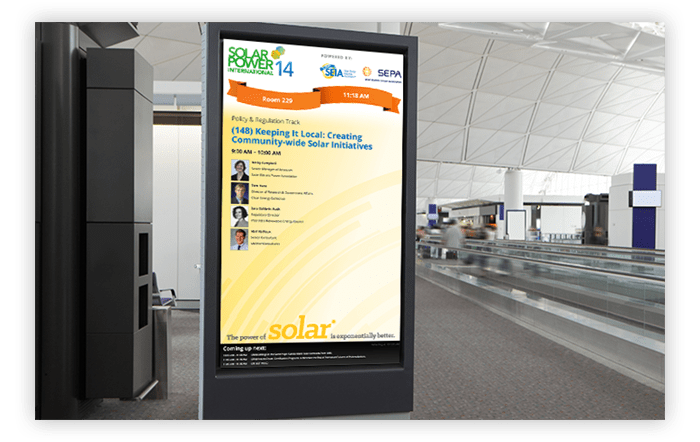 Following the success of CadmiumCD's first implementation of their digital signage at Solar Power International (SPI), Michelle Wyatt, co-founder and CEO, helps break down why CadmiumCD's solution is different.
1. "Digital signage is the future of educational conferences."
Digital session displays are a relatively new technology at conferences. Many organizers still set up a simple cardboard sign outside each room, or rely solely on standardized room numbers that are referenced on the event schedule.
But not cutting edge conferences like Solar Power International (SPI).
This year SPI embraced digital session displays that were a cut above the rest. The signs for each room were displayed on large 40″ vertical TV screens and clearly conveyed the name of the current session in big bold letters. They also included pictures of the speakers for each session and a short description about what attendees could expect.
2. "Digital signage helps attendees navigate the conference."
Digital session displays will not only show that your organization embraces new technology, it also has it's practical benefits. We've all experienced that dreadful moment when we're running around a conference hall, looking for a particular session, running low on time. CadmiumCD's digital displays makes this experience a little less dreadful.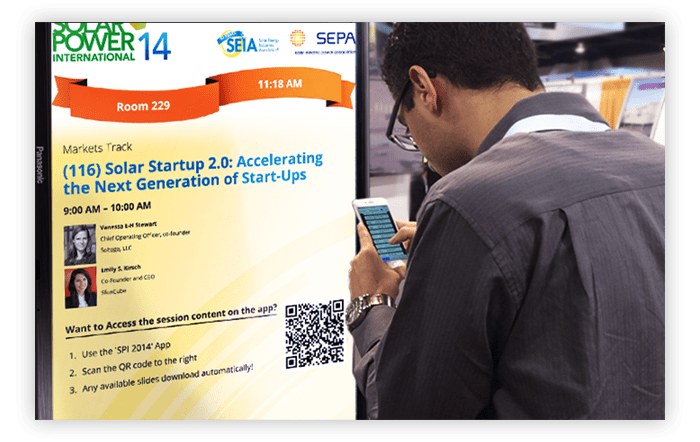 "Big, bright digital signage makes navigating your conference a lot less stressful," says Wyatt. "We've designed these displays so that it's easy for attendees to find the session they're looking even if they only know the general area where their session will be held. We don't want attendees to have to fumble with a paper brochure and elusive room numbers printed on a piece of paper outside each door."
At SPI, CadmiumCD's displays lit up the hallways, making those elusive room numbers a thing of the past. Attendees found their sessions with ease and spent more time chatting with colleagues in the hallway and less time running around frantically looking for their next session.
3. "CadmiumCD's digital signage syncs with eventScribe attendee apps."
Not only will CadmiumCD's digital session displays help attendees identify certain rooms and presentations, they're also fully integrated with CadmiumCD's eventScribe platform.
For example, a QR code can be placed on each sign, making it easy for attendees to access additional information about that session with the touch of a button. Attendees simply scan the code using the eventScribe app and they're instantly taken to that session's presentation slides and handouts.
Attendees at SPI couldn't be more thankful for this tool, says Wyatt, who got to speak to some of the attendees onsite. She says they were able to quickly find their sessions in the conference hall and on the app, then follow along with each session while taking notes, drawing, and highlighting directly on the presentation slides.
4. "CadmiumCD's digital signage pulls in data from the Conference Harvester."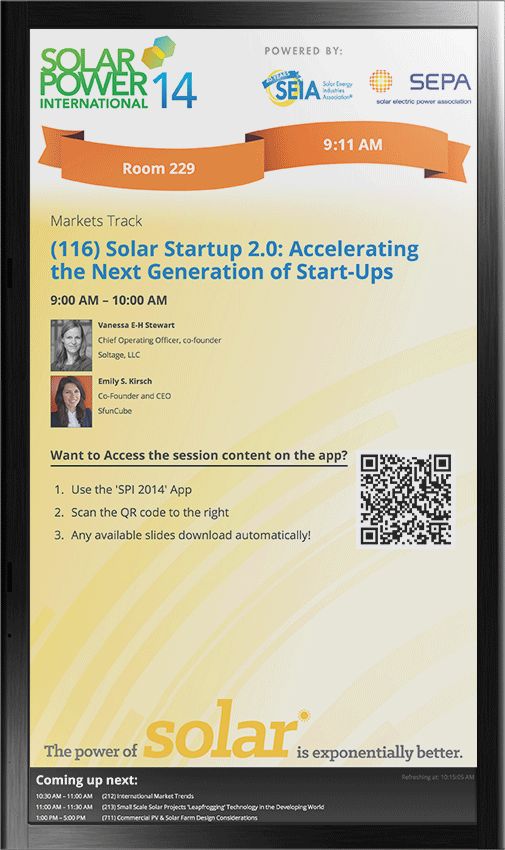 For conference organizers, one of the biggest headaches can be importing and exporting data from various vendors. CadmiumCD solves this problem by streamlining data entry and syncing that data with its digital signage.
Solar Power International meeting planners ditched the multiple vendors and used CadmiumCD as their one source for conference management this year. Everything entered into the Conference Harvester speaker and exhibitor management software was displayed instantly outside the correct room where each session was being held.
Wyatt explains how the system works:
"Each sign is designated one room. The system that manages the information from the Harvester is then displayed based on the current time. The information displayed on the digital signage changes automatically with the correct session for each time block."
5. "Digital signage is an environmentally sustainable solution."
One of the things Wyatt is most excited about is CadmiumCD's enduring commitment to making meetings more green. In fact, CadmiumCD has been a longtime vendor at Greenbuild, the conference dedicated to making the construction industry more environmentally sustainable.
She is ecstatic that digital signage is now being embraced in favor of cardboard or paper solutions and that they can now integrate with digital app-based brochures like eventScribe.
"Our relationship with Solar Power International is a continuation of our green legacy," says Wyatt. "This is just another step to creating the ultimate conference experience for the modern world."
About Michael Doane
Michael Doane is head of marketing at CadmiumCD. He is focused on educating event planners about the benefits of implementing technology at their trade shows and conferences. Download his free eBook, "The Most Influential Advances in Event Technology", then connect with him on LinkedIn or Twitter.
Sign up for our newsletter