7 New Tools for Abstract Management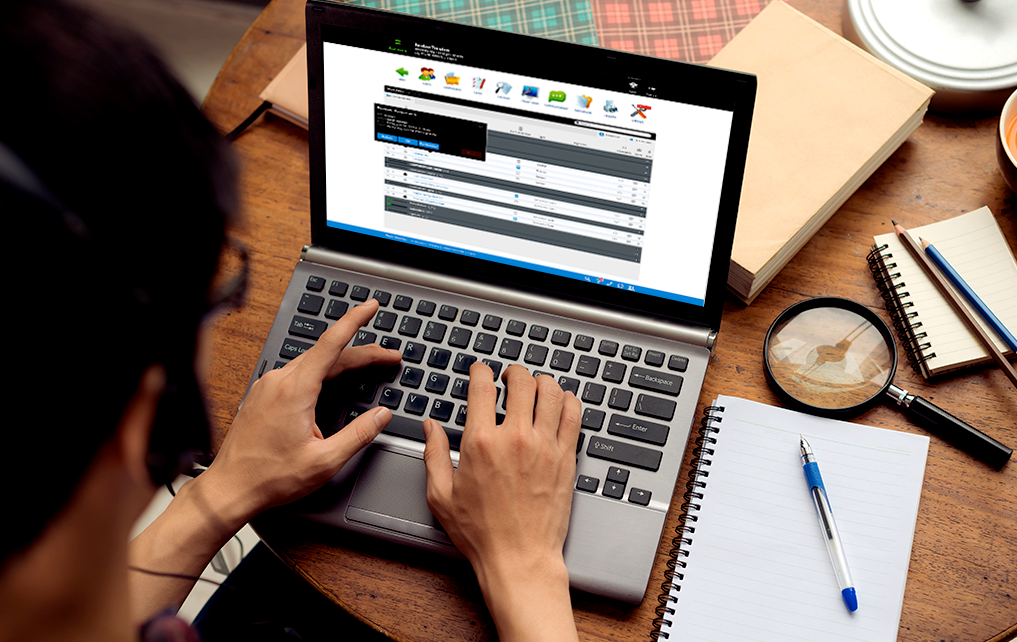 This article was written by CadmiumCD Contributor, Pamela Shigeoka, and is based off a webinar given by Amanda Weber, CadmiumCD Scorecard Project Manager.
CadmiumCD's Abstract Scorecard® is the premiere system for managing conference abstracts and the review process. We've now made some major improvements to the system, that makes it easier than ever to manage your event's abstract submissions and review process.
Making Abstract Scorecard Work For Everyone
First and foremost, CadmiumCD is proud to have updated Abstract Scorecard to be accessible and responsive. The entire app has been reworked from the ground up to make it compatible with screen readers for visually impaired readers, following CAG 2.0 guidelines. All informative images include alt text, and users can tab through page content instead of using a mouse.
Abstract Scorecard is also now responsive, so you can have a great experience on any device screen. Built with Bootstrap, a popular framework for creating mobile sites, all Abstract Scorecard pages now automatically detect the user's screen size and renders the website optimized for their device.
Polishing Up the Dashboard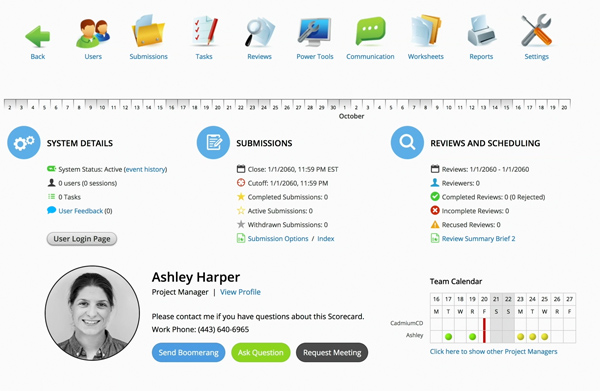 Our developers have reworked the Abstract Scorecard dashboard to make it more user friendly. The project manager's contact information is prominently displayed, with their name, photograph, a link to their profile, and their phone number easily accessible. There are also buttons that allow users to send a Boomerang for the event a particular Scorecard is linked to, ask the project manager a question, or request a meeting. The Team Calendar is displayed beside the project manager's information, so you can see the project manager's availability at a glance.
Intuitive and User-Friendly Settings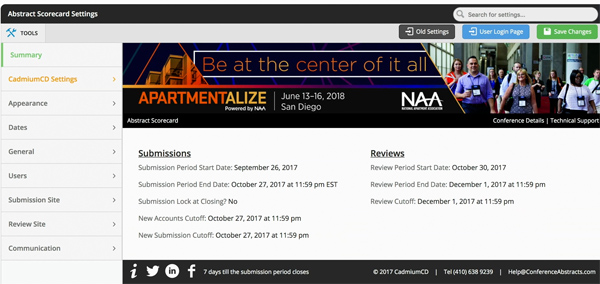 We've vastly improved our settings page user interface, making it much easier to navigate. The different settings are organized by category, so users can quickly get to whatever needs to be changed. The settings categories are displayed in the left side menu, and the rest of the main settings page shows a summary of the Scorecard information.
Users can change the appearance of the Scorecard themselves now by changing the General Appearance settings. Not only can you enter hexadecimal color codes for elements such as the header background and body text; you can also click to pull a color directly from your banner with a paintbrush tool. It's easier than ever to customize your Scorecard to match your event branding.
The Settings page also includes Omni Search capability, meaning you can search across all of the products you are using for your event from one search bar. You can also easily upload your own FAQs and documents in a single step.
The newly improved link creation tool makes it simple to create links to your documents. Using google links, the tool automatically creates a link tag, short link, or long link that you can easily use, and it will create help tips to explain how to use the link.
Finally, you can also quickly copy settings from one event to another using the Copy Settings page. Client can choose from a list of their own events and copy the settings from a past event over to a new event, making the Scorecard creation process faster than ever.
Sideloading With Ease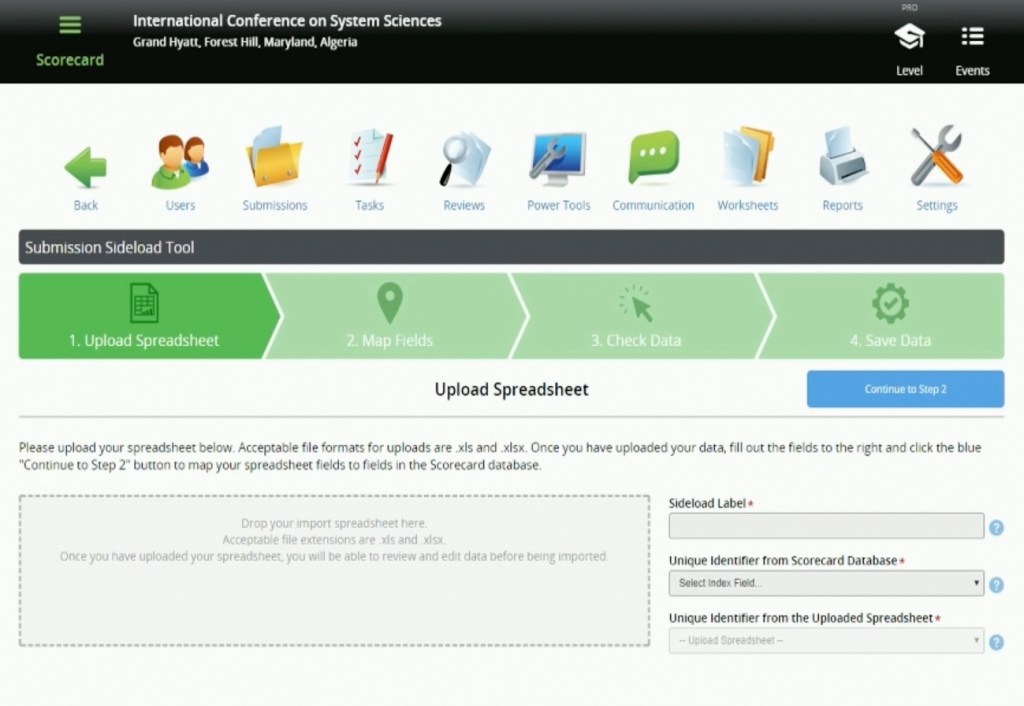 Sideloading is a way to import data collected outside of the MyCadmium system into specific fields within the Scorecard, such as their final decisions and custom fields for their event. The new system allows all users to quickly and intuitively upload their data into Scorecard with minimum hassle.
The new Sideloading tool is located in the Power Tools, and starting a new sideload is as easy as clicking a button. You can choose between three sideload type options: submitter sideload, submission sideload, and author sideload. You can choose a file to sideload by either clicking the box to select from your file manager, or you can drag the file from your desktop into the submission box. Once the file is chosen, you give sideload a descriptive label, a unique identifier (usually the submission ID), and select the same unique identifier from the uploaded spreadsheet.
The next step allows you to choose which field you'd like to sideload your data into. For example, if you are sideloading your final decisions, you would choose that field from your menu. The Check Data step is fairly self-explanatory; it shows the index field and the data fields you have submitted, so you can make sure you've chosen the correct field for your sideload.
The final step, Save Data, shows the results of the sideload. New values show up alongside old values, and if the data imported correctly, the new value will be in green. If there's a problem, it will be red and you can choose to reverse the changes if there's a mistake. By clicking a link, you can revert your Scorecard to its previous state.
The Sideload tool dashboard also shows you all sideloads that you've made, including when a sideload was made and which user initiated the sideload.
Keeping Lines of Communication Open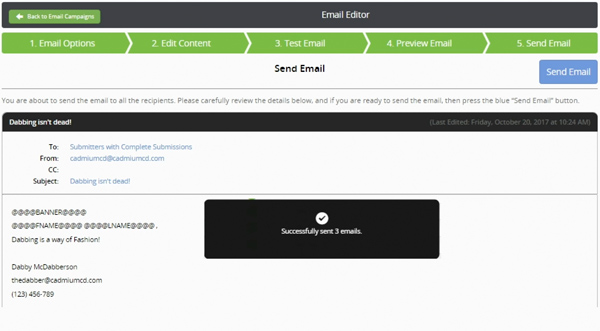 CadmiumCD has taken great steps to improve users' experiences with the Communication Tool. Our developers have created a step-by-step process to guide you through creating emails and sending them to the right recipients.
In the new version, all fields have explanatory labels and descriptions, and users are able to select multiple type filters in a drop down menu. When editing the content of your message, you will see only the hotkeys associated with your recipient list. So, if you're sending a message to submitters, you will only see hotkeys aimed at submitters and not ones for reviewers. The hotkeys also have intuitive names to help you say what you need to say as quickly as possible.
We've also added a step that lets you test your email out. You can review the content in a preview screen, and if there are any invalid email addresses, the tool will warn you and let you go to a page to correct any errors and go straight back to the preview page.
Review Assignments Made Simple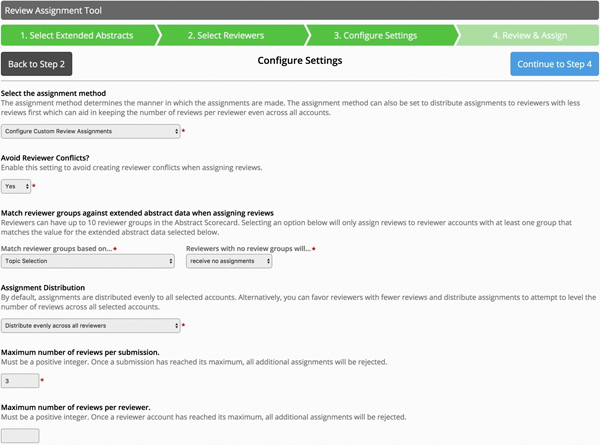 Assigning reviewers used to be a complicated process, but the new updates to CadmiumCD's Review Tools make it intuitive and streamlined for users with simple or complex needs. We've added a step-by-step process to walk you through assignment creation.
To create review assignments, you first select the abstracts that need reviewing and then choose the reviewers. The tool will tell you if there's an error in your chosen assignments so you can immediately correct it. To assign abstracts to reviews, you then select an assignment method. You can choose to simply assign all abstracts to all reviewers, or you can customize your assignments. Customizations include choosing to avoid reviewer conflicts, match reviewer groups against abstract data when making assignments, how to distribute the assignments, and choose the maximum number of reviews per submission and per reviewer.
The final step, before you actually send out assignments, gives you a report summary of the assignments you are making. Downloading this report gives you a chance to make sure everything is in order before the assignments go out to their respective reviewers.
Simplifying Review Decision Options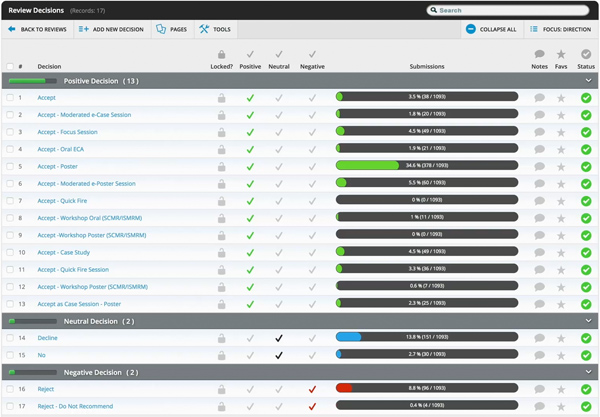 In the past, it was difficult to add custom decisions to the review decisions tool. It involved talking to a project manager and potentially having decision options from other events show up in your list. Now, clients can choose their own custom decision options and have only those options show up in their list. The lists are exclusive to each client, so you never have to worry about other decision options showing up while you're working.
Intuitive Worksheet Filtering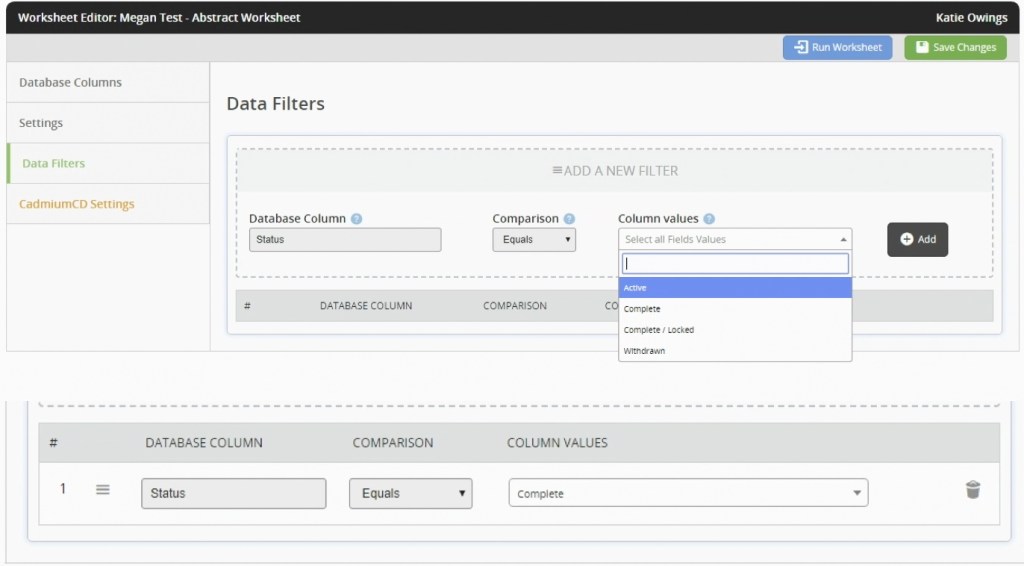 CadmiumCD has also updated the worksheet tool to make it easier than ever to sort and filter your worksheets. You can choose which database column to filter, and in addition to sorting options such as ascending or descending date of creation, you can also choose to filter based on other attributes. It's easy to filter your results to show only completed worksheets, and then choose to sort those results by date completed. You can repopulate column values based on your choice as well as stack filters for even more precise results.
Smart Updates for a Smart Product
CadmiumCD wants to be sure our clients have the best possible experience when using our products, and we take pride in putting in the time and effort to make our products as user-friendly as possible. The new updates and features added to Abstract Scorecard help us make sure we're fulfilling our clients' needs in managing abstract submission and review for their events.
About Pamela
I am a freelance writer who enjoys dipping my toes into a wide variety of writing subjects. I have an M.A. in English but found that teaching wasn't for me, so I'm applying my training to writing instead. I've been blogging for ten years and have written everything from book reviews to pop culture essays to business topics. In my spare time, I enjoy writing fiction, playing games, and learning new crafts. I live in Corvallis, Oregon, with my husband, daughter, and dog.
Related Insights
Sign up for our newsletter