Event Planning: When to Open and Close Registration
Jun 19, 2019 Read Time: 6 min
by Cadmium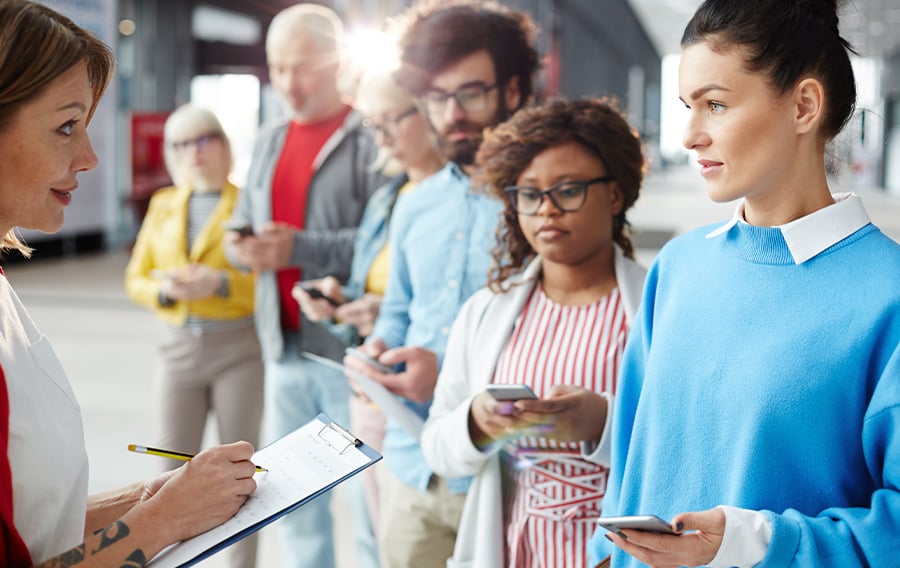 This article was written by Jake Fabbri, VP of Marketing at Fonteva
You've planned the perfect event and now you're ready to start inviting guests. The best events are those that generate a considerable amount of interest, ensuring that plenty of people register. However, you don't want to invite more attendees than you have resources or space to provide for. The key to finding the right balance is to open and close your event registration at the right times.
When it comes to opening your event registration, there's no exact number of months or weeks ahead that works for every organization. Instead, with the help of your association's member management tools, you can determine the right opening and closing dates to suit your event. Today, we'll show you how you can use these tools to:
Open when you're ready to reach out to attendees.

Open when your itinerary is ready to share.

Open for your early-bird registrants.

Close when you've filled key sessions.

Close when you're at capacity.
Before you open your event, you should already have a system in place for reaching out to the guests you know you want to attend. To create communications that will motivate them to register right away, you can start with the member information organized in your association management system.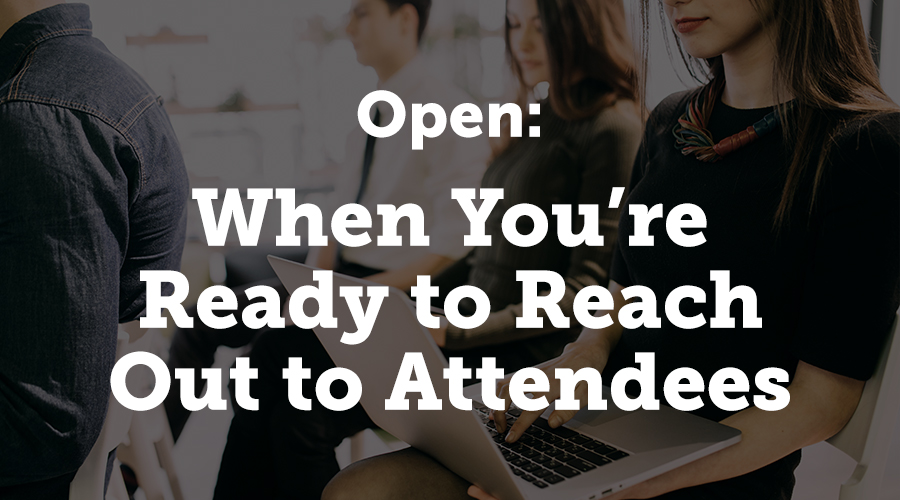 1. Open when you're ready to reach out to attendees.
Before you open your event for registration, reach out to your members to share information about your event and invite them to register. These invitations don't have to be generic! Your members will appreciate a more personalized approach, and this will encourage them to register for your event.
To reach out to your attendees most effectively, take advantage of the features that your member management software provides. Begin by segmenting your members into categories such as the length of their membership or their interest in particular components of your event. Then reach out to different groups according to their specific interests in your event.
When you have plenty of data on your members already stored and organized, you'll be able to reach out to them with communications that are both effective and easy for you to create. Check out Fonteva's guide to association management software to learn more about gathering member information and putting it to good use.
Your attendees will be excited to register for your event when you connect the details of the event to their individual experiences and preferences as members of your association. Once they've registered, they'll want to know what they can expect from the event as a whole.
Just as you don't want to open your event registration to the broader public until after you've reached out to your members, you don't want to open it until your event is planned and you can communicate that plan to your attendees. Having a good plan is one of the most important event management strategies, and you can share your plan with your attendees by creating an itinerary that they can access prior to the event.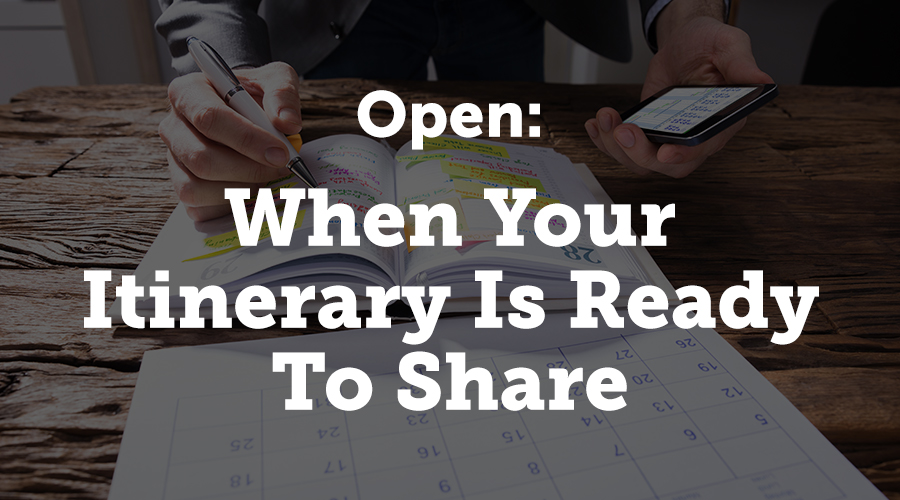 2. Open when your itinerary is ready to share.
Your members can't decide whether they should register for your event if you don't provide them with an overview of the event and a list of the sessions you have planned. Don't open registration for your event until your itinerary is prepared. With the help of your association management system, you can share your itinerary with registrants using your event microsite.
Your event microsite is a website you can create that serves as the online home of your event. You can keep it up all year round, giving potential attendees plenty of time to plan ahead and decide which sessions they're most interested in.
One of the most important features of your event microsite is the itinerary, showing the schedule of presentations, sessions, and other components of your events. Your guests need access to this itinerary to plan their way through your event, decide which activities to participate in, and determine whether they should attend.
To encourage registration and minimize the number of repeated scheduling questions your team will otherwise have to answer, ensure that your event microsite is updated and accessible to your members before you open registration. Your most current itinerary should be prominent on your event microsite.
Your event microsite presents an ideal opportunity to market the contents of your conference to potential attendees. Because the microsite is always accessible, if you update it with your itinerary early, you're likely to have attendees ready to register early. You can offer incentives to members who choose to register early.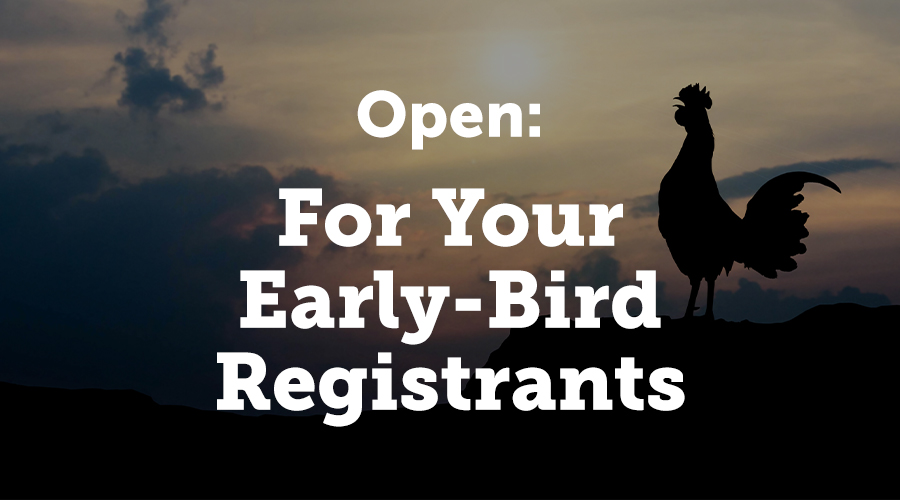 3. Open for your early-bird registrants.
If you've planned your event, communicated with your members, and updated your event microsite to include your most current itinerary, you may want to consider offering early-bird registration packages that encourage early registration. Incentivizing early registration can motivate your members to register and help your event fill faster.
Offer members a discount on their event registration costs if they complete their online registration by a defined date. As an addition or alternative to this early-bird rate, you can offer early registrants preferred seating at key components of your event or first access to the components that you expect will be most popular.
Looking for an additional perk you can offer your early registrants? Consider merchandise branded to your organization and perhaps customized to your event. You don't need graphic design experience to create the perfect product to offer your attendees. A website like Bonfire offers templates for custom t-shirts that you can use as your starting place to create custom merchandise your registrants will love to receive.
If you want to give more registrants the opportunity to commemorate your event with branded merchandise, you can also offer these products for sale at your event or in your association management software's e-store. A creatively designed and usable product like a t-shirt is sure to be popular with your attendees.
With an effective outreach strategy that incorporates personalized communications, an updated event microsite, and perks for early-bird registrants, your event is sure to fill quickly. When it does, make sure you've closed registration to minimize confusion and disappointment among your members.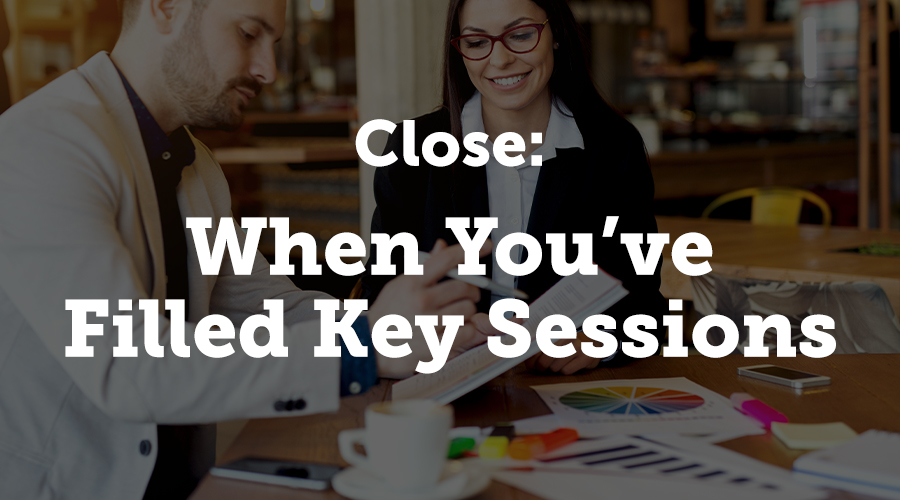 4. Close when you've filled key sessions.
Anticipating that one or a few sessions at your event are going to fill up fast? It's likely that you know which components of your event are going to be most popular with your attendees. Ensure that you close registration for popular sessions once they're filled so that registrants are kept up-to-date on their options.
Once you've opened registration, you should post updates such as sessions that have filled, changes to the itinerary, and additional offerings on your event microsite as they occur. This way, registrants and potential registrants will know what they can expect from the event and won't be misinformed or overly disappointed if they can't register for a specific component of the event.
If you've sold out the most highly anticipated or heavily promoted component of your event, you may want to include this information on your membership website as well as your event microsite. This ensures that all members who have registered for your event or are considering doing so will understand what components are and are not available to them.
When you use member data to create unique experiences that your guests are sure to love, you'll boost attendee engagement and these events will fill up fast. When they fill, close them. This way, later registrants perusing the itinerary know that they can't attend those sessions. This eliminates confusion and mitigates disappointment, resulting in a better-run event.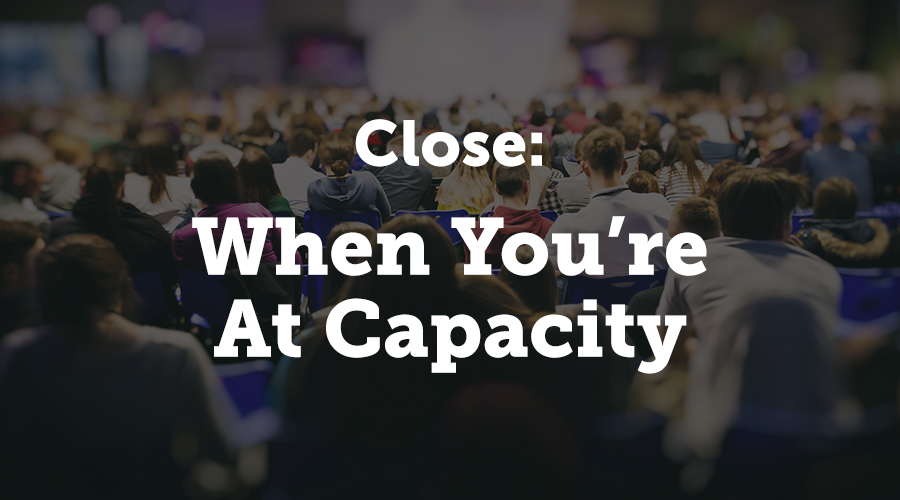 5. Close when you're at capacity.
When your event appeals to your members' individual reasons for participation in your organization, you're sure to fill it. Just as you would with popular sessions that fill quickly, close your event once you're at capacity so that late registrants aren't confused or disappointed when you cannot admit them.
To keep track of registrants for your event and for specific sessions within it, take advantage of the features that your association management software offers. If you're using a major CRM such as Salesforce, a top Salesforce app for associations will allow you to see how many people registered for your event and for different sessions quickly and easily.
Once your event fills, post this update on your event microsite, your association's website, and on any social media platforms on which you have a presence. This helps ensure that all of your members know that they can no longer register.
If your event doesn't fill during the registration period and you still have space for more guests who register at the door, don't close just because the event is starting! Ensure that your team is prepared to register attendees at the door, and wait to close your event until it fills.
After your event is over, don't forget to follow up with attendees by sending communications tailored to their specific interests and reasons for attending. When you ensure that each of your guests feels valued throughout the process of registering for and attending your event, it's highly likely that they'll return for future events and help make each one more successful than the last!
Successful events are those that encourage guests to register by building their excitement using personalized communications. When you put member data to use in reaching out to potential attendees, you're sure to fill your event soon after opening and close it because you've reached capacity.
About Jake
Jake Fabbri is the Vice President of Marketing at Fonteva with over 18 years of experience working in marketing management. He has experience with lead generation, content marketing, marketing automation, and events. Connect with him on LinkedIn.
Sign up for our newsletter