How to Improve the Event App Activity Feed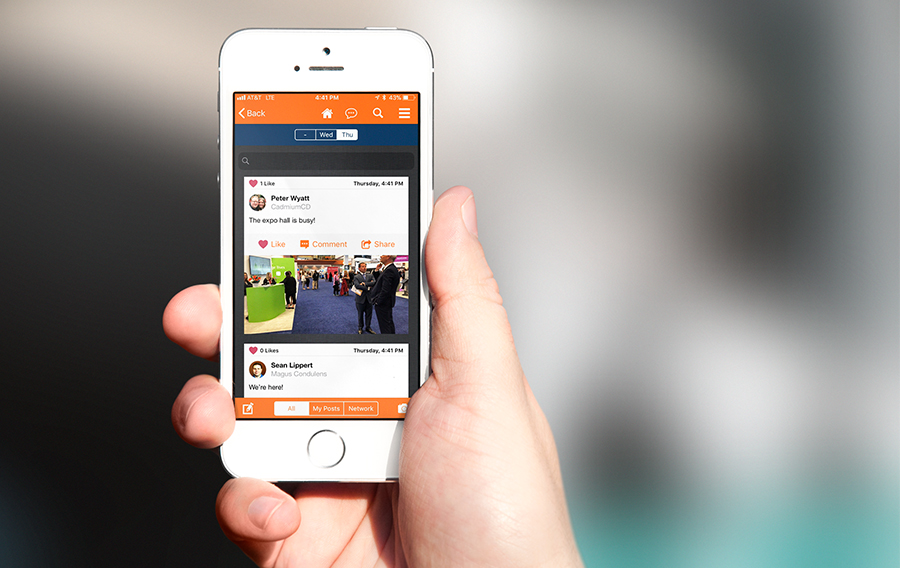 An activity feed is one of the most familiar features in your event app. Attendees instantly understand its function and can quickly begin scrolling, liking, and posting comments. Because it mimics the endless feed of the social media channels we're familiar with, many app companies make activity feeds the primary focus on event apps.
This, however, can cause problems. For many, social media usage in recent years has become habitual and excessive.
While audience-generated content is a great addition to our events, we want to be careful that we're not setting attendees up for failure. We want to set up the activity feed as a way to enhance the conference experience, not hinder it. In other words, we want attendees to be engaged, not distracted.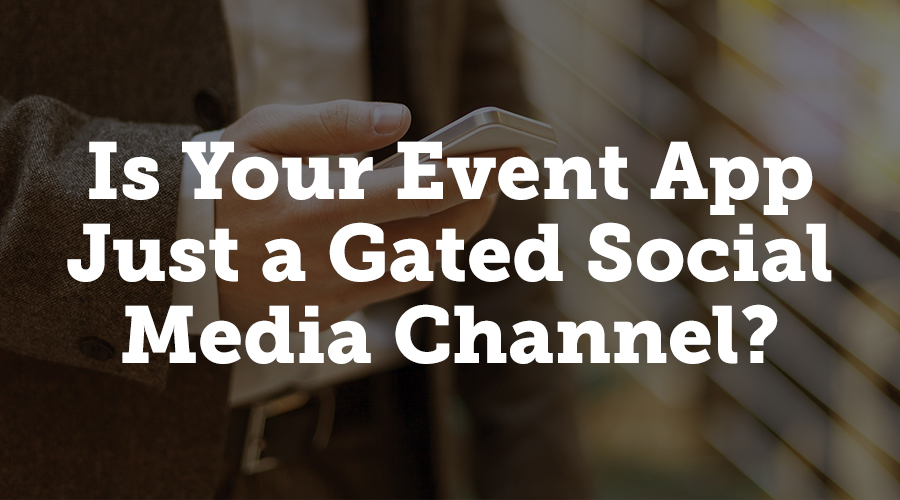 Is Your Event App Just a Gated Social Media Channel?
When an attendee first opens your app, what do they see? What options are they given?
Many will receive an experience identical to Twitter or Facebook. A large wall of user-generated posts from around the conference center. The popular wisdom is that this is what attendees want.
Peter Wyatt, CTO at CadmiumCD, says his team has recently added this feature to their eventScribe app, but with a different approach.
Wyatt says, "eventScribe is an app built for planners of educational conferences. We've always put education first and thought an activity feed up-front might hurt that experience."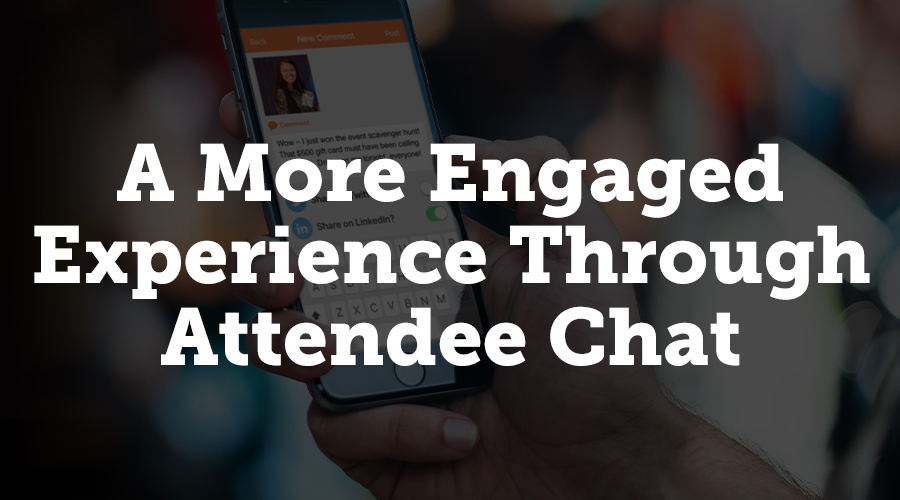 A More Engaged Experience Through Attendee Chat
"That's why we've taken a different strategy than most apps that feature activity feeds," says Wyatt. "You're probably familiar with apps where the activity feed is the main screen and things like the schedule and expo hall are second to the activity feed. For us it's just one more feature that we're adding in to a very feature-rich app. Instead of it being the home screen, it's a button that's available on any screen of the app."
This gives attendees the option to share and communicate with their peers, but it also forces them to pursue this action with intention. This is something Inc. contributor Rhett Power says will serve your attendees' conference goals. Ultimately, it will help them achieve success.
This is also why CadmiumCD has decided to position the activity feed as the eventScribe Attendee Chat. "Chat" is a more active, engaged word, whereas "feed" implies a certain passivity that doesn't quite fit with the conference experience.
Where most apps try to capture attendees' attention with an activity feed, Wyatt and his team believe in giving attendees the power of choice and intention. It doesn't leave the digital portion of their conference experience to chance.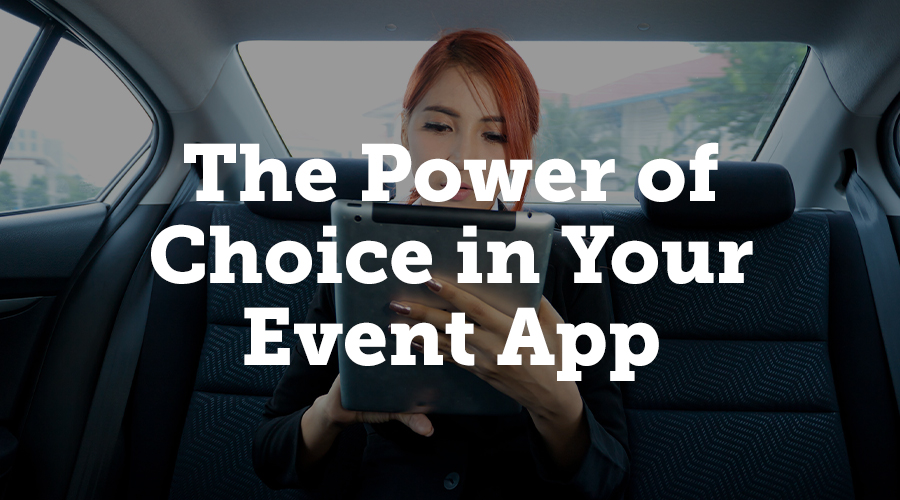 The Power of Choice in Your Event App
Three years ago, eventScribe transitioned its 'lily-pad' home screen design to a new, innovative 'tile' design. Both, in essence, allow event organizers to deliver a choice of options to attendees that will help them find exactly what they're looking for in the least amount of time possible. The beauty of the tile design is that each option is not tied to preset buttons. These buttons can be customized to feature links to internal app functions as well as external webpages.
This positions the app home screen as an event dashboard. Attendees can access information about different activities at your conference that they want to explore. It makes information very easy to find and gives attendees the power to craft the experiences they're searching for.
Rather than forcing users to navigate through an activity feed like many other conference apps, the tile design and Attendee Chat button are choice-first designs that gives attendees the power to engage with your event in more meaningful ways.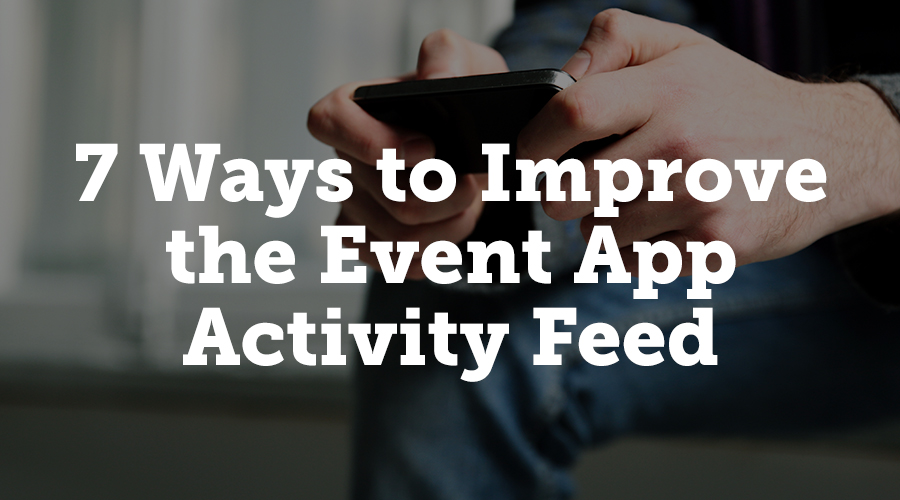 7 Ways to Improve the Event App Activity Feed
Connecting with peers at the conference through the activity feed, or Attendee Chat, is increasingly becoming important to attendees. While eventScribe has all the staples of a good feed (ability to post pictures and images, like and comment others' posts, and access users' in-app profiles), Wyatt and his team added some unique functionalities that improve the feature as well. Most of these are built to enhance the users' power of choice and intent while using the app.
1. Filtering Options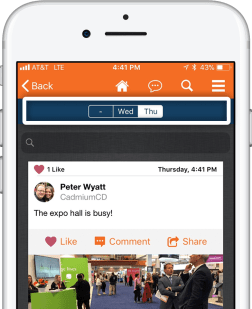 Giving attendees a way to filter their own posts and posts they've liked turns the activity feed from a pseudo social media feed for your event into a resource for your attendees. Attendees, for example, can review what was said during a particular session while writing their post-event report. They simply choose "My Posts" or "My Likes" from the menu at the bottom and instantly get access to posts they've made and those they've saved.
Attendees can also filter posts from a given day. This gives context to the conference experience when reviewing it later.
2. Search Options
One feature Wyatt and his team believe is sorely missing from most event app activity feeds is the ability to search. They changed that with eventScribe.
"Attendees can search any post for keywords, names, organizations, and it would find the posts that happened on a certain day," says Wyatt. "We even support the activity feed in the universal search feature of the app."
Universal search is available on almost every screen of the app. When a user clicks it a keyboard comes up and can search for whatever they're looking for. Now, in addition to searching the schedule, the speakers, the posters, the attendees, and the presenters, you can also directly search the activity feed.
"It's a fantastic tool to find posts by an individual person or posts on an individual subject as well as find information on other posts that might interest," says Wyatt.
3. Quick Access to Attendee Chat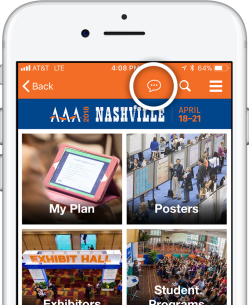 Because eventScribe is an educational event app, Wyatt and his team didn't want to put too much emphasis on the activity feed. It is not the first thing you see on the home screen, opting to keep things like attendee schedules, exhibitor information, and sessions the main focal point. The activity feed is, however, easy to get to for those who want to access it.
On every page of the app, there is a little comment bubble icon in the top navigation bar. Users simply need to click it and will have access to the activity feed instantly. Wyatt says this is an intentional design choice for intentional users.
4. Easy Social Sharing
You already know that social media can cause what psychologists call "Fear of Missing Out," or FOMO, but did you know that this is amplified when attendees share in real-time from your events? Engagement on your accounts goes way up during your conference, and this is the best time to get attendees to create lots of user generated content.
The problem is: you don't want attendees going back and forth from your conference app to their social apps. This could cause a big distraction and bring attendees' focus away from the conference.
Instead, eventScribe gives attendees the option to share their activity feed post on LinkedIn and Twitter with a simple swipe when they initially post it (just like on the Instagram app). There's also a convenient "Share" button at the bottom of each post for those who want to share others' posts. This keeps people engaged in your conference content while giving you the benefits of social engagement on leading social networks. Have your cake and eat it too!
5. High Quality Images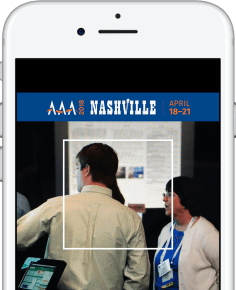 Social media apps and event apps typically reduce the size and quality of any image posted to save server space and load time. Wyatt, however, says that great looking photos are important to CadmiumCD.
"We took a lot of care to do a gentle balance between the size of the photos on the activity feed and the quality. The quality of the photos on our activity feed is far superior to any other event app that we've seen on the market. These aren't photos that are just 400 or 500 pixels wide, they're a reasonable quality thing that you would want to share. And when you do share them you have the option to save them to your device's photo roll, to tweet it, to share it on Facebook, to send them via an email, or to send it in a text message."
6. Branded Content
A popular brand can turn a worn jacket into a cash cow, increasing its value upwards of 1500%. You may not be Supreme, but your brand is important. That's why CadmiumCD has made your brand front and center when attendees engage with the activity feed.
"On the activity feed photos, you'll also see that the banner from the event was automatically added," says Wyatt. "Your branding will stay with these photos when people post them to Twitter, or Facebook, or LinkedIn. This is an important feature because we're looking at sponsorship opportunities within the app. One of the things we'll be doing in the future to build on the activity feed is the ability to sell sponsorships on these banners."
7. Powerful Admin Tools
Managing data that is published to your event app is also important. From removing inappropriate content to exporting text and photos to use on other platforms, eventScribe puts control in meeting planners' hands. Here are two major examples.

Monitoring Content
"Managing the activity data is important because if someone posted an inappropriate picture or comment you would want to squelch it," says Wyatt. "We created a page that gives you a chronological listing of all the posts. You have the ability to lock posts so they're no longer available to be commented on, and you can flag them as inapppropriate to remove them from the activity stream."
Exporting Photos
"You also have the ability to download all the photos that are available on the activity feed," says Wyatt. "You'll actually be able to checkbox select everything from a day, one or two posts, or every single post there is and have the myCadmium API neatly package it up into a ZIP file that you can download and have all of the photos that were submitted through your activity feed in individual folders from different days from the conference."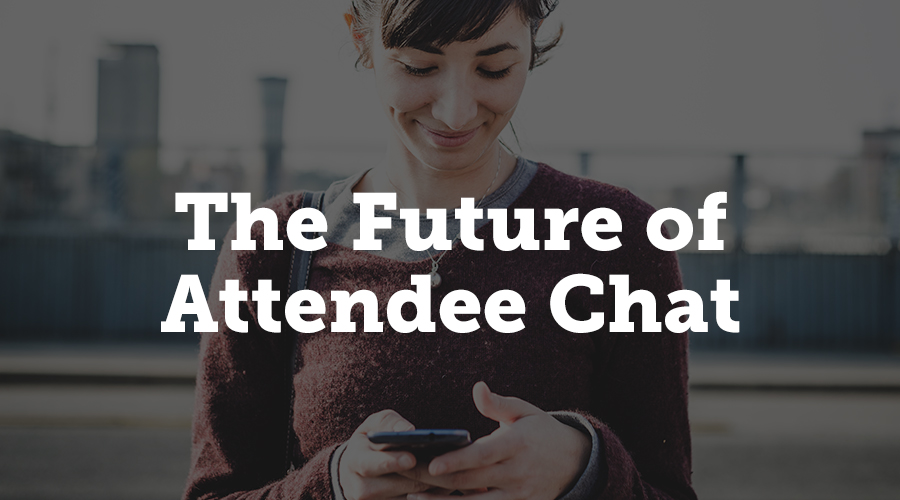 The Future of Attendee Chat
Attendee chat is a great tool to engage attendees, create connections, and deliver top-quality user generated content. The future of attendee chat upholds this functionality and is integrated into your event app in a way that makes it a meaningful experience to attendees.
If you're interested in learning more about eventScribe Attendee Chat leave a comment below or request a meeting with CadmiumCD.
Sign up for our newsletter