13 Reasons to Use an Interactive Video Platform for Education
Apr 28, 2022 Read Time: 3 min
by Cadmium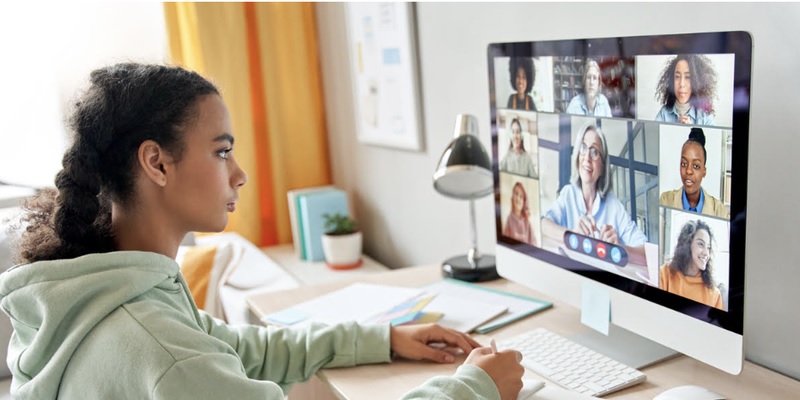 Live-streamed content is fast becoming a major competitor to prerecorded video. In 2020 alone, more than 480 billion hours of live-streamed content were consumed by viewers around the globe. It's obvious that video is no longer enough to satisfy hungry learners; live-streamed content seems to be the medium of the future.
Migrating to an interactive video platform has enormous benefits for higher education, especially in a post-pandemic world. However, its relative newness can be concerning to current educators and their departments. How can colleges get started with interactive video, and why is it important?
Let's explore what an interactive video platform truly is and how it can impact the learning initiatives at your university.
Understanding the Interactive Video Platform for Education
Before purchasing a hosted platform, you must understand exactly what interactive video means. An interactive video platform is a software that enables users to interact with current content using a variety of tools. This may include:
Clicking an action button
Writing a comment
Answering a question
Completing typeforms
Accessing documents and materials
By correctly leveraging these elements, universities can help learners thrive in myriad ways.
Why Universities Should Adopt an Interactive Video Platform for Education
Interactive video content isn't just a nice-to-have addition to the educational stack, but rather a critical component of modern learning.
1. International reach
Unlike many other forms of content, interactive content can be watched by anyone with an internet connection from locations worldwide. This makes it an ideal medium for global education and suitable for collaborating with experts and colleagues in other countries.
2. Overall affordability
Most interactive video platforms are significantly more affordable than traditional learning management systems. Efficient cost ratios make interactive video viable for small universities or community colleges.
3. Accessible and easy to use
Interactive video platforms are typically more accessible than traditional learning management systems. This is important for universities looking to widen the reach of their courses and adhere to all industry regulations in the process.
4. Efficient learning tool
Interactive course content may be far more efficient than traditional methods because students can use it at all times of the day and for various reasons. You can boost retention, drive attention, and increase output with interactive video.
5. Addressing short attention spans
Interactive videos can capture student attention in ways that other videos cannot. Viewers are constantly engaged and interested and are more likely to pay attention in the process.
6. Assisting visual learners
The use of on-screen graphics, charts, and other visuals can break down complex subjects or information. Visual learners will be far more engaged with videos that promote sight-based interactions.
7. Enhancing educational outcomes
Interactive video is proven to enhance student learning outcomes in several ways, including long-term retention. Access to video analytics makes it even easier to measure student development.
8. Instantly answering questions
One of the best aspects of interactive video content is that it can answer student questions in real time. This eliminates the need for students to wait for emails, messages, and other slow responses.
9. Engaging viewers
Develop deep engagement with viewers on a personal level, creating an open circuit of communication that drives attention and interest. This is important for universities looking to boost graduation rates, among other things.
10. Integration with different learning environments
Easily integrate interactive video content into different learning environments, such as in-person classrooms, remote learning, or even professional development. Outside features and API adaptations may also be available.
11. Recycling for future studies
Reuse your video content each semester without ever spending a dime. Create new formats and distribute short clips from preexisting content.
12. Friendly for remote learning
Interactive videos are often designed with a simplistic interface that anyone can use, regardless of technological experience. This makes it particularly good for remote learners with varied equipment.
13. Fostering a sense of community
The greatest advantage of interactive content is its ability to transcend borders, ages, and education levels. Bring learners together by leveraging a shared platform for learning and development.
Warpwire's Interactive Video Platform for Education Blows Away the Competition
There are dozens of interactive video platforms, but only one provides colleges and universities with all the features that they need to be successful. Warpwire provides cutting-edge educational video services to facilities around the country, creating meaningful interactive experiences that engage students, faculty, and administrators of all backgrounds.
Its solutions do more than last the test of time. They're being used to define the future of online education, having features like:
Compatible with integrations
100% scalable to size and needs
Warpwire's video platform provides analytics to help you track media assets, media libraries, and system-wide usage. Designed to explore engagement, Warpwire's reports provide deep insight into how your institution interacts with media.

To see how we can help you better leverage your video content, get in touch with us today!
Sign up for our newsletter