Measuring Student Engagement with Video Management Software
Jan 13, 2022 Read Time: 3 min
by Cadmium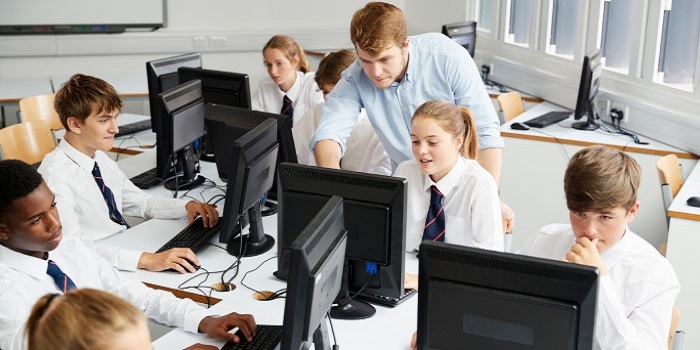 Marketing studies suggest that you have about ten seconds to capture viewers' attention before they begin to scroll down or click away from video content. As video has become a core component in college curricula across the country, the need to effectively measure student engagement has increased.
Massive Open and Online Courses, flipped classrooms, and blended learning have become the norm, enabling instructors to interact with students from anywhere in the world with an internet connection. While these methods have revolutionized the educational landscape when used in isolation or without context, it's difficult to determine if students are effectively engaged. Thus, measuring student engagement is critical to ensuring that content has successfully reached its target audience.
By investing in video management software, universities can give instructors the necessary tools to gather data and gain insights into how students are engaging with video content. Instructors can use these insights to gauge the effectiveness of the video content and tailor it to ensure that it's having the desired impact on students. Keep reading to learn more about using video management software to measure student engagement.
Require Users to Log In to View Videos
When schools use video management software to organize their online video content, they have access to various tools for measuring student engagement. The first step in effectively measuring student engagement is using video management that requires students to log in before viewing the videos.
Before instructors can assess how students are engaging with content, they need tools that enable them to track interactions. Once students are logged in, instructors can use video management software to view insights and metrics about how long students have viewed the videos and what parts they engaged with the most, which enables the instructors to make adjustments as needed.
Use Video Management Software to Track Viewing
Advancements in technology have enabled video management software to provide schools with insights into students' digital footprints when viewing video content so instructors can obtain a clearer picture of the optimal ways to engage them. Video management software gathers and analyzes usage, providing instructors with video analytics that they can use to make adjustments to their curricula when necessary to increase student engagement.
Measuring student engagement is easy with video management software such as Warpwire, which enables schools to assess user activity quickly. With Warpwire, instructors can use Hotspot analytics to view which users have accessed which parts of a video. Media library owners and administrators can access even more detailed reports about user interaction.
Track Media Library Analytics
When instructors want more profound insights into how students interact with video content, they can use Warpwire's Analytics for Media Libraries tool to generate reports based on a custom date range. This tool enables them to download usage reports to their device and view data in a spreadsheet, so they can organize and interpret all the video analytics in one place.
Measure Analytics for Media Assets
Schools should look for video management software tools that enable administrators and media library owners to visually track the engagement of each user and view who has watched or listened to specific content. These tools give instructors essential insight into student engagement, such as when students watch a particular video.
Measuring student engagement by examining the analytics for individual users is a way to home in on what parts of a video were the most or least popular for a class. Warpwire's video management enables schools to gather the following information on their students:
Whether they've viewed uploaded content
If they've watched videos to the end or stopped at the midway point
Who has viewed a video within a specific timeframe
Which segments of a video that students have viewed
Instructors can organize this information by date range, user, or percentage. By downloading the CSV, instructors can view up-to-the-second timestamps of what their students have watched.
Conduct Surveys
Measuring student engagement doesn't have to end with video management software. Instructors can use various methods to gather more information to supplement the data that they've obtained using the software. Instructors can use Google Forms, Survey Monkey, or other online survey systems to gather direct feedback from students about how they've engaged with video content and what parts of a particular video they found most helpful. Instructors can compare students' self-reports with the data from the video management software to gain more detailed insights into student engagement.
Observational Measures
Observational measures enable instructors to supplement information gathered from video management software to measure student engagement. Instructors can do this by tracking discussion board posts and page view numbers to determine when and how students engage with a topic. Whether a student has completed assignments is another way to track engagement. After all, if a student is watching video content but not completing tasks, they aren't fully engaged with the material.
Final Thoughts
When colleges and universities invest in video management software, they invest in an effective tool for measuring student engagement. The insights gained from this software enable them to maximize the effectiveness of the video content used in their classes and ensure that students are getting the most from the videos. From tracking engagement user by user to viewing which video segments are most successful with learners, video management empowers instructors to tailor content to effectively reach as many students as possible.
Warpwire's video platform provides analytics to help you track media assets, media libraries, and system-wide usage. Designed to explore engagement, Warpwire's reports provide deep insight into how your institution interacts with media.

To see how we can help you better leverage your video content, get in touch with us today!
Sign up for our newsletter