Meet the myCadmium Timeline Tool
Jun 27, 2018 Read Time: 2 min
by Cadmium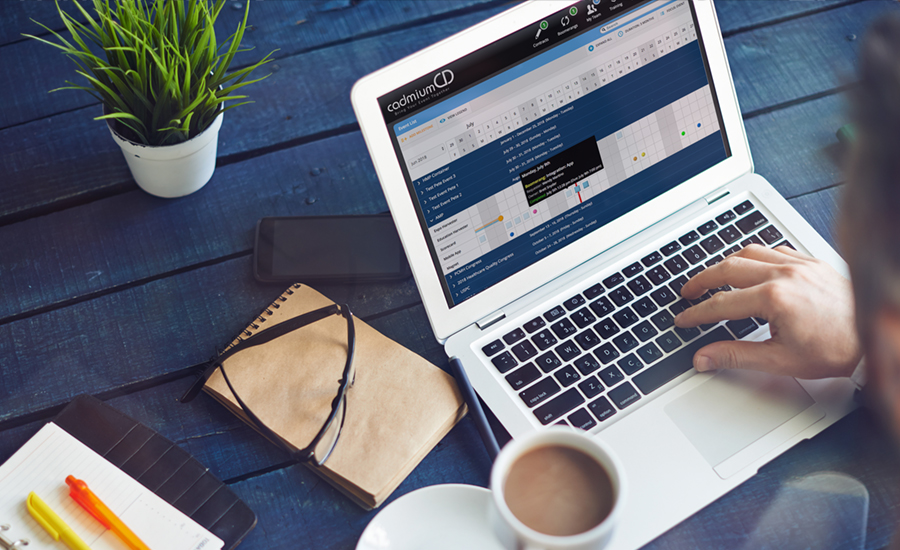 Written by CadmiumCD Contributor, Pamela Shigeoka.

The Problem
When you're managing an event, there can be dozens of deadlines to meet and milestones to keep track of. If you're using a system like myCadmium with multiple products, it can be complicated to keep track of those deadlines.

The Solution
CadmiumCD's new myCadmium Timeline is a way to solve that problem. We've created this tool as an easy way for our users to visualize project milestones and keep track of the work that's been done and that still needs to be done. It's much easier to have all of your deadlines and milestones on one screen instead of having to hunt them down across all of the products you're using, and we hope the timeline tool makes managing events easier.
All Your Milestones in One Place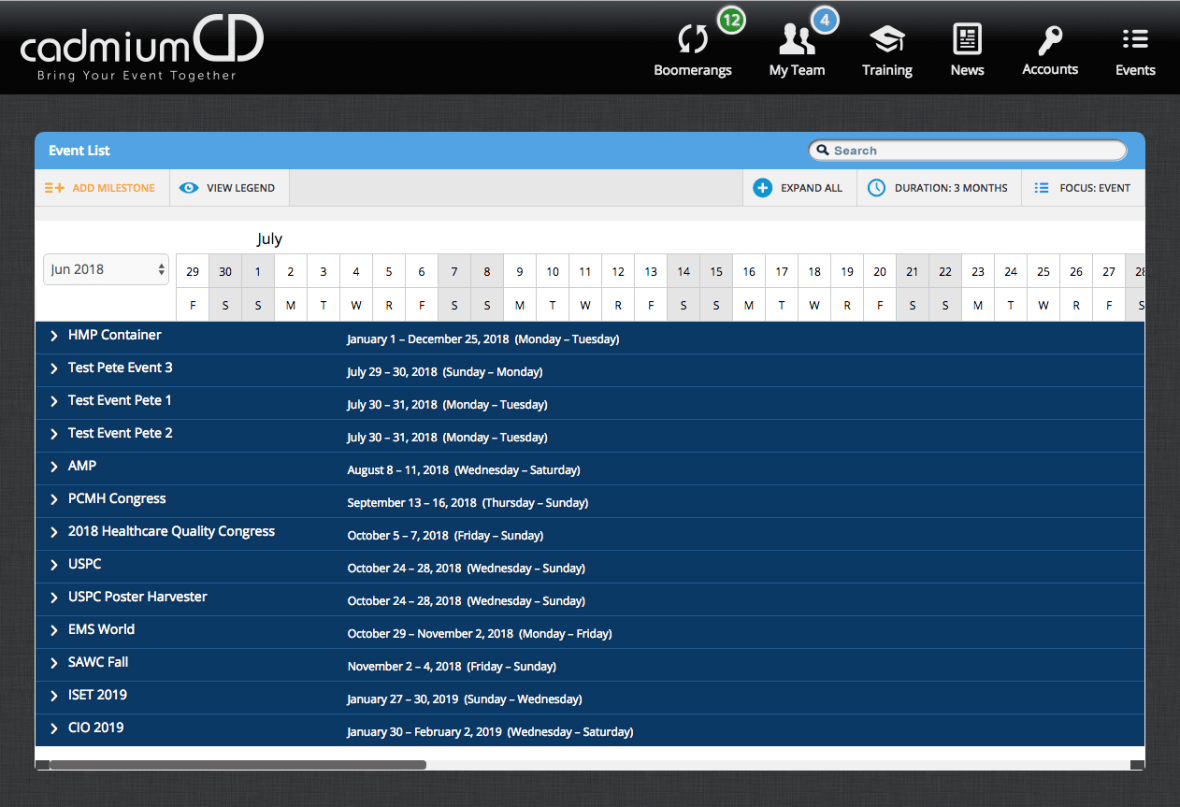 When you open the timeline, you'll see a list like the example above. The integrated timeline shows you all events that you manage and all products used for each event. Each row on this screen is an event, in an expandable "bucket." If you click on an event bucket, it will open up to show you the products being used for that event as well as milestones on the calendar table. The red line represents today, and it tells you at a glance where you are and what tasks and milestones you need to focus on next.
Nested Events Make Tracking Easier
Each product is on its own row in this expanded view. The squares represent Boomerangs, or tasks that have been created for that product, and they will show up on the due date set in the Boomerang. Circles are project milestones, such as your mobile app QC date. When you hover over a square or circle, a tooltip will pop up with information about the product and task or milestone.
Flexible Timeline Searching and Sorting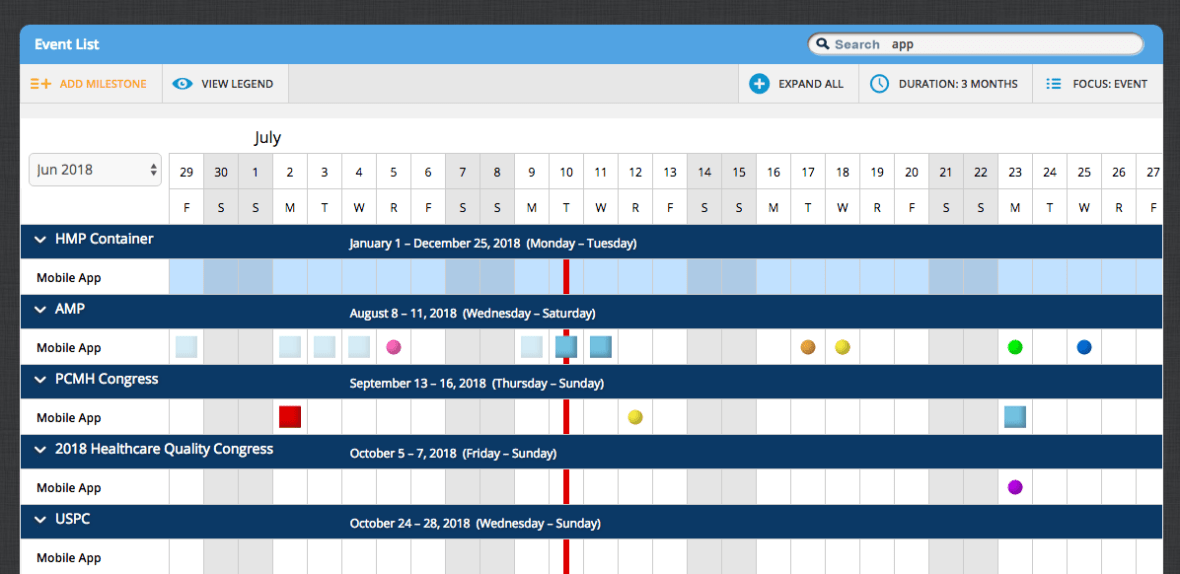 The timeline has a search function so you can quickly narrow down your view to just the information you need. For example, if you search for "app," it quickly filters the timeline to show you all apps across your events. This is particularly handy if you're managing a lot of events.
You can also change the span of dates that appear on the timeline. You can choose to show up to 18 months and can scroll through the wide calendar view easily. The focus button lets you focus or group the data either by event or by product.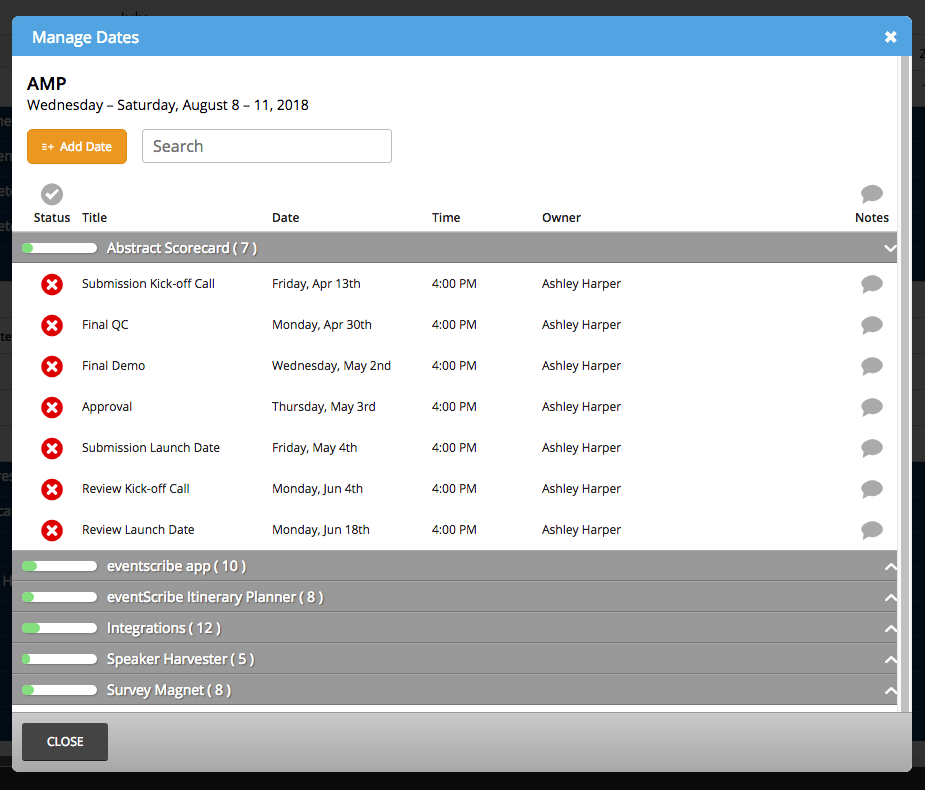 If you click on a row, a tooltip will pop up that shows you all milestones for that event on a single screen without having to expand anything. This is handy if you need to see your timeline at a glance.

Making myCadmium Easier To Use Than Ever
We hope the timeline feature will help our clients get a sense of all the milestones for your event without having to click to multiple products and have a dozen tabs open. We will be actively working on the system and adding new features soon. We're just as excited as you to see how this tool grows!
About Pamela
I am a freelance writer who enjoys dipping my toes into a wide variety of writing subjects. I have an M.A. in English but found that teaching wasn't for me, so I'm applying my training to writing instead. I've been blogging for ten years and have written everything from book reviews to pop culture essays to business topics. In my spare time, I enjoy writing fiction, playing games, and learning new crafts. I live in Corvallis, Oregon, with my husband, daughter, and dog.
Sign up for our newsletter