Retaining Revenue and Providing Stakeholder Value for Your Virtual Event
Feb 10, 2021 Read Time: 6 min
by Cadmium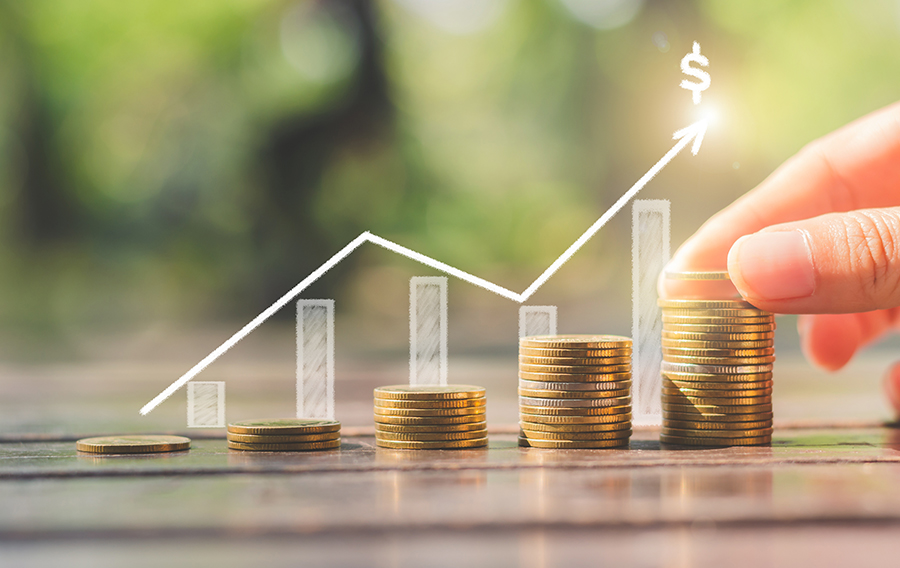 Written by CadmiumCD Contributor Pamela Shigeoka
Making the necessary transition from physical events to a virtual platform, or planning for a hybrid event, can lead to a lot of anxiety when it comes to making sure your organization retains the same level of revenue from your annual conferences. The same goes for ensuring that your stakeholders—attendees, exhibitors, speakers, and not least of all, your organization—find the same high value in a virtual or hybrid event as they would with an event held in person.
Using the right virtual event platform, like CadmiumCD's eventScribe Live, can give you a leg up on maintaining that revenue and value by providing you with many ways to generate revenue while providing ample opportunities for your exhibitors and sponsors to retain their ROI on your event.
The platform can give you the flexibility, too, to make sure that your attendees are engaged with your exhibitors, sponsors, speakers, and each other.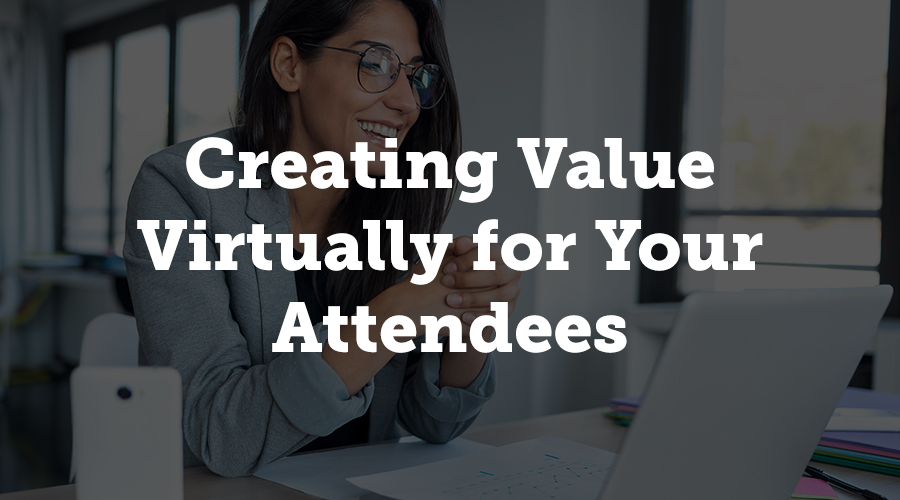 Creating Value Virtually for Your Attendees
The value of an in person conference is obvious: attendees can meet with each other, attend sessions, and explore the exhibit hall. So how can you translate those activities and the benefits they give attendees into a virtual space?
It's not as difficult as it might seem when you're using the right virtual event platform. eventScribe's app and website makes it easy for your attendees to engage with your content as well as network with each other.

Education
The driving factor of our conferences is education first and foremost, and eventScribe has a robust system for delivering educational content to attendees. Livestream sessions are often the central activity during virtual events. Speakers can deliver their content while attendees chat with each other and pose questions to the speaker and/or moderator.
Note-Taking and Slide-Sharing
Session attendees have the opportunity to take notes directly on the presenter's slides during these sessions. Being able to type notes, highlight text, and draw on the slides for their own personal use creates a lot of educational value in a virtual session.
Audience Response
Virtual Q&A is also possible with eventScribe. Attendees can access the audience response system and answer polls in real time as well as ask questions of the speaker or moderator and upvote others questions. Moderators can answer questions in real time or answer them at a later time for future access. If the event is pre-recorded, moderators can go in at regular intervals and answer attendee questions. Being able to respond directly to attendees bridges the gap between on-demand and live events.
Continuing Education Credits
Many sessions also serve as means to gain educational credits or certification, and eventScribe also facilitates this. Attendees can go directly from the session to Survey Magnet, fill out quizzes and evaluations, and get instant access to their certificates of completion and transcripts.
Digital Poster Galleries
Virtual poster galleries are another great way to share educational content. In April 2020, the American Academy of Audiology was forced to cancel their in-person annual conference and move it online. The poster gallery that they typically host is very important to the association because it gives young professionals the opportunity to present their research to their colleagues and peers. Because the poster gallery is central part of their conference experience, they needed it to translate well online.
Using eventScribe, AAA built a virtual poster hall that rivaled in the person experience. With a virtual poster gallery, presenters can upload an audio or video recording within the Conference Harvester so attendees could engage fully with the poster like they would in a conference hall.

Networking
Education isn't the only part of a conference for attendees, though. Networking is a deeply important aspect of a conference. And while attendees can't meet up with their peers and have a coffee the way they would at a live event, there are ways to facilitate the same level of networking with virtual events.
Video Chats
Video chats, for example, are great for small groups to meet up and engage in face to face discussions. For large groups, we recommend creating multiple rooms within one session, either for multiple topics or just rooms with smaller capacities.
In eventScribe Live, the overall session is the equivalent of your ballroom, and the individual chat rooms are your high tops where attendees can meet and talk.
Activity Feeds
The Activity Feed in eventScribe is like a social network built just for your event. Located in your event app, it is a great place for attendees to share information and for you as the planner to hold photo contests or other fun networking events. You can send push notifications with icebreaker questions, contests, and questions, all different ways to get people engaged.
For example, when your evening dinner event would have taken place, you could encourage attendees to share their meal or drink recipes or photos of themselves having dinner or a drink. You can also use the Activity Feed to announce award winners and honor people who have earned certifications or who have won scholarship awards. It provides the feeling of social media but without the broader noise, since it's attuned to just your conference.
Attendee Chat
eventScribe includes chat features that make it easy for attendees to connect. They can browse other attendee profiles and can use the chat feature to reach out and start a conversation. The attendee list is a great way to encourage attendees to connect with others and maybe schedule a one-on-one chat over the phone or video call. They can also add these personal meetings to their schedule within eventScribe with their personal calendar.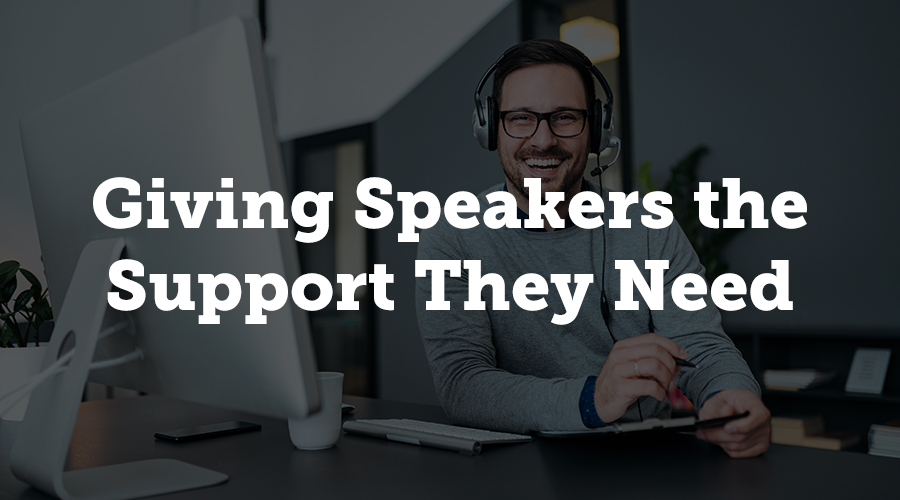 Giving Speakers the Support They Need
Speakers are your greatest asset at an educational conference. They provide content—typically for free—and keep people interested and engaged in latest community research. Giving speakers the ability to stay organized and engaged is really key to the success of your virtual event.
The Speaker Portal in Conference Harvester provides value to speakers because it gives them a single place to upload their materials and stay organized while knowing exactly what is needed from them. They can upload educational materials such as handouts and slides as well as provide personal details like a biography and links to fill out their speaker profile. They can also record their sessions within Conference Harvester. Speakers can also gain feedback on presentations by seeing their evaluations directly in the Speaker Portal.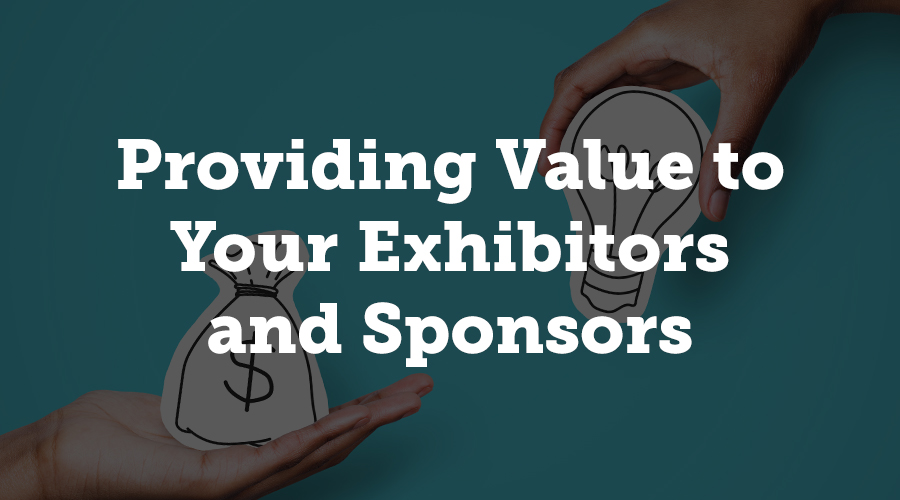 Providing Value to Your Exhibitors and Sponsors
Obviously, it's very important to deliver value to what is often your largest source of revenue for your events. These stakeholders typically want access to attendees via conversations, advertising and other forms of connection and brand recognition. eventScribe includes many opportunities for exhibitors and sponsors to get the engagement they value while creating revenue streams for you, the event planner.
Virtual Expo Hall
One way to drive attendee engagement with exhibitors is to provide a virtual exhibit hall for them to explore. This is a great option if you've already mapped out your exhibit hall for a physical event and don't want all that work to go to waste. Attendees can click booths on the virtual floor plan to more information and get materials. Sponsors and exhibitors can upload their logos, company descriptions, and contact information to their profile.
Exhibitor Profiles
Exhibitor/sponsor information is easily accessible within the app or website. Profiles can include videos and links to handouts so attendees can access the information that exhibitors and sponsors want them to see. Attendees can also request more information about the company or products right from the virtual booth, which helps exhibitors generate leads and get additional engagement from the event. Alongside this, attendees can also start live video chats with a sales rep right from the virtual booth. The real value of a trade show exhibit hall is in the one-on-one conversations with attendees, so this creates a way to do that virtually.
Product Showcase
The Product Showcase is an excellent way for sponsors to gain recognition by highlighting specific solutions that attendees are looking for. Sponsors can feature their products in a way attendees love engaging with, since this allows them to find benefit-driven solutions for their real world problems. They're not just browsing company profiles; they're saying "hey, I have this issue and I want to see the solutions that companies can offer me". They can then take the next step and reach out to the company by requesting more info or seeing if a sales rep is available for a video chat.
Sponsored Sessions
Sponsored sessions are another way to give sponsors a boost of recognition by allowing them to record sponsored sessions. They can display their logo in the schedule so attendees know the session is sponsored by that company. This type of sponsorship can work in live sessions as well as in on-demand sessions.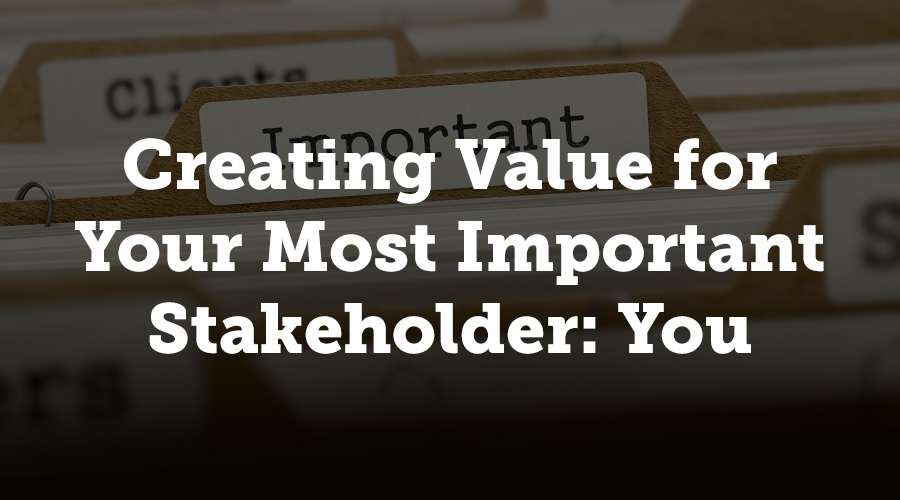 Creating Value for Your Most Important Stakeholder: You
One of the benefits of transitioning to virtual conferences is that it can create great opportunities for your organization to extend the life cycle of your event and use your content to draw in revenue far outside of your event dates.
Content Sales
eventScribe allows you to create a Conference Proceedings Store so you can put your proceedings sales on autopilot. This will help you make up revenue loss from cancelling your in person event by giving you the ability to provide access to nonmembers or non-attendees at a premium rate. You can also choose to give attendees free access to conference materials.
Controlling access to materials is another way to extend your revenue stream. You can offer different levels of access based on registration prices. eventScribe allows you to create access levels that give different options for attendees. You can use these access levels to keep lower level registrations from accessing materials like audio/video or slides.
Surveys & Evaluations
Getting feedback from attendees is important now more than ever. Virtual events are a newer option, so having access to audience feedback lets you see what worked and what didn't, giving you a head start on planning future virtual events. Survey Magnet gives you flexible options for getting direct feedback from attendees as well as easy access to reports so you can see that vital information and implement it with your event planning team.
While transitioning from physical to virtual events or planning a hybrid event can seem like a daunting task, it doesn't have to be. eventScribe offers many solutions to help you keep your attendees and speakers engaged, your exhibitors and sponsors happy, and your organization's event revenue high. For more information, get a demo or tell us about your upcoming events.
About Pamela
I am a freelance writer who enjoys dipping my toes into a wide variety of writing subjects. I have an M.A. in English but found that teaching wasn't for me, so I'm applying my training to writing instead. I've been blogging for ten years and have written everything from book reviews to pop culture essays to business topics. In my spare time, I enjoy writing fiction, playing games, and learning new crafts. I live in Corvallis, Oregon, with my husband, daughter, and dog.
Sign up for our newsletter