Before, During and After: Why All Aspects of Your Event Matter
Aug 29, 2018 Read Time: 3 min
by Cadmium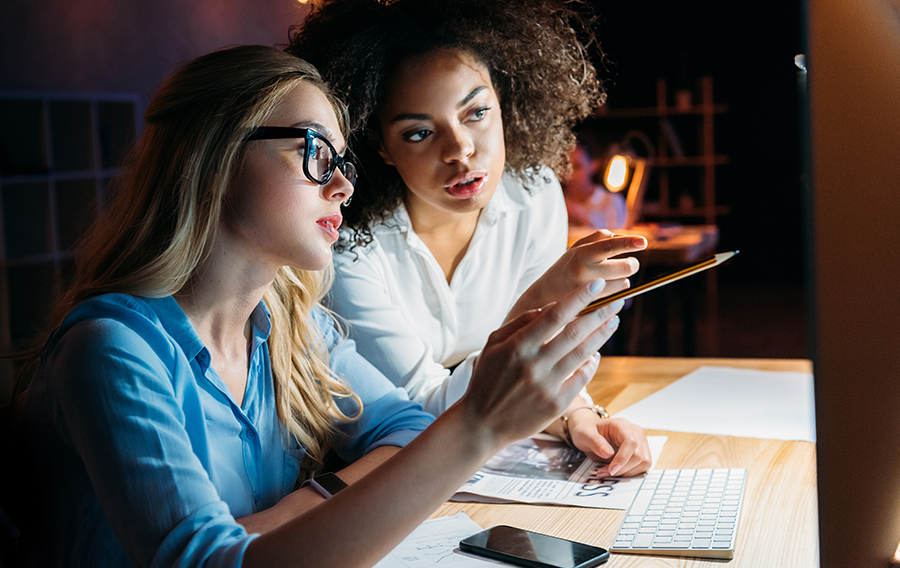 Written by Elizabeth Raw of R+R Packaging
Whether you're organizing a business conference, annual association meeting, or trade show when it comes to ensuring the success of your event, it goes way beyond the event itself. Every aspect of the event matters – from the conception and planning stages to what happens on the day and post-event follow up.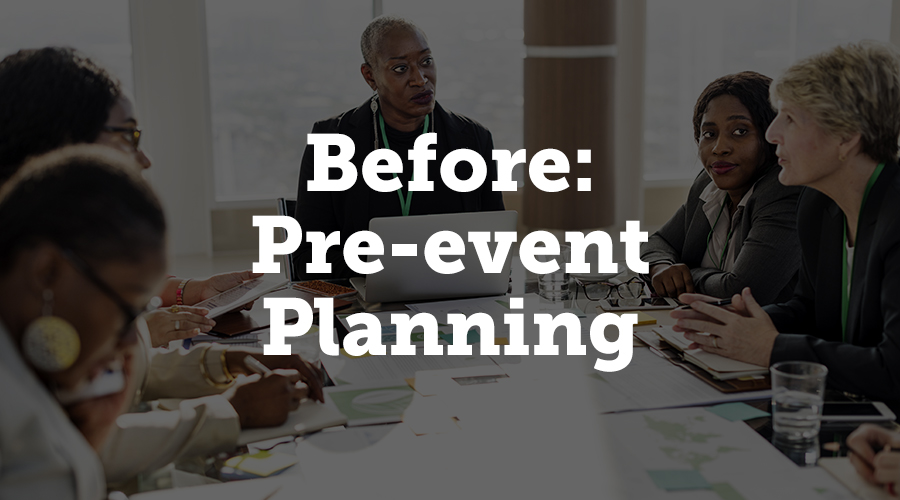 Before: pre-event planning
As the foundation of your event concept, pre-event planning is probably one of the most crucial stages, as everything you do or don't do at this early point will impact the execution and attendee experience on the day. Therefore, meticulous planning is essential to ensuring everything goes like clockwork from start to finish and that people turn up and enjoy themselves – and this is where event planning software can help. With the ability to streamline event workflows and data with one easy application, managing your event will be much simpler.
First, start by outlining your key objectives for the event and a budget, as well as your target audience and a consistent brand message. Having a sound understanding of what you want to gain from the event, who you want to talk to and who you are as a business will allow you to build a more effective marketing and planning strategy to meet your goals and your attendees' expectations. Plus, championing consistent branding across the entire event will help bolster your brand message and build rapport with invitees, too.
You can then build on this information to create a detailed plan of action, leaving nothing to chance. From choosing the perfect venue and on-the-day activities to identifying the right platforms to promote your event to drum up registration sales, every facet of the day should tie in with your core objectives and target demographic as much as possible, allowing you to champion a cohesive brand message.
In addition to the logistical planning, savvy event organisers will always be one step ahead – thinking of every eventuality. Even the most well-planned event can fall foul of extenuating circumstances like inclement weather, a guest speaker pulling out at the last minute or technical issues on the day, so it pays to have a back-up plan on standby for all areas of your event.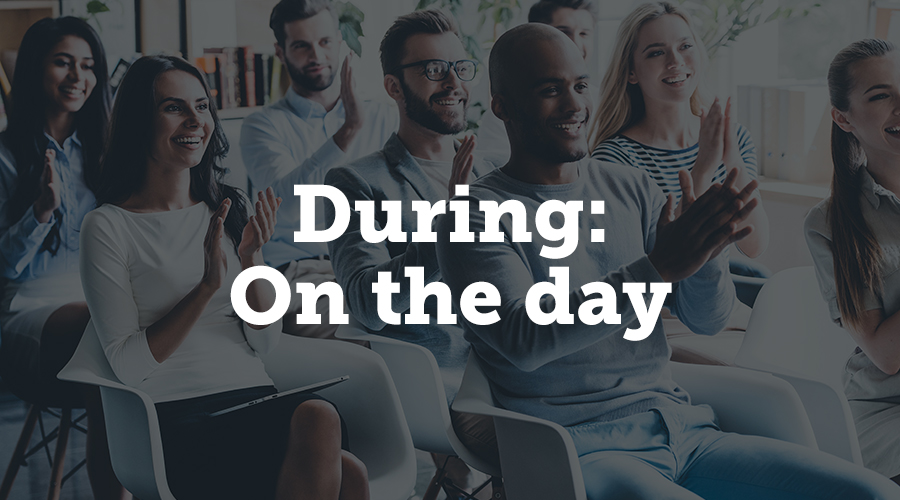 During: the day of the event
Even with the most robust planning strategy in place, events don't generally just take care of themselves on the day. As the organizer, you will continuously need to manage the proceedings and people to keep key stakeholders like sponsors and vendors happy, as well as the all-important attendees.
To start, ensure everything is setup and ready to go well before the doors open – allowing ample time for vendors, caterers and technical operatives to access the building to set up. Ideally, this should happen the day before, as this gives plenty of leeway to iron out any unforeseen issues that may arise.
There also needs to be a focus on tactics to maximise the attendee experience at the event. Whether it's a large-scale expo or an intimate product launch, giving your attendees plenty of reasons to come to your event in the first place – using social media promotions and special offers – is a great way to boost numbers. However, on-the-day added extras like 'VIP behind-the-scenes tours', freebies and giveaways are also an effective way of engaging with your target audience and demonstrating that you've gone above and beyond.
Also, don't overlook the role of social media. From event hashtags to live walls and online promotions, utilising social media and allowing event-goers to engage with you and share their experiences online in real time can be incredibly valuable.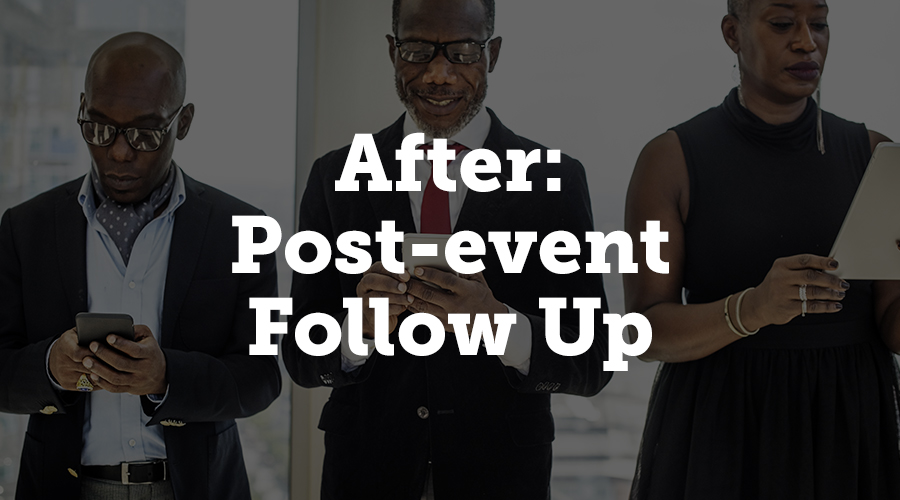 After: post-event follow up
As the last of your guests head out the door, it's a natural assumption to think the hard work is over – but the post-event period also requires some diligent attention if you want to maximise the experience of vendors and attendees.
In the first instance, ask for feedback from exhibitors and suppliers to find out any aspects of the event that they thought went well or would have liked to have gone better. This way, you can use this valuable information when it comes to preparing for the future.
As the dust settles in the days after the event, don't let the lines of communication with your audience go cold. While you're fresh in their minds, use social media to post pictures, videos and exclusive content from the event that people can like and share. Tap into data collected from the event to send out a follow up email newsletter or survey and use this to demonstrate you still have an invested interest in them. This is also a great way to gather data that could help to improve event experiences further down the line.
Regardless of the type of event you're hosting, paying close attention to the before, during and after is key to ensuring your event runs seamlessly and event-goers are left happy. With an eye on the full picture, we hope that these tips will bring you closer to hosting the perfect event that everyone will love.
About Elizabeth
Elizabeth Raw works for R+R Packaging – providers of food packaging and materials for businesses within a wide variety of industries.
Sign up for our newsletter