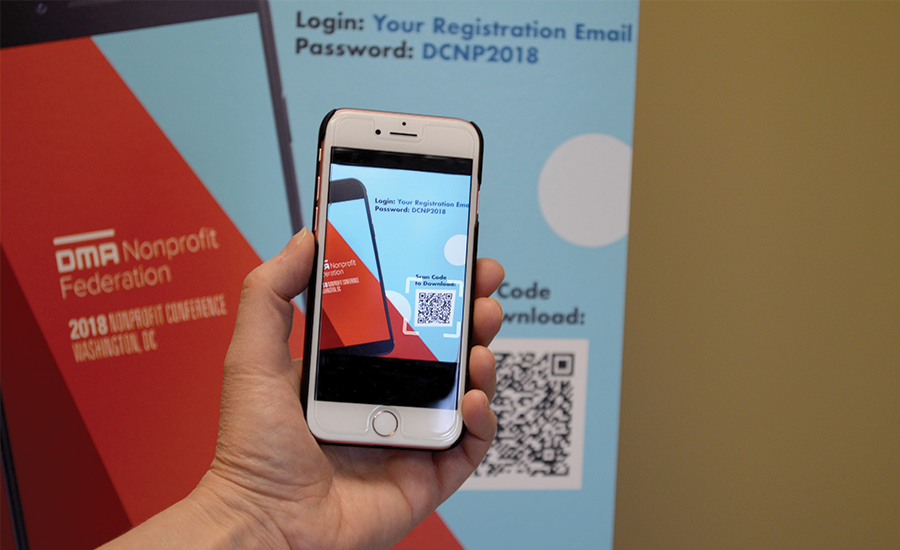 Written by Charles Wiemers, CEO of Madison Avenue, Inc.
The Ubiquitous Easel Sign
Easel signs have come a long way. Back in the day, all sign text required an artist's brush and calligraphy skills. These signs were neither quick to produce nor inexpensive, plus rather bland and colorless.
Jump forward several decades for dramatic advances in print technologies and inks. Now, eye-popping, full-color digital print can add pizazz and graphic embellishments to the most mundane signs at blazing speed and super high-resolution.
Concurrently, innovative graphic materials have emerged, eclipsing delicate foam core and poster board as sign mainstays. So now, when considering a sign's life cycle, you have options at various levels of durability and performance. And everybody likes options.
Yet, through all these changes, the easel sign still undeniably serves three main functions, to inform, to direct, and to brand.
In their purest form, meeting signs are a lot like roadside billboards, perpendicular to the road with traffic whizzing by. Their objectives are to relate information clearly and concisely, so drivers don't have to slow down, much less come to a complete halt.
How Meeting Signage Has Evolved
Attendees, like drivers, don't want to stop to read a message. All they want to know is: "Am I headed in the right direction and is this the session I want to attend?"
So, like billboards, easel signs are always angled to the walking path for optimal viewing, one of their major advantages over wall-mounted hotel digital signage. Likewise, putting a whole day's worth of functions on a single sign to save budget is way too much intermingled text to absorb while on the move, thereby forcing attendees to stop.
More than twenty years ago, Madison Avenue, Inc. pioneered the concept of the "reusable" meeting sign. First, common foam core was replaced by new, heavy-duty plastic background materials for durability and longevity. Secondly, an easy-to-use, upscale holder was developed to display and exchange meeting messages printed virtually free on a desktop printer.
In essence, what we have created for thousands of meeting planners are their own pre-designed graphic templates. They are bought one-time, then easily changed by simply swapping paper prints for a new look, session after session, meeting after meeting, year after year.
Beyond just the immediate cost savings, as one sign replaces many, there are several inherent benefits to make a meeting planner's life less stressful, such as total control, convenience, and instant updating. Plus, those lightly-used foam core signs never reach our nation's landfills.
Integration with Mobile Technology
Another major value-added element is on-site interaction between signs and mobile technology. It's easy to incorporate QR codes printed directly on a sign or added temporarily as a removable decal or paper insert to direct the viewer to any URL with a quick scan on their phone.
Taking it further, we recommend teaming up with a progressive technology company, like CadmiumCD. They offer a software and interactive event apps that allows planners to manage event content, engage with attendees, and expand branding, all through one dashboard.
Imagine walking up to a carefully crafted easel sign positioned outside an active breakout room, mobile device and event app at the ready. Then in a flash be immediately linked to useful information about the upcoming session and session speaker to help decide whether to attend. Or, simply download associated handouts and slides and keep moving.
Specially designed session signage, like this, combined with CadmiumCD's advanced event apps, help expand and personalize the meeting experience.
With the advent of larger, lighter video screens, digital signage is coming online to augment easel signs. As a dynamic replacement for free-standing, oversized meter boards, this digital medium, when strategically placed, is eye-catching and colorful, can scroll through a lot of information, and is quickly updated and refreshed regularly. Plus, digital signage interfaces with CadmiumCD's event software and apps.
Conclusion
Replacing all easel signs with a battery of digital screens might be an option for some. They certainly present some advantages which might be offset by the high recurring costs and setup expertise. Further, this may be somewhat impractical for smaller meeting settings. But, it all comes down to working the calculator and deciding what works best.
All in all, times are changing. But with a few thoughtful touches and supplements, the ubiquitous easel sign still claims its place in a meeting planner's arsenal.
About Charlie
Charlie Wiemers has been with Madison Avenue, Inc. since its inception in January, 1993 and now serves as the company's president.
Focusing on event signs and graphics, he helped develop the company's signature reusable meeting sign solution, SMARTsigns®, now used by over four thousand meeting planners nationwide.
After graduating from the University of Maryland, Charlie's 45 year professional career incorporates marketing positions at Fortune 1000 and entrepreneurial start-ups, like Madison Avenue, plus ten valuable years of association management experience in the Washington, DC area.
When not at the office, Charlie actively maintains a 100 year old farm house in the Maryland suburbs, where he and his wife have lived for 40 years and raised their three kids.
Sign up for our newsletter