How to Incorporate Micro-Credentials Into Your Association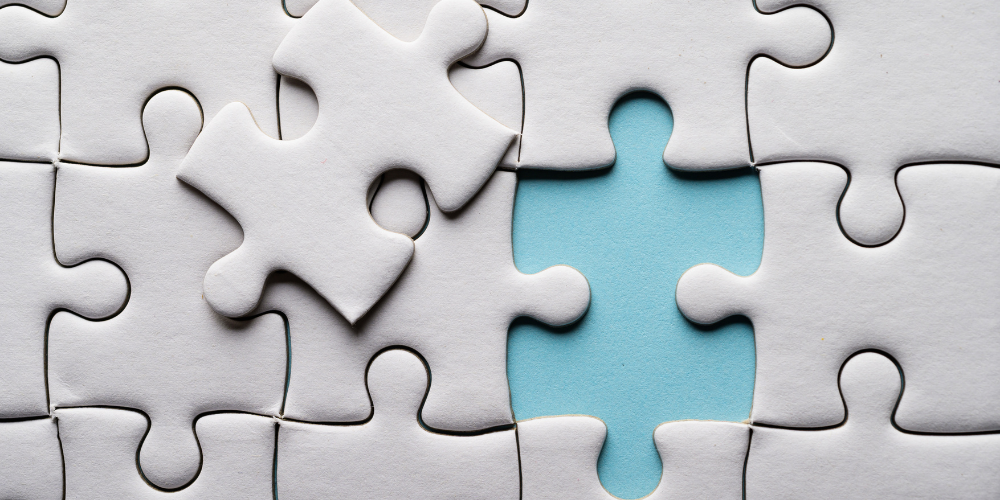 Written by guest contributor Austin Bates.
As a healthcare association, one of your most important functions is to provide ongoing development and continuing medical education opportunities for members. Not only does this raise non-dues revenue for your association, but it helps your members stay at the top of their medical game and provide the best possible care to their patients.
You likely already offer ACCME PARS-certified courses as well as in-person and virtual training events. But have you incorporated micro-credentials into your lineup?
Micro-credentials are an exciting new trending topic for instructional design, and with good reason. In this guide, we'll cover how to incorporate micro-credentials into your healthcare association through the following points:
Understanding the Role of Micro-Credentials in CME
How to Incorporate Micro-Credentials Into Your Association
Micro-credentials have numerous applications for healthcare associations of all types. But before we discuss how to create micro-credentials for your association, let's consider how they would fit into your association's overall professional development offerings.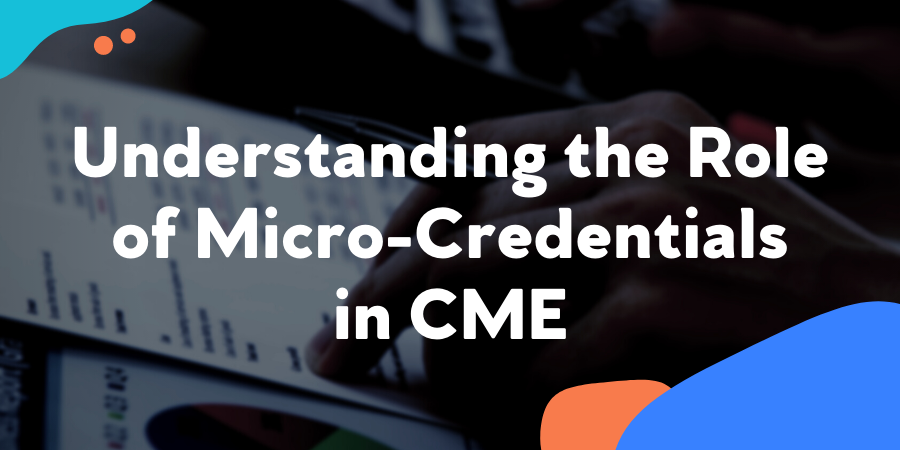 Understanding the Role of Micro-Credentials in CME
Medical professionals are often required to complete ACCME-accredited continuing medical education (CME) courses, whether to maintain licensure, certifications, or even membership in certain professional societies and associations. These courses are given the stamp of approval by the Accreditation Council for Continuing Medical Education (ACCME), standardized across the field, and highly regulated.
However, there are a number of additional driving factors behind completing ongoing professional development courses.
For example, medical professionals may want to expand their knowledge or skills in a specific area, learn a new skill or process in light of changing medical best practices, or simply enhance their resumes for the job hunt. Because ACCME-accredited courses are highly regulated, there are limits to the types of courses one can access. For example, newer topics may not yet be reflected in current CME courses. That's where micro-credentials can come into play.
Skyepack defines micro-credentials as "short, stackable courses that learners—whether students, employees, or organization members—take to develop specific skills in their field." These courses aren't as highly regulated and don't result in certification, but more often a credential or badge that denotes that the learner has achieved a specific skill. Because of this, learning professionals can quickly create micro-credentials to align with the needs of their learners.
There are a number of reasons why micro-credentials are valuable in the medical field. For example:
For Learners: If the past two-plus years of the COVID-19 pandemic have taught us anything, it's that the medical field is rapidly evolving. Medical professionals need to keep up with the changing procedures and protocols, and micro-credentials are ideal for delivering that skills training. For example, we've seen micro-credentials developed

for critical care nurses

, specifically targeting pulmonary and ventilator care for COVID-19 patients. Beyond keeping up with changing best practices, medical professionals can complete micro-credentials to advance their skills to align with their general professional interests and pathways.
For Your Organization:

NPOInfo found

that "due to COVID-19, 50% of associations have reported having trouble reaching their fundraising targets." Micro-credentials represent an additional revenue stream for your association, as you can sell them to members. Additionally, they're a member retention tool—when you provide more value to members (via up-to-date, relevant credentials), you position your organization as a worthwhile investment.
Micro-credentials are the ideal solution for helping your members develop tangible, high-demand skills on an as-needed basis. However, because they're a new development in the instructional design field, your team may not be familiar with how to create such courses. Let's explore the process further.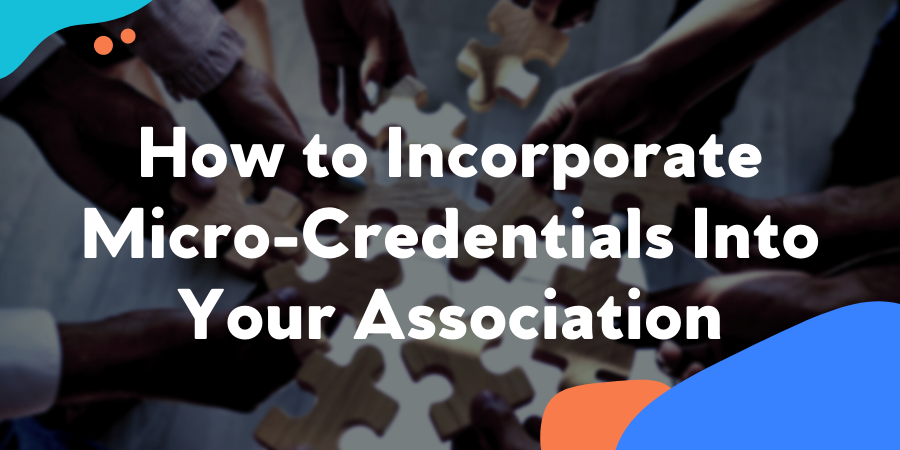 How to Incorporate Micro-Credentials Into Your Association
When preparing to create micro-credentials, we usually discuss the process in two phases:
Phase One: Building Market Awareness and Teaching Capacity
Phase Two: Building Instructional Design and Distribution Capacity
Let's explore both phases in more detail.
Phase 1: Market Awareness & Teaching Capacity
Your association's instructional design faculty and subject matter experts, while likely familiar with authoring CME event content and even more traditional online courses, are likely unfamiliar with authoring micro-credentials.
While you could simply purchase micro-credentials from another organization that is familiar with creating such courses, we recommend instead training your instructors to create such courses. To do this, consider hosting a short course about what micro-credentials are and how to author them. At the end of the course, invite your instructors to submit proposals for potential micro-credentials that they would like to author and fund these proposals as you see fit.
That way, you've built the institutional knowledge to continue authoring and selling new micro-credentials well into the future, allowing you to make the most of this new course format.
Phase 2: Instructional Design & Distribution Capacity
Once you've accepted proposals and instructors begin authoring their courses, there is then the challenge of physically developing the course. Your organization's internal design and development teams have likely been flooded with tasks since the emergence of the COVID-19 pandemic, quickly updating content with new guidelines as needed. The last thing you want to do is overwhelm them with a host of brand-new micro-credential courses to assemble.
Consider partnering with an outside instructional design firm to develop the course itself, specifically turning to partners that use rapid development methods such as Agile Instructional Design. This team can bring your courses to life without putting a major strain on your internal design team.
Lastly, evaluate your current tech lineup to ensure you have the actual software needed to deliver micro-credentials to members. As a baseline, you'll need a learning platform (ideally branded to your organization) to deliver the course files and administer assessments. From there, there are a few ways to incorporate micro-credentials into your overall learning strategy:
Online
Micro-credentials presented online are similar to the eLearning courses your members are already accustomed to. They're generally completely asynchronous and members can proceed through modules and content at their own pace. At the end of the experience, anywhere from one day to a few weeks, members take an assessment and earn the credential.
Events
Micro-credentials can be used as part of an association event, whether in-person or virtual, in a few different ways.
For a multi-day event, the credential can be the main focus of the event. Each day, attendees complete requirements toward earning it. Or, shorter events can be used to bookend a micro-credential— for example, you can host a live instructional session to kick off a new credential, with the session counting toward the requirements to earn it. Or, you can recognize and award members who have recently earned a micro-credential independently by giving them a shout-out during the event itself.
---
Micro-credentials are already growing in popularity for continuing medical education, so if your association hasn't hopped on the trend yet, it's time to do so!
Focus first on developing market awareness and training capacity before beginning to develop the courses themselves. Remember, you can always partner with an instructional design firm to bring your courses to life. Good luck!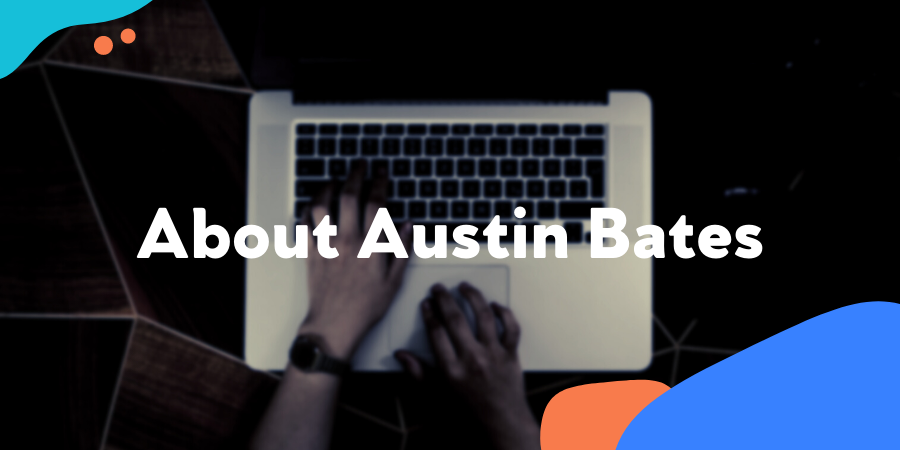 About Austin Bates
Born and raised in Texas, Austin learned at an early age the importance of dedication to a craft. During his Masters pursuit at Texas A&M University in Educational Technology, Austin began to question "Why not create better ways to teach in the online environment?" Skyepack soon became his catalyst for this new paradigm in online instruction. He is valued for his abilities to plan course designs, implement powerful teaching technology, and execute daily production assignments. In his spare time, Austin enjoys biking, watching football, and making every minute count.
Sign up for our newsletter