Using Video CMS Could be a Game Changer for Your Business
Sep 3, 2021 Read Time: 3 min
by Cadmium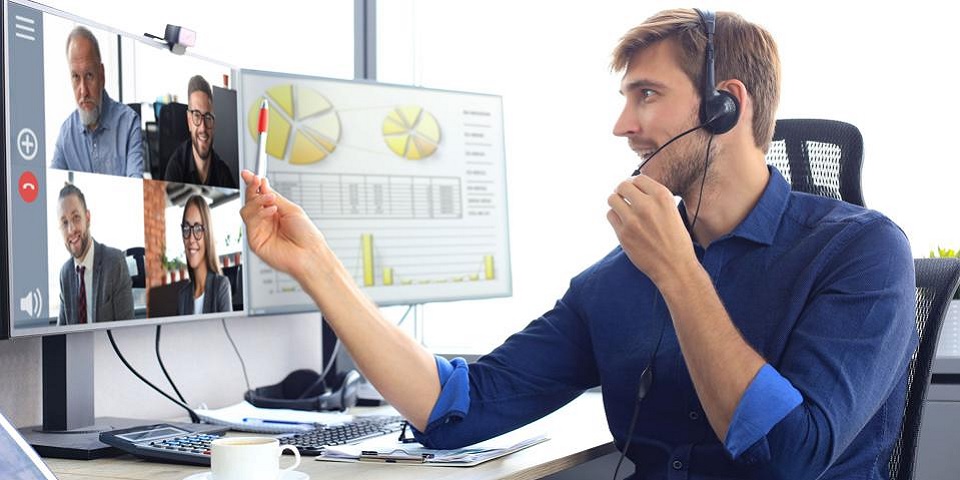 Video conferencing services and platforms such as Zoom present multiple benefits to organizations. Whether it's improving workflow across departments and locations, engaging employees working remotely, managing suppliers, or even interviewing potential job candidates, the technology is scalable, cost-effective, and efficient.
For your business to grow and globalize, establishing and maintaining a good relationship with suppliers, investors, partners, customers, and internal teams is essential. Zoom meetings boost productivity, reduce travel costs, save time, and enable collaboration. However, an organization cannot reap the full benefits of video conferencing just by holding virtual meetings. Irrefutably, these meetings are often where most of the work happens. Statistics show that on average, the American employee attends over twenty business meetings every month. Between thirty-five and fifty-six million business meetings are held virtually every day in the US alone.
Unfortunately, only a tiny portion of the valuable information shared during these meetings is retained. This is why a good number of organizations now record video conferencing as a standard procedure. Video content management systems (CMS) can store, categorize, and organize such video content for leverage by your company.
Warpwire's industry-leading video CMS makes it easy to securely share, manage, and even capture any video conferencing recording. Warpwire seamlessly works whether you are recording from a camera in the conference room or your video conferencing system.
How Can Businesses Use a Video CMS?
Video content management is all about organizing and managing media content in the most efficient way possible. The media content, which includes videos and graphic imagery, is stored in a video CMS specifically designed to enable easy access to the content. It typically has features that enable you to search and sort your video content by various data points and keywords. This makes finding what you need easier and faster.
Hosting all video files in a central location makes organization and storage more manageable and more straightforward to share the content. Such systems use specialized video management software to store, label, and host video content. Suppose that you are searching for a specific Zoom meeting during which you discussed entrepreneurial strategies. In that case, a video CMS enables you to type in a relevant keyword ("Entrepreneur, for example") and see all video content uploaded with that term.
Not all video CMSs have equal capabilities. Some are great for beginner users and are equipped with easy-to-navigate interfaces and instructions. However, for users with more extensive needs, such as users producing a large amount of content, there are professional-grade CMS like the Warpwire video platform. It is excellent for businesses that need robust video CMS software with adequate storage and upload options.
Benefits of Using a Video CMS
Professional-grade video CMS have great features to meet the needs of businesses. There are several benefits that your organization can reap by investing in a quality video management system.
Bulk Upload Options
Uploading individual videos can be extremely time-consuming and may considerably increase the time spent preparing a video for publishing. With a video CMS like Warpwire, batch uploading tools enable quick and efficient upload of multiple video content. This enables smooth workflow and reduces the time spent getting the videos ready for publishing. In addition, using a CMS makes the materials accessible and manageable anywhere. The system takes the lead on the technical details.
Multi-level Security
The privacy and security of an organization's videos, especially video conferencing recordings, is of the utmost importance. A video CMS ensures that you can upload, share, or store videos privately without the worry of compromise. Quality video CMS, such as Warpwire, come equipped with DRM encryption. Any content manager knows that keeping your video materials from getting spammy views is essential. A video CMS can limit the possibility of your content being targeted by pirates by restricting specific IPs or domains.
Optimized Content Delivery
Safely storing and organizing video content is not enough. One of the major drawbacks of not having a video CMS is playback problems, like slow streaming speeds and low video quality. An organization can improve its video content delivery by employing a video CMS. This ensures that the video content is accessible to viewers in high quality without any delays or breaks.
Easy Integration
Sharing stored information with all the employees in an organization is never a walk in the park. For this reason, top-shelf quality video CMS, such as Warpwire, come with sophisticated features that enable integration with other company systems, like CRM and LMS. This way, companies can disseminate crucial video content to these and other IT systems, where their staff can access them seamlessly.
Resolve Your Content Management Needs Using Warpwire
Warpwire is a video platform built specifically for educators. This next-generation video platform enables admins to capture, organize, and share video content. The platform is equipped with plugins that allow integration with significant CMS. Warpwire has asset-level security that accompanies your video content anywhere and works seamlessly across most devices. If you are ready to settle for a video CMS that offers custom and flexible services to meet your organization's needs, Warpwire is an excellent choice.
Warpwire's video platform provides analytics to help you track media assets, media libraries, and system-wide usage. Designed to explore engagement, Warpwire's reports provide deep insight into how your institution interacts with media.

To see how we can help you better leverage your video content, get in touch with us today!
Sign up for our newsletter