Improving Your Association Events Page: 4 Tips To Impress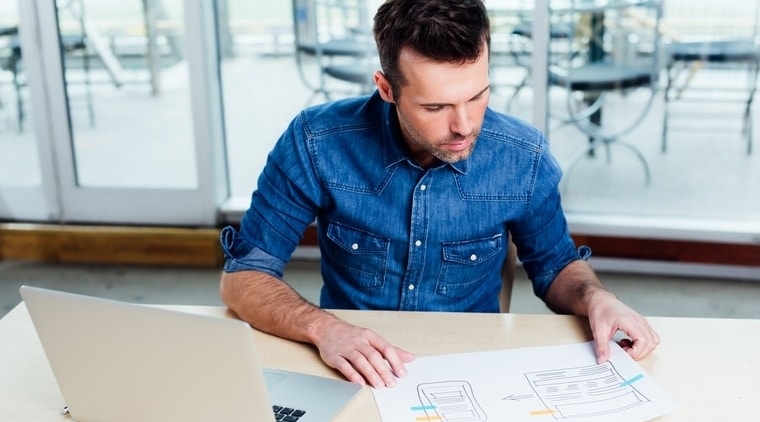 Written by guest contributor Murad Bushnaq.
Associations thrive on events. After all, events give association leaders and members a space to network and learn. But putting together an engaging event will require you to overcome some challenges, including marketing the event effectively.
While marketing can certainly include things like mailers, email campaigns, posters, and social media posts, one of the best things you can do to get the word out about your association's events is to create an events page. Whether you'll be hosting a conference, lecture series, or dance-a-thon fundraiser, your online events page can serve as the central hub for all the information your members need to get involved and make your event a success.
To make your events page the best it can be, you'll need to follow some association website design best practices, such as:
Brand Your Event Page to Your Cause
Provide Your Members with All Necessary Event Info
Encourage Additional Giving on Your Registration Form
Use Engaging Visuals
To design your events page easily and effectively, you should invest in the right tools first. Check out Morweb's association event software page to see what features you should be looking for as you shop your different options! That way, you'll be equipped to create a page that's optimized to drive conversions.
Let's get started with our first best practice.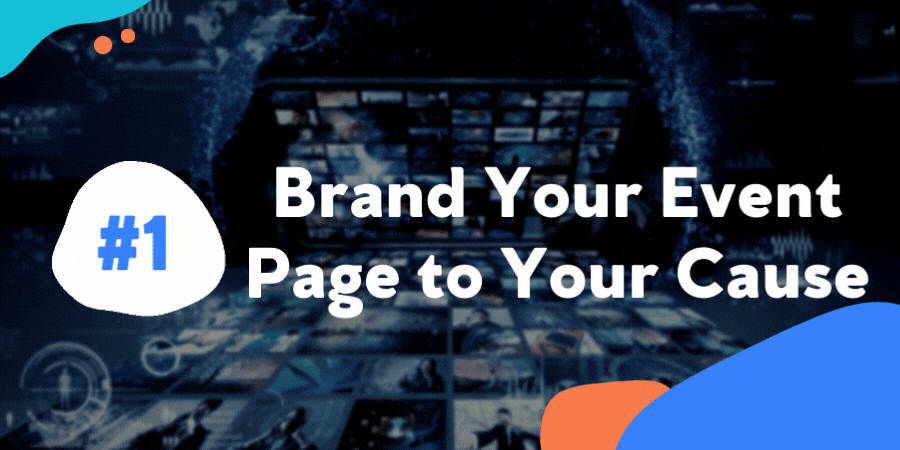 1. Brand Your Event Page to Your Cause
When you have an event to plan, it's easy to find yourself spending long hours in your organization's association management system, ironing out every little detail. But your events page needs to look the part, too. This is where your visual brand comes in!
Your visual brand can help your members (and the general public) easily distinguish your organization from other associations. For example, consider how the golden arches are a universal symbol for McDonald's. Similarly, a pink ribbon almost always gets people thinking about breast cancer awareness. When you harness the power of your visual brand on your events page, your members will be able to connect your event with your mission to bring people of the same interest, trade, or profession together to grow.
Here are the visual brand elements you'll need to include on your events page:
Colors: The colors your association uses on its events page can set the tone for the user's experience while navigating it. If your association brings ecologists together, for example, using the color green could get your users thinking about nature and the bigger picture of their careers.
Slogans: Slogans or

taglines

sum up your organization's mission in a few words. A slogan like "Working Together To Improve Gynecology" can serve as a quick reminder to your members about why their membership is important and why they should attend your event.
Typography: Typography includes everything from fonts and their colors to font size and even kerning, the space between individual characters. Keep your typography simple, clean, and easy to read so that your members don't have to spend time deciphering each letter to learn about your event.
When it comes to branding your events page, remember you don't have to start back at square one. The key to good branding is consistency. You should refer to the visual branding on other parts of your website to guide the design of your events page.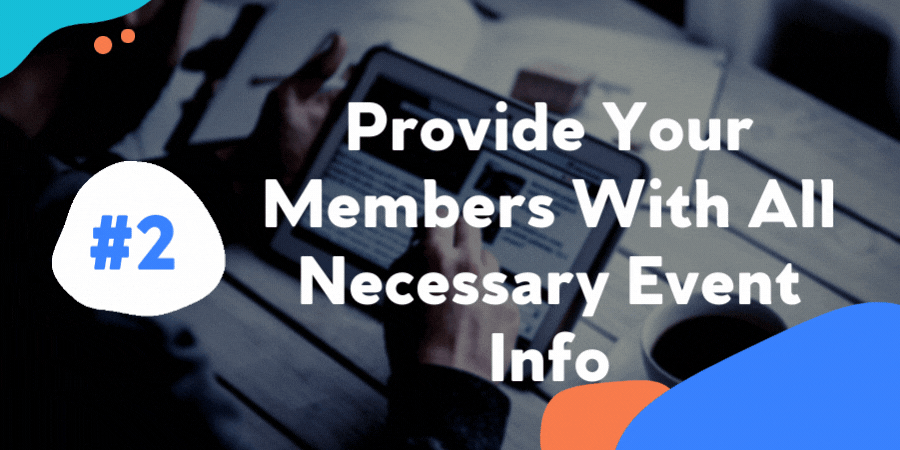 2. Provide Your Members with All Necessary Event Info
Part of providing an excellent association experience is keeping your members informed. Your members will need sufficient information in order to fully participate in your association's activities and opportunities.
This is why you'll need to take special care so that you provide all the necessary event details on your association's events page when marketing an upcoming event. Plus, laying all of the event information out on the table will save you time! You won't have to field calls and emails inquiring about where your event will be held, what time it starts, and so on. And even if you do, you'll have the perfect resource to direct members to for more information.
Here's some basic information that you'll need to include:
Purpose: Make it clear how the event is tied to your association's overall purpose and values.
Date and time: Encourage your members to mark their calendars early!
Event format: Will your event be in-person,

virtual

, or hybrid?
Attire: Let your attendees know what attire is expected and include examples.
Registration information: Explain how to register and how much registration will cost.
When you're encouraging your association's members to register for an upcoming event, you can never provide too much information. As you decide what your events page needs to say, think through the information you would want to see if you were deciding whether or not to register for the event yourself!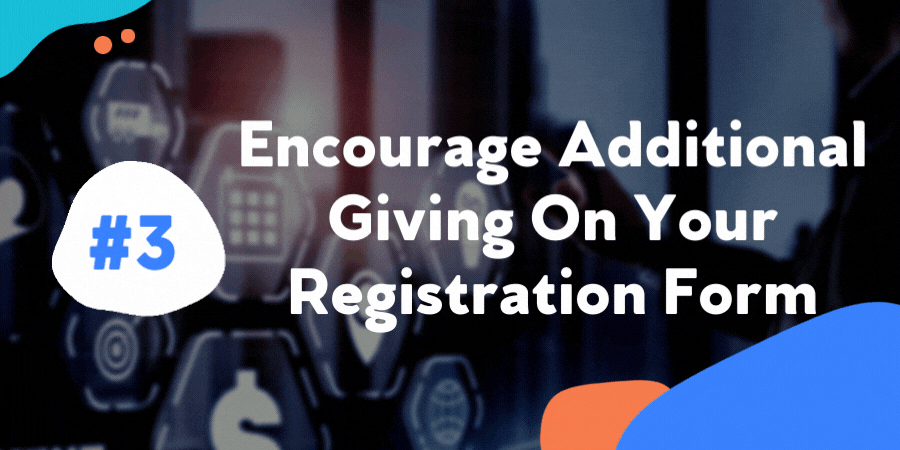 3. Encourage Additional Giving on Your Registration Form
Much of the programming, resources, and opportunities you're able to provide to your association's members come from donated funds. These might come from membership dues, grants, or additional donations, but regardless of their origin, they all impact what your association is able to offer.
Your registration form is a great tool for pulling in more funds for your association. When you make it quick and easy for your members to add on an extra donation while they're paying their registration fee, they'll be more likely to do so if they were already on the fence. But you have to choose what options you offer with care.
Here are some of the most popular additional giving options:
Additional one-time donation. Encourage members to add an additional one-time donation onto their registration fee. You can even include suggested giving amounts to nudge members to give more than they might have planned to.
Recurring giving program opt-in. If your association has a monthly giving program, you can make it easy for your members to be part of your program by giving them the ability to opt in when they pay their event registration fee. From there, they will be charged on a monthly basis, ensuring they can give consistently without having to return to your website again and again to do so.
Matching gifts. Matching gifts are a form of corporate philanthropy through which an employer matches their employees' charitable donations. Include some information about matching gifts on your registration page, encouraging people to check their eligibility for their employers' programs. While their company might not match event registration fees, this might nudge attendees to give an additional donation to get the match from their employer. To learn more about matching gifts and how to take full advantage of the opportunity to increase your members' impact, check out

Double the Donation's guide to workplace giving

.
Merchandise purchase. If your association offers merchandise like branded sweatshirts, mugs, lanyards, or keychains, include an option to buy them on your registration form. Alternatively, if your event is something like a color 5K, you could sell merchandise related to that event, like bags of colored chalk.
One of the best times to encourage your members to give a little bit more to your association is when they already have their wallets open, so why not include a few more giving options on your registration form? Don't forget to include well-worded calls to action on your registration form to encourage your donors to take advantage of these options, too.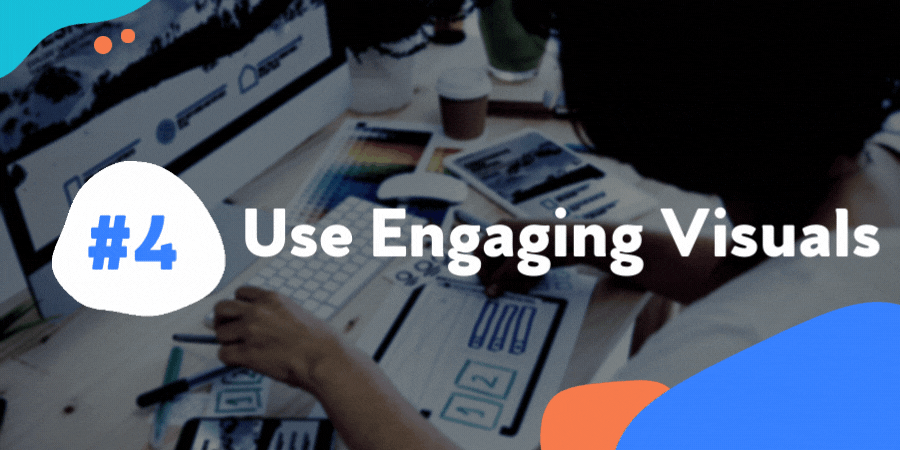 4. Use Engaging Visuals
From photos to graphics and illustrations, visuals can play a big role in communicating what your event will be like and what its purpose is. A picture from last year's networking event could get people excited about new opportunities, while a graph illustrating an increase in homelessness in your community can prompt members to register for your fundraiser.
Video content is also great for showcasing the fun atmosphere of past events so that your current members feel encouraged to RSVP yes! You could even interview members about why they'll be attending the upcoming event to encourage others to do so, too.
Adding visuals to your events page doesn't have to be complicated, either. With the right association website builder, you can easily add them throughout the page to break up text and catch your audience's attention.
Remember, less is more when it comes to visuals. Don't overdo it! Choose the visuals that best represent your association and the purpose of your event, and then place them strategically throughout your page and registration form.
---
Event planning requires your association to juggle a lot of moving parts. From finding a venue (or streaming platform) to booking entertainment, it can be a challenge for organizations of any size. However, you can't neglect the importance of marketing your event on your association's website. As you use these best practices to design a useful and aesthetically pleasing events page, remember to keep your audience and their needs in mind. Good luck!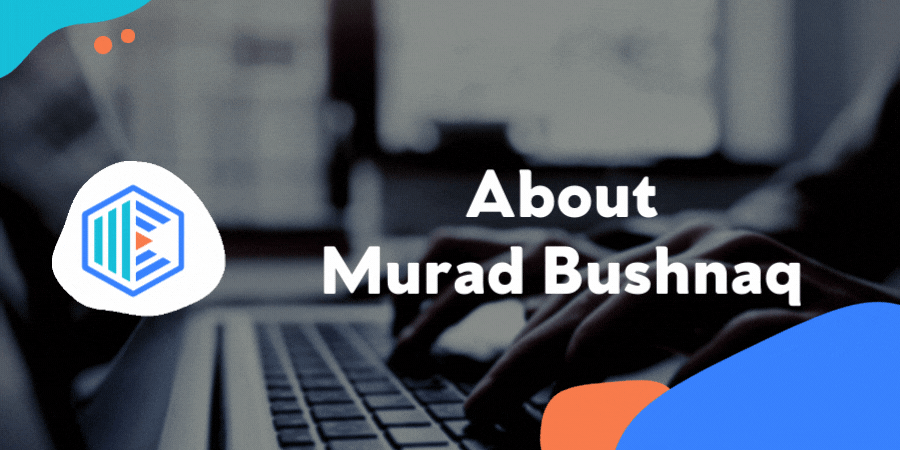 About Murad Bushnaq
Murad Bushnaq is the Founder and CEO of Morweb. Since its inception in 2014, Murad has acted as Creative Director and Chief Technologist to help nonprofits spread their vision online through engaging design, intuitive software and strategic communication.
Sign up for our newsletter